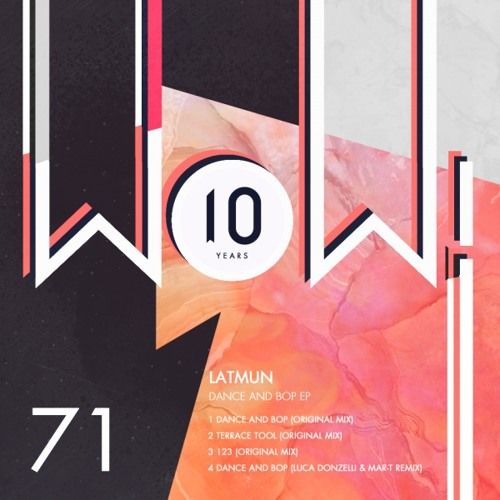 Latmun - Dance and Bob EP
April 25th 2016 sees rising Tech-House DJ/producer Latmun release his debut EP, entitled 'Dance and Bop', on Mar-T's revered WOW! Recordings imprint.
This killer four-track offering sees the UK-based rising star deliver a tasty set of groove-driven Tech-House bangers following his releases on
​​ Steve Lawler's ViVa MUISC, Mark Knight's Toolroom and Capulet's Troupe Records.
The EP's title track, 'Dance and Bop', kicks off proceedings with a deep and powerful bassline laying the foundation for the track, as crisp drums, stuttered synths and other off-kilter pad sounds are layered over one another to great effect.
'Terrace Tool' follows on, and like its forerunner similarly boasts a groove-focused workout at its core, backed by old school vocals and warped percussion effects.
'123' is the final track by Latmun and encompasses the same headstrong, infectious groove prevalent throughout the entire release. Once again, punchy drums and profound percussion elements drive the track forward, as old school vocals and high-energy synths help maintain the track's fluidity and momentum throughout.
To conclude, label head honcho Mar-T and Luca Donzelli step up to deliver an impressive re-rub of 'Dance and Bop'. The pair provides a solid Tech-House banger, adding sections of ethereal strings and looping chopped-up samples to further add to the unique overall sound of the 5-minute masterpiece – expect to hear this spun all over Ibiza this season.
'Dance and Bop' EP is available exclusively via Beatport on April 25th and everywhere else two weeks later.
FIND WOW! RECORDINGS ONLINE:
https://pro.beatport.com/label/wow!-recordings/2163
https://soundcloud.com/wow-recordings
https://www.facebook.com/WowRecordingsOFFICIAL/
TRACKLIST
01. Latmun – Dance and Bop (Original Mix)
02. Latmun – Terrace Tool (Original Mix)
03. Latmun – 123 (Original Mix)
04. Latmun – Dance and Bop (Luca Donzelli & Mar-T Remix)