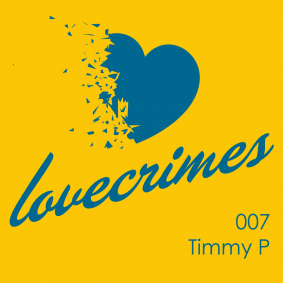 Timmy P - Dance Floor Flirt EP
UK producer Timmy P deliver three energetic house cuts for the seventh instalment of Lovecrimes this December with his 'Dance Floor Flirt' EP.
London-based DJ and producer Timmy P has gained notoriety in the house music scene for his dance floor focussed productions, which have been picked up by esteemed labels including Local Talk, Nofitstate and Dessous Recordings. Timmy P continues to establish himself as a respected purveyor of house music here with his 'Dance Floor Flirt EP' on Lovecrimes.
'Dance Floor Flirt' immediately grips us with shuffling organic percussion, an intoxicating vocal hook and infectious chord progressions, underpinned by a rumbling low-end before 'Roadhog' delivers a crunching kick, sharp cymbal work and a hypnotic synthesiser melody.
'Movin 'N' Bumpin' then combines a grooving bass hook, warped transitions and synth stab motifs alongside gripping vocal samples for a stylish close to the release.
Timmy P's 'Dance Floor Flirt EP' drops on Lovecrimes on 29th December 2017.
Tracklist:
1. Dance Floor Flirt
2. Roadhog
3. Movin'N'Bumpin'