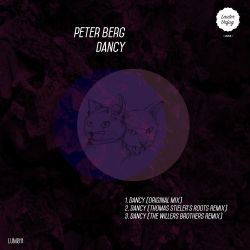 Peter Berg - Dancy EP
One of Germany's longstanding Techno gurus, Peter Berg, graces Lauter Unfug's imprint with his perfectly formed Tech-fused House nugget – 'Dancy'. Classy piano stabs and hooky vocals ricochet off a bubbling Techy bass groove that organically resonates over a platter of abstract driving beats. Taking no prisoners, Peter adds a tension filled, bass wobbling breakdown ripe to bring down the walls! German cohort Thomas Stieler takes the remix controls and crafts an old school flavoured feel-good piano house gem and rounding off the package UK duo, The Willers Brothers, reach deep into their fresh bag of studio tricks and pull out some Jackin -Tech magic.
Peter Berg embodies more than 20 years of experience in electronic music. From 1997 people in and around Ingolstadt enjoyed Peter's DJing skills before he moved to the cradle of techno – Berlin. He continued to run the monthly night 'Tanzabend' in his hometown, which was renowned over years to be 'Strictly Techno'. In 2009 Peter together with Paul Schulleri and Eiblonski formed the artist collective 'Spreekader', launching their successful Berlin event series 'TANZ ODER GAR NICHT'. On top of that Peter ran his own night 'Schallkorallen' in the historic club Tresor and also helped establish the club night 'Tek-nik'. It was the close cooperation with Paul Schulleri though which prompted Peter to produce music, releasing his first tracks on Butane Records in 2010. 2012 was the beginning of the now well established Thursday series 'Foreplay' in the world famous club Tresor, which he runs and where electronic music lovers are in for a treat every week. Peter can be seen at the decks throughout the Berlin club scene and beyond. His rock-solid, groovy tech-house with a tendency for ground shaking bass lines make him an authority on the dance floors.
Track Listing
1 Dancy (Original Mix)
2 Dancy (Thomas Stieler's Roots Remix)
3 Dancy (The Willers Brothers Remix)
'Dancy EP' will be release on June 20th 2016 on Lauter Unfug.