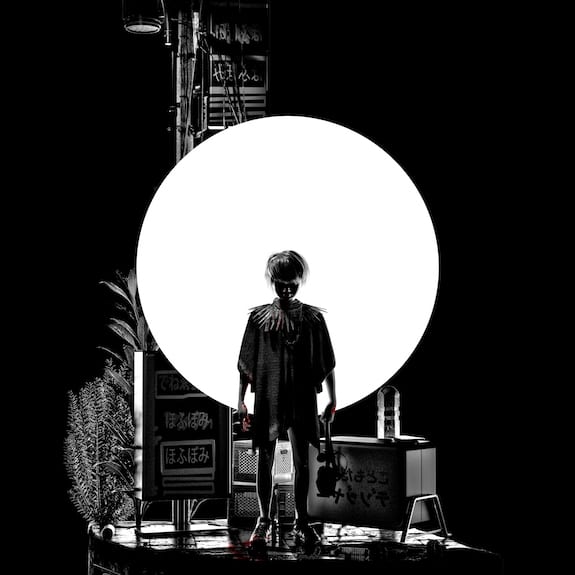 Danger Drops Debut Album 太鼓 (Taiko)
Danger, a name now synonymous with some of the darkest and cinematic cuts in electronic music, today releases his long awaited debut album '太鼓'. Meaning 'percussion' in Japanese, and out via self-owned label, 1789 Records, the LP can be streamed and downloaded below.

Danger, the musical non de plume of Franck Rivoire, has been shrouded in mystery ever since he exploded onto the scene with debut EP '09/16 2007', which quickly acquired him a cult following thanks in part to his anonymous persona and striking stage presence. Two follow-up EPs and a video game soundtrack later, Danger now treats fans to a 15 track LP that delves deeper into his unique creative vision.

Starting in true Danger fashion, with the crackle of TV static and a thumping bass note, the LP moves quickly into '7:17', which gives listeners the first taste of Danger's signature soundscape. Tribal drums rise in tempo, throwing us into '11:02', before '11:03' takes us on a dissonant and atmospheric 4m 29sec journey. The energy is upped once again with '22:41', a brooding and intense cut that demands attention. Laying the first vocal on the album is Tasha The Amazon, whose bold lyrical prowess makes '19:00' one of the project's highlights.

Expertly switching up the mood between tracks, from the rolling drums of '9:00' to the down-tempo beat of '0:59', and from synth heavy '21:10' to the trap infused '11:50' featuring Lil Brain (a new A.I. Vocalist of Danger's Creation), Danger's productive versatility knows no bounds.

Having made all his own artwork, visuals and videos, and with only a couple of guest features, Danger has made this album his own. By naming each track after the time of its completion, and with the overall sound far removed from more commercial electronic music, Danger has created a record that's unlike anything else currently in circulation. Explaining the meaning behind his album Danger commented,

"As a French teenager I embraced both Asian culture and comic-book culture. 太鼓 is loaded with childhood feelings and many emotions that were almost absent from my past releases. The recent violent events in France have also brought me to contemplate my relationship and connection with innocence, even if I always try to be on the very darkest edge of it. The juxtaposition between ultraviolence & innocence – that's what I was exploring with this album. It's the same narrative you get when you're watching anime afterall. And my goal has been to design a musical feeling that's equivalent of that when you're watching anime."

Having just come off Porter Robinson and Madeon's North America 'Shelter' tour, and with a new North America tour just announced, Danger is set to build on this new momentum throughout the year and into next. Stay up to date with all new announcements via his socials.