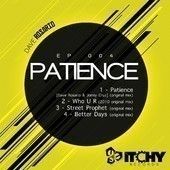 Dave Rosario – Patience
Itchy Records is an independent label founded by longtime friends Joey Marletta and Mike Ingenito, and based in the Queens borough of New York City. Collectively, Marletta and Ingenito have spent over 25 years exploring the vast landscape of the Empire State's electronic music scene, and are deeply immersed in technology-based music and the vibrant culture that it embodies. From long-ago trips to Club Marcella in upstate New York to clandestine warehouse parties held in Gotham's dark underbelly, and wild nights at the legendary nightclub Twilo on Manhattan's west side, Marletta and Ingenito have seen and heard more talent than many people are lucky enough to experience in a lifetime.
Upon attending a Sasha and Digweed show in '99 at the urgings of his older brother, Mike Ingenito immediately felt a deep affinity for electronic music, and knew that he was destined to become a part of The Big Apple's bustling nightlife. Ingenito began spinning vinyl at the dawn of the new millenium, and he has evolved into an innovative producer through his tireless work ethic and uncanny ability to keep his finger on the pulse of the most cutting-edge technology and production tools available. In addition to the 14 years Ingenito has spent perfecting his craft on the decks, he has completed six levels of training in mixing, mastering, sound design and Ableton at New York City's Dubspot Music Production School, one of the nation's first certified Ableton training centers. Ingenito owns and operates Citybeat, a private tutor service specializing in teaching students the intricacies of both Ableton and Native Instruments software, and he is the driving technical and creative force behind Itchy Records.
Joey Marletta saw the world through different eyes after he attended his first rave at the age of 16, and electronic music has been his personal passion ever since. Marletta has devoted his adult life to building a successful career in sales and marketing through his work with major corporations to better develop their brand recognition and maximize exposure to target demographics, and he has been heralded for his ability to think outside the confines of the proverbial box. A savvy businessman and consummate people person, Marletta has spent the last decade making pilgrimages to electronic music festivals across the United States and abroad, cultivating strong professional relationships and lasting friendships in the dance music community that stretch across oceans.
Through their respective connections and experiences, Marletta and Ingenito discovered a gaping chasm in the networks and opportunities that fledgling DJs and producers had available to them to share their art with the world. The two decided that there had to be a better way for an artist to break through without dealing with the cut-throat politics that have become synonymous with being signed to a major label where projects are shelved and artists are herded like cattle towards commercial trends while watching their hopes and aspirations fade into obscurity. Marletta and Ingenito forged Itchy Records on the ideal that artists are not a cash register; but an extended family, and this school of thought combined with their shared love of dance music has called them to spread techno and house to every corner of the Earth. With four of Itchy's artist's projects slated for release on Itchy before the end of 2013 and digital distribution already in place, the duo now stand poised to make Itchy Records a juggernaut, while turning their artist's dreams into realities.
www.itchyrecords.com