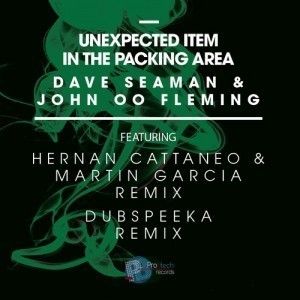 Dave Seaman & John OO Fleming – Unexpected Item In The Packing Area
Understanding what makes the dance floor tick is something that global legends Seaman and Fleming are no strangers to, and that is evident with the dark hypnotic rhythm of their EP's title track, with Psychedelic Trance elements brushing alongside the fairly understated Tech-House groove. It's a song that in many ways takes the listener on a journey into the evolution of sound; drawing upon the swirling synthesized pads of the late 90s with the clinical production of a present-day release.
Offering a slightly more underground contemporary twist on the track is up-and-coming producer 'Dubspeeka', whose Burial-inspired atmospherics create the haunting soundtrack to a 5.a.m walk home on a cold winter's night. Arguably the more immediate of the two remixes, Hernan Cattaneo and Martin Garcia's effortlessly accomplished take on 'Unexpected Item In The Packing Area' provides an instantaneous 'dance-floor' moment, and is reminiscent of the work of Get Physical masterminds M.A.N.D.Y. Their deft interpretation of Seaman and Fleming's track is sure to catapult this duo to a wider audience, and deservedly so.