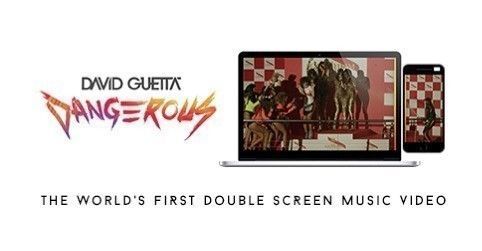 David Guetta Launches the World's First Double Screen Music Video
Following its exclusive premiere at a special Google+ Hangout at YouTube Space, New York on October 31st, David Guetta has unveiled an exclusive, double-screen interactive version of the official video for new single 'Dangerous'.

Directed by Grammy award winning Swedish director Jonas Åkerlund and starring 'Dangerous' vocalist Sam Martin, Formula 1 driver Romain Grosjean, actor James Purefoy and David Guetta himself, the 7-minute film has now been made completely interactive.
As part of the overall partnership between G.H. MUMM and David Guetta conceived and developed by Advertainment agency My Love Affair, young creative directors Alexandre Saad and Esteban Lebouc Merlin, in collaboration with production company DV Mobile, have created a double-screen platform for the 'Dangerous' video, allowing users to interact with the streaming content across two synchronized screens – one via laptop or desktop computer and the other via smartphones. Users can also hold their phones across several 'hot spots' on the screen, which will in turn unlock a host of different interactive features.

The double-screen technology allows viewers to interact with the music video using their mobile devices via numerous hot spots during the clip. These trigger-points unlock content created exclusively for both the computer screen and mobile screen. Throughout the video, the visual content of both screens sync up and create interactive bridges between the two devices. Essentially, it's like watching two music videos at once, where the characters and story lines jump from one dimension to the other.

Available via the Dangerous Custom page on Guetta's YouTube channel, the interactive version will also include a simple set of instructions on how to access all the available features and content – making it accessible and easy to stream.

This video is launching the week after David's sixth studio album 'Listen', an LP featuring a host of special guest collaborators including UK songstress Emeli Sandé, Irish three-piece The Script, singer-songwriter John Legend, 'Titanium' collaborator Sia and US rap star Nicki Minaj. Already hitting #1 on the iTunes charts in over 50 countries including France, USA, and Brazil, as well as entering the Top 10 most streamed album in the world on Spotify.
Watch here: www.davidguetta.tv