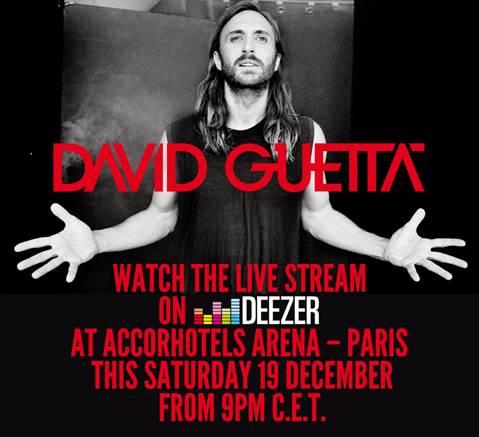 David Guetta's headline show in Paris will be exclusively streamed by Deezer
Ahead of his landmark headline show at the AccorHotels Arena in Paris on December 19th, David Guetta has announced a partnership with streaming platform Deezer, who will be exclusively streaming the show live across the world. In the build up to the event, Deezer will offer fans from around the world a chance to win tickets and meet David himself on the night.
Fans can already enter the competition via Deezer's dedicated David Guetta web app here, which will also be the only place to tune in and watch David's performance live from Paris. The footage will also be available worldwide for a full 48 hours following the performance, allowing fans to re-live the scale of David's incredible live show.
Having recently released brand new album edition 'Listen Again', which also features extraordinary new single 'Bang My Head' ft. Sia & Fetty Wap, as well as launching new club-focused release series 'Pelican Project', David's HotelsAccor Arena show will mark a blockbuster end to a remarkable 2015.
Please see below for more information on 'Listen Again' and a list of forthcoming David Guetta tour dates.
About 'Listen Again'
Following the enormous global success of his sixth studio album 'Listen', brand new album edition 'Listen Again' features eight bonus tracks and continuous album mix, 'Listenin'. It celebrates the worldwide impact of 'Listen' – an album that topped the iTunes Album Charts in 75 countries and scored four, massive international chart hits – and looks to the future in the form of incredible new single 'Bang My Head' ft. Sia & Fetty Wap. Also included is brand new, previously unheard David Guetta Material – 'Pelican' & 'The Death Of EDM' with Showtek – and massive club tracks 'Bad', 'Shot Me Down' and 'Blast Off', as well as a special GLOWINTHEDARK remix of 'Bang My Head'.
About Deezer
Deezer is the first truly worldwide digital music streaming service in over 180 countries, with over 6 million subscribers worldwide. Deezer is at the forefront of a music revolution, allowing fans instant access to the largest streaming music catalogue in the world, with more than 35 million songs and 40,000+ podcasts on any device. Combining the best of man and machine, Deezer's global editorial team searches for the best music around the world and its algorithmic recommendations help fans discover music they will truly love. Deezer is available on your favorite device, including smartphone, tablet, PC, laptop, home sound system, connected car or smart TV.
Launched in 2007, Deezer is a privately held company, headquartered in Paris with offices in London, San Francisco and around the world. Deezer is currently available as a free download for iPhone, iPad, Android and Windows devices or on the web at deezer.com globally outside the US.
David Guetta – Live Dates
18/12/15 – Palais Omnisports de Bercy, Paris (FRA)
19/12/15 – Palais Omnisports de Bercy, Paris (FRA)
08/01/16 – Maori Beach Club, Atlantida (BRA)
09/01/16 – Green Valley, Camboriu (BRA)
10/01/16 – Arena Pedreira, Guarapari (BRA)
15/01/16 – Pavilhao Anhembi, Sao Paolo (BRA)
16/01/16 – Rio Centro, Rio de Janeiro (BRA)
27/01/16 – Palais Omnisports de Bercy, Paris (FRA)
28/01/16 – Halle Tony Garnier, Lyon (FRA)
29/01/16 – Zenith, Strasbourg (FRA)
31/01/16 – Schleyer Halle, Stuttgart (GER)
For more information on David Guetta, please visit:
www.davidguetta.com/
https://www.facebook.com/DavidGuetta
https://twitter.com/davidguetta
https://soundcloud.com/davidguetta
https://instagram.com/davidguetta
Snapchat: davidguettaoff