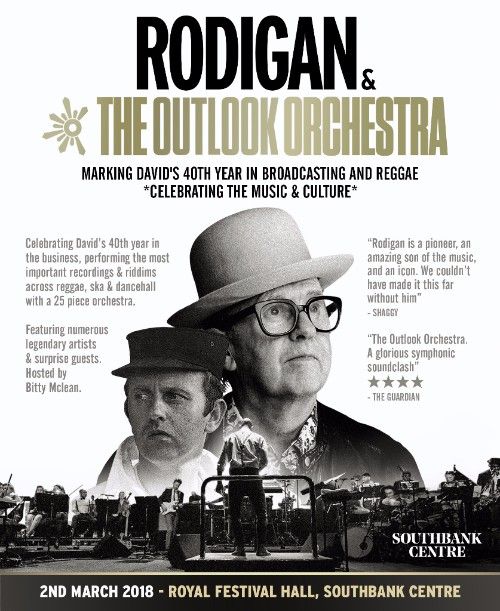 David Rodigan And The Outlook Orchestra
DAVID RODIGAN AND THE OUTLOOK ORCHESTRA
March 2nd 2018 | Royal Festival Hall, Southbank Centre
Iconic selector, broadcaster and curator David Rodigan teams up with the Outlook Orchestra to perform some of the most important riddims and classic recordings from David's forty years in the business.
DAVID RODIGAN + SURPRISE SPECIAL GUESTS
The Outlook Orchestra Hosted by Bitty McLean
Sign up for pre-sale tickets | General Sale tickets on sale Friday 10th Nov.
Across the past forty years, David 'RAM JAM' Rodigan MBE has become a figurehead for reggae across the world, championing the genre and the artists it's created. On March 2nd 2018, the broadcaster and DJ will join forces with the mighty Outlook Orchestra and London's revered Southbank Centre for a celebratory show journeying through the sounds of 40 years, from the early days of ska and rocksteady through to dancehall, dubstep and jungle. Taking place at the Southbank Centre's Royal Festival Hall, there'll be a line-up of legendary guests and reggae royalty joining David across the night to perform standout classic recordings.
The 25 piece Outlook Orchestra has been put together as project between Outlook Festival and Southbank Centre, and features some of the UK's finest musicians with Tommy Evans on conductor duties, two drummers in an extended rhythm section, along with string and horn sections. As well as being a killer show, this will be of huge cultural significance, rooted in the fusion of Jamaica's soundtrack with the sounds, colours and influences of British sub-culture. It's about celebrating a remarkable icon, alongside the sounds of a small Caribbean island with massive universal reach.