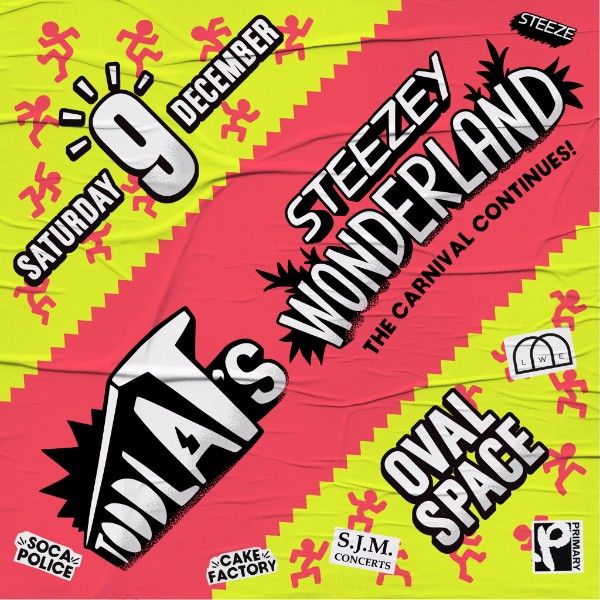 Steezey Wonderland
Toddla T's Steezey Wonderland
Oval Space
Saturday 9th December 2017
Toddla T + Special Guests
The Dreem Teem
Jus Now x Dismantle
P Montana + Afro B
Jamz Supernova + Stush
Snoochie Shy
Tickets on sale now
Summer may be over, but the carnival continues!
All roads lead to Toddla T's Steezey Wonderland live carnival show in December…
On Saturday 9th December Toddla T & his Special Guests take over Oval Space for Steezey Wonderland! The skies are grey, the wind cuts right through you and the car needs defrosting in the morning – winter in the UK can be bleak. Steezey Wonderland is an injection of heat and colour at a time of year we need it most. While everybody else is getting festive and wrapping-up warm, we're all about sound system vibes and culture, and you can expect the full spectrum of dancehall, reggae, house, garage & grime.
The line up has just been announced and in keeping with previous years it's pure heat. Toddla is joined by trio DJ Spoony, Mikee B & Timmi Magic – The Dreem Teem, Jus Now x Dismantle, P Montana + Afro B, Jamz Supernova + Stush, and Snoochie Shy. Plus dance troupe Cake Factory will be in the building and security supplied by The Soca Police, don't wine too fast.
Always full of surprises, last year Toddla treated us to a surprise special guest performance from the don Sean Paul, so it's fair to expect the unexpected.
Previous guests at Toddla parties include big hitters like: JME, Mike Skinner, Annie Mac , Fuse ODG & Jorja Smith. There's been a mix of top selectas and MCs including The Heatwave, Wookie, Roll Deep, Roll Deep, Rampage and many many more.
As well as Toddla's unique carnival atmosphere renowned for the astronomical vibes, listen to an eclectic line-up bringing the best of dancehall, garage, grime, bass, reggae and all things sound system led.
Notes to editor:
Toddla T's Steezey Wonderland
Oval Space
29 – 32 The Oval, London E2 9DT
Saturday 9th December 2017
10pm – 4am
Tickets:
https://lwe.tickettannoy.com/event/T0gPhfVSPk-6_svFFOyMjw
T&Cs: www.lwe.events/terms-and-conditions