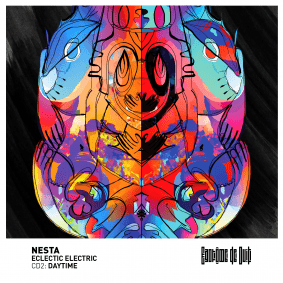 Nesta Eclectic Electric - Daylight (CD2)
Eclectic Electric – Daylight is the second half of Nesta's latest album project. The Lebanon based artist this time turns his attention to the Daylight theme and again excels across eight masterfully organic tracks.
A third remix album will follow this one, and they all come after years building a fan base thanks to his work both as Nesta and Technophile and the development of his own label, Fantôme de Nuit. This hard to define artist was a part of the renowned club, The Garten, holds a residency at The Grand Factory and always mixes up experimental frequencies and fine engineering skills to craft expressive music that takes in a wide world of influences from house to jazz, disco to synth.
This is a listening album right from the off: opener 'Heaven Meets Paradise' is a beautifully deep instrumental with live drums and dreamy melodies that will sooth your soul, then 'Horace's Groove' is a perfect mix of beatdown house and lounging jazz vibes, 'Jamal's Jazz' lays piano tinkles and off grid drum fills, hits and snares over a heavyweight, slowed down groove and 'Lady J' brings back beautiful melodies and cosmic chords with more fantastic live drums.
This most mellifluous album rolls on with 'Piece of Mind' featuring Alko B, whose soothing vocals add soul to the jazzy broken beats, trumpets and melodic bass. 'Dance With Me' is a gorgeous house cut with real musicality, funky sax and romantic late night feelings, the mood becomes more dance floor focused with the rubbery bass and glowing chords of deep house classic 'Lullabies' and the uplifting 'Hold Me' is a disco re-rub that is heartfelt and rousing.
This is a superb standalone LP of rich, jazzy house and broken beat, as well as a perfect accompaniment to the first already well received half of the album.
Tracklist:
1. Nesta – Heaven Meets Paradise
2. Nesta – Horace's Groove
3. Nesta – Jamal's Jazz
4. Nesta – Lady J
5. Nesta feat. Alko B – Piece of Mind
6. Nesta – Dance With Me
7. Nesta – Lullabies
8. Nesta – Hold Me