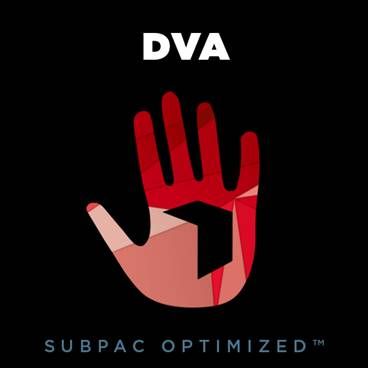 DVA - Deadend
Highly respected DJ and producer Scratcha DVA is one of Hyperdub's Key players, hosting the monthly Hyperdub show and his own Rinse FM & Radar Radio shows. Scatcha has come on board with SUBPAC to launch his final track under his fabled [Hi:Emotions] alias. Fully optimised and produced with SUBPAC 'DEADEND' asserts itself as a weightless ambient soundscape brimming with Scratcha's artful manipulation of low-end frequencies. Tonight marks the second instalment of Spoonbender Social, a night ran by himself and Swamp81 mainstay Mickey Pearce where you'll have a chance to win a one off, one sided dub-plate of the track. More information about tonight's event here
Wearable audio tech innovators SUBPAC launched FEEL SUBPAC earlier this year – an online platform for physical audio culture, featuring exclusive music by seminal artists,optimized for SUBPAC technology.
On FEEL you can stream tracks specially-created for SUBPAC users by Pinch, Kode9, Ikonika, Taso, Ash Koosha and more at http://feel.subpac.com
We don't just experience sound with our ears, we feel it, and SUBPAC is a company bringing the feeling of music and sound to the world. A new category of audio hardware, their award winning technology profoundly enhances the traditional media experience by allowing users to actually feel sound by transferring low frequencies through the body, providing an enhanced and immersive media experience.
Low frequencies cannot be experienced through headphones or speakers alone. With immersive entertainment, it's the feeling that matters, and the patent-pending SUBPAC gives you exactly that. SUBPAC's radical technology unlocks the power of sound – music, games, VR and film are all powerfully enhanced by SUBPAC Optimized™ sound waves pulsing through the user's body.
Following the previously released SUBPAC M2 Wearable™, SUBPAC S2 Seatback™ and SUBPAC S2 BackPac™, the FEEL SUBPAC platform was launched featuring SUBPAC Optimized™ tracks by artists including Plastikman (Richie Hawtin,) Kode9, and Dada Life, which were tailor-made specifically for users to enjoy SUBPAC's signature full-body entertainment experience. These artists and many more have been inspired to exercise their craft in new and exciting ways and the tracks showcased at FEEL SUBPAC herald a shift from an era of just hearing sound, to one of feeling it. The music can be experienced at http://feel.subpac.com
"FEEL SUBPAC is the destination to experience and experiment with the evolution of sound to physical sound – featuring the artists and stories at the forefront of this paradigm shift to feeling as well as hearing", said John Alexiou, Co-Founder of SUBPAC.
SUBPAC is already being used by thousands of world class DJs and producers. In addition to studio professionals around the world, star athletes, pro-gamers, cutting edge VR developers and film aficionados are all taking advantage of SUBPAC's heightened level of awareness, impact and immersion.
Artists who have produced, mixed, or mastered using SUBPAC include super producer Timbaland, Kanye producer Sinjin Hawke, Mariah Carey, Fat Joe and Jay Z producers Cool n Dre, techno leader Richie Hawtin, dub reggae icons Scientist and Adrian Sherwood, dubstep legends Mala, Pinch and Kode 9, drum 'n' bass dons Calyx and TeeBee, grime heroes J2K and Jammz, plus bass music pioneers Zed Bias, Om Unit, DJ Spinn and FreQ Nasty.
The response to SUBPAC's new technology has been as exciting and impactful as the product itself:
SUBPAC was voted as one of Fast Company's Most Innovative Companies in the World 2016.
Vice called it "the future of music listening" while Mixmag marvelled, "it lets you feel the bass like it's 4am at Fabric."
Forbes called SUBPAC "a new technology that allows both fans and creators to enjoy the physical components of music that adds even greater depth to its meaning. SUBPAC is physical-sound technology that expands the audio concept of music into a fully-immersive experience."
"SUBPAC is a game changing experience for both artists and fans. It lets you feel the music like never before. Every record I make from now on will be optimized for feeling, for the SUBPAC." Timbaland
"By introducing the physical dimension of sound, the SUBPAC creates a direct connection between the fan and the music in its purest form, allowing a deeper appreciation for the music." Richie Hawtin / Plastikman
Purchase SUBPAC products at retailers worldwide and at http://subpac.com/for-music-fans/.
Listen to SUBPAC Optimized™ tracks at http://feel.subpac.com
http://subpac.com
https://www.facebook.com/SubPacOfficial/
https://twitter.com/SubPac
https://www.instagram.com/subpac/
https://www.snapchat.com/Subpac