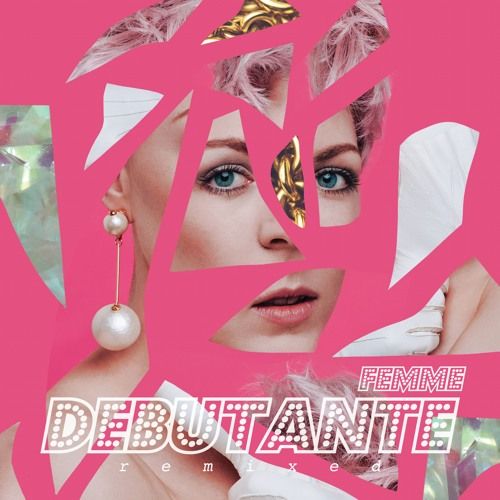 FEMME - Debutante Remixed
Following the release of her self-written, self-produced and critically acclaimed debut album earlier this year, FEMME is back with a remix version of 'Debutante', 'Debutante Remixed', which is released on 9th December.
Her knockout pop gems like 'Fever Boy', 'Light Me Up' and 'S.O.S' have been given an electro twist by producers such as Lindstrøm, Bunki, NZCA Lines and FaltyDL. The album artwork comes courtesy of Kim Hillyard, Bullet Girl and illustrator, who has done her very own artwork 'remix'.
FEMME comments on the album, "'Debutante Remixed' is about getting the chance to hear some of my favourite producers (a lot of them good friends) put their own spin on what was originally a pop record. From my years studying at Goldsmiths to my experience as part of Ultraísta with Nigel Godrich, I've always had one foot in the experimental, left-field, electronic world. Collaborating on this remix album feels like returning home."
Described as a "one-woman powerhouse'" by Radio 1's Annie Mac, FEMME is the real deal when it comes to unadulterated artistry. As composer, producer, director and choreographer, FEMME has eschewed major label interest in order to maintain her musical vision without interference. This uncompromising approach hasn't stopped her mixing with the great and the good: FEMME has toured the USA with Charli XCX, featured on tracks by Huxley and partnered with Radiohead producer Nigel Godrich for their critically acclaimed Ultraísta collaboration and album.
FEMME's pink-haired, gold-drenched style has seen her hailed by giants of couture too. Vogue declared her "Fashion's Favourite New Pop Star", she's soundtracked catwalk shows by Stella McCartney and been invited to promote new ranges by Uniqlo, BooHoo and adidas NEO. Her irrepressible personality has brought a fierce spark to every campaign, an uncompromising energy which shines through every track. As she sings on 'Sirens': "You wanted a poster girl, you got me instead."
'Debutante Remixed' is released on 9th December
Tracklist:
1. Your Poptarts Are Ready (FaltyDL Remix)
2. Fever Boy (Lindstrøm Remix)
3. Romeo (La Leif Remix)
4. Bring It Back Round (Mind Enterprises Remix)
5. S.O.S (NZCA Lines Remix)
6. Light Me Up (Bunki Remix)
7. Shout Out Loud (FEMME Remake)
8. Double Trouble (FTSE FUCKED IT Remix)
9. Calling All Stars (Shelley Remix)
10. Locoluvva (KB Remix)
11. Gold (Crewdson's Golden Shower Dub)
12. Dumb Blonde (Elsa Hewitt Remix)
13. Sirens (CRT – CLSSX Remix)
14. High (Muta Remix) – Bonus Track
15. Fever Boy (Lindstrøm Remix – Radio Edit) – Bonus Track
www.femmehq.co.uk
www.instagram.com/femmehq
www.twitter.com/FEMMEHQ
www.facebook.com/FEMMEHQ