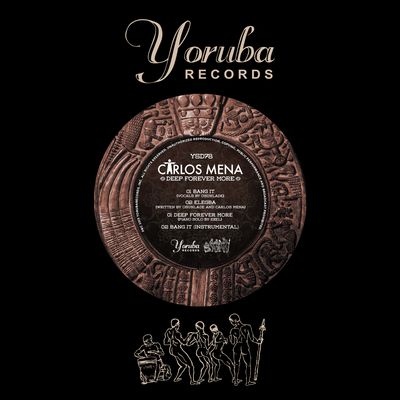 Carlos Mena - Deep Forever More
Yoruba Records is proud to bring you this expertly crafted EP from the ever-talented Yoruba favourite, Carlos Mena. A purveyor of deep and soulful house, both behind the decks and in the studio, Mena wastes no time getting down to business in this latest release.

The EP opens with 'Bang It', a punchy, peak hour house track that's destined for the dancefloor. A rolling yet driving bass line commands you to move your feet as Osunlade's vocals carry you from build up to release and the synth stabs assure you become lost in the music.

Next he brings you a unique must-have with 'Elegba', an ode to the guardian, protector and communicator. A jazzy, tribal-leaning cut, this soothing track features an impressive array of world percussive instruments that take you to new heights just as its flute brings dancers into and out of a melodic trance.

Moving on is the EP's title track, 'Deep Forever More', which, as the title suggests, brings us a little deeper. Its vocals unveil a story you'll want to lend an ear to while its subtle, spaced out synths keep you grooving. Featuring a magnificent piano solo by Ezel, this track is dancefloor fodder and undoubtedly a future Yoruba classic.

Finally, the EP closes out with an instrumental cut of 'Bang It'. Yoruba is pleased to present this release as an absolute must have for heating up the dancefloor during the cold winter months.