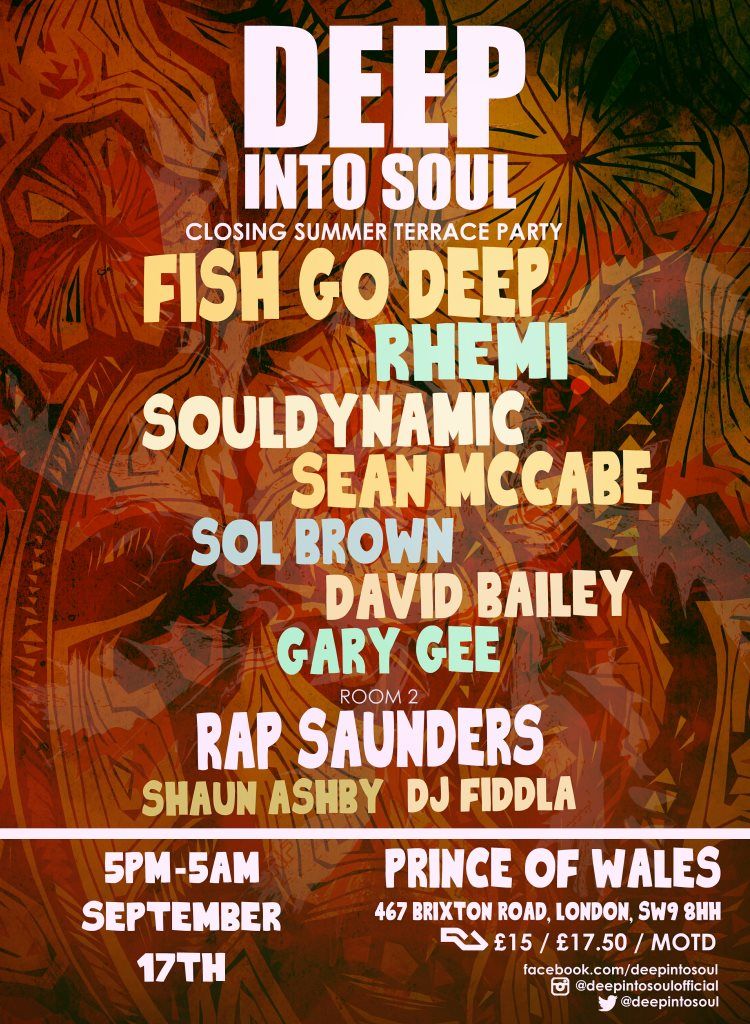 Deep Into Soul Summer Closing Party
Renown for their intimate and hedonistic parties including alfresco daytime events on the Prince Of Wales, Brixton's wonderful Terrace, Deep Into Soul continue to bang the party on Saturday late afternoon September 17th with International Guests, Ireland's Fish Go Deep (The Cure & The Cause), Italy's Souldynamic and Bristol's soulful maestro, Sean McCabe joining residents, Rhemi Music's Neil Pierce and Ziggy Funk, House FM's Sol Brown and David Bailey for an incredible Summer Closing Party.
Having celebrated their 5th Anniversary in March and most recently the Suncebeat Festival Reunion Party (affiliated to the Southport Weekender events), Deep Into Soul continue to carve out their own unique niche fusing a blend of all things house from legendary International headliner DJ/Producers such as Danny Krivit, DJ Spinna, DJ Spen & Teddy Douglas from the Basement Boys, Joey Negro, Paul 'Trouble' Anderson and many more alongside stellar longstanding Resident DJ/Producers Neil Pierce & Ziggy Funk aka Rhemi Music, on fire right now for their hugely soulful belter 'Mask Off' featuring Lifford and Hanlei, which Louie Vega has been hammering all summer & notched up a No 1 in the Traxsource Soulful House 10.
Closing the DiS Summer series are Irish house dons, Fish Go Deep aka DJ/Producers Greg Dowling and Shane Johnson, famous for their Go Deep residency in Cork and their huge crossover smash 'The 'The Cure and the Cause' on Defected. With deeply rhythmic and edgy tracks on notable imprints such as Innervisions, Brique Rouge and Gourmet as well as their own imprints Ork and Go Deep, this rare London set is hotly anticipated.
Flanked by Italy's Souldynamic duo, best known for their residencies at both the Southport Weekender and Suncebeat Festival for the last 6 years, and releases on leading labels such as Tribe Recordings, King Street Sounds, DJ Spen's Quantize, Underground Music Collective and Purple Music. Fusing a soulful sensibility with the dynamic sound of underground beats, Souldynamic continue to evolve their growing reputation having worked with a Who's Who of A List artists such as Josh Milan, Peven Everett, Ultra Nate, Monique Bingham, Robert Owens, Darryl D Bonneau.
Bristol's young Sean McCabe leads the UK charge with a prolific slew of current releases including 'Everything's Alright' 'Let Me' and 'Reach Out' (Z Records), 'I Know Someone' (Good Vibrations) and a Remix of DJ Duke's 'Closer' (Local Talk). Starting off at the tender age of 17, DJ/Producer McCabe made his name in house developing a long-running relationship with legendary US garage label King Street Sounds and remixing the likes of Dennis Ferrer, Evelyn Champagne King, Roy Ayers, Blaze, and Todd Terry. Since then, he's amassed an impressive discography, delivering inspired reworks for labels like Z Records, Local Talk, Strictly Rhythm, Vega Records, Tribe, and Quantize. Emotive and rooted in house, McCabe's sound regularly takes on flavours of disco, boogie, Afro, deeper grooves, proto-house, '90s garage-house dubs, deep house and much more, so be prepared for the journey!
Joined by the prolific residents Rhemi Music's Neil Pierce & Ziggy Funk, whose Rhemi Music is one of the UK's flagship house label now up to its 28th release with 'Feeling Myself' by The Journeymen, and which launched the career of UK vocal group, Hanlei.
House FM DJ & Producer Sol Brown is ready to jam hot on the heels of his latest releases 'Your Time To Shine' on Making Moves and 'Sumthin' Good' on Tony (Humphries) Records, and fans may well recall his blazing debut track 'Just Fine' featuring Stephanie Cooke under the name Social Society on Restless Soul Music. Completing the party line up is DiS resident, David Bailey whose recent 'Ain't Too Scared To Love' release is out now on Rhemi Music.
Starting on The Terrace for some alfresco clubbing, the party continues inside as Room 2 heads into a deeper afro house sound with Soulmates' Rap Saunders guesting alongside the much loved party residents Shaun Ashby and Deejay Fiddla keeping the dancefloor moving with a smorgasbord of house sounds until the sun rises.
Get ready to dance your ass off with an insanely friendly young dance crowd that appreciate some of the finest house music that the capital has to offer in an unrestrained party atmosphere. A hotly anticipated gathering to close off Deep Into Soul's blazing Summer series and can't wait to take the journey!
Bearing all this in mind, please get your tickets early to avoid disappointment, and Early Birds are only £12.00 and see you on the dance floor!!