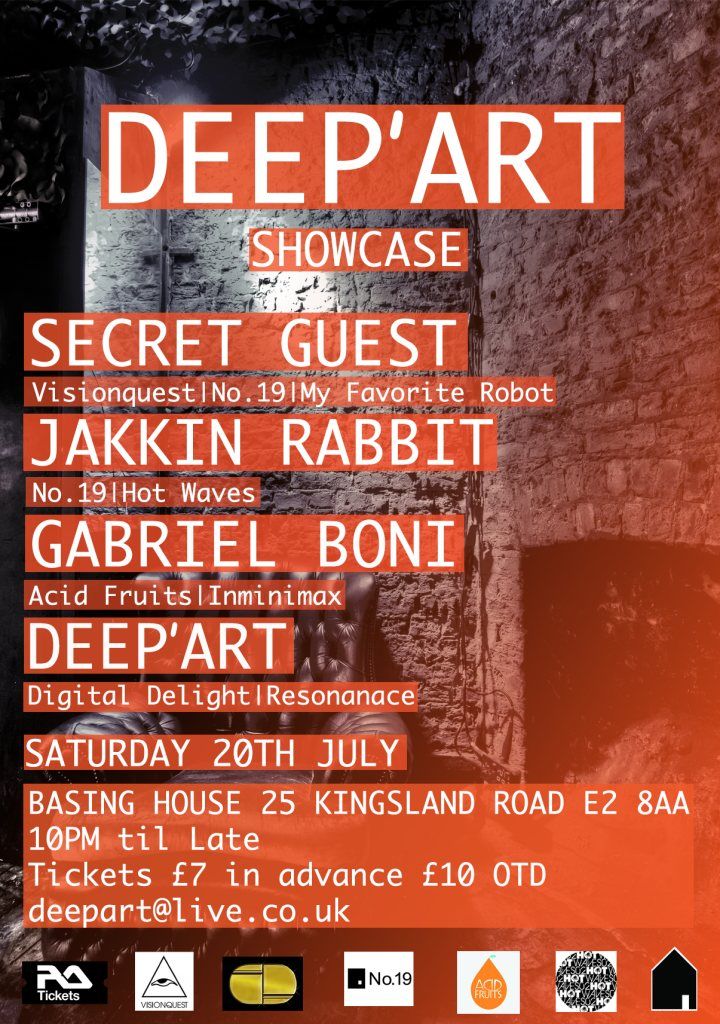 Deep'art Showcase
Quite possibly the most exciting line up we have arranged to date and one that the Deep'art Showcase HQ can not wait for! We have three guests each with their own unique distinctive style which will create the perfect musical journey on the 20th July.
We have enjoyed the Secret Guest aspect to our parties of late and intend to keep up this 2013 tradition with another for our next party. Not wanting to give too much away we have a very talented individual lined up. They have a creditable and outstanding musical style both in their productions and through their DJ sets…and for now we will leave it at that…
Lets move on to what we can talk about at this stage and that is our first guest Jakkin Rabbit – One half Marc Spence and one half Danny Kane, Jakkin Rabbit are a recent addition to Hot Creations and No.19. Danny Kane is massive talent on stage and in the studio. As a multi-instrumentalist, he has worked with a seemingly endless list of artists, including All Saints, Bitty McLean, UB40, Shara Nelson (Massive Attack), Bobby Womack, Colonel Abrams, Ruby Turner, Robert Owens and Chaka Khan. Jakkin Rabbit sees him joining forces with long-term friend Marc, who has played alongside a host of stars including, Kenny Dope, Jamie Jones and Lee Foss. These two are a formidable duo who have an album dropping on No.19 later this year which will build upon the solid platform they have created for themselves.