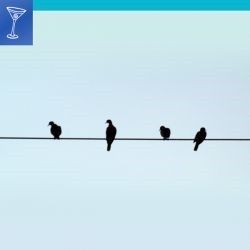 Deepchild – Golden Moments
The Harmonious Discord camp have long been fans of the raw underground sound of Australian-born, Berlin-based warehouse wizard Rick Bull. Known to the world as Deepchild, his expert control of hardware systems and abstract musical methodology has created an impressive lineage of music on labels like Get Physical, Face II Face, Thoughtless, and Trapez. Rick is a pioneer in the uncharted waters of forward-thinking techno and this project is no exception. Playing on themes of machinery, chaos, and the American ethos, Deepchild brings us "Golden Moments in American Manufacturing" and "Vulcanised" — a galvanized techno experience showcasing the raw and sometimes abrasive moments in democratic evolution.
"Vulcanised" starts things off with a vocal-driven juggernaut. Hauntingly pitched vocals and an arpeggiated bass roll the listener through several pockets of sound design with forefront drum programing sure to rattle the windows of crowd-favorite underground venues. Harmonious Discord's label boss, PointBender, steps up on remix duties with a muddy, bass-laden revision focused on taming the rougher nature of the original. This mix quickly evolves into an interplay of mutating synth lines and sharp hardware leads.
The title track features a cornucopia of distorted rhythm elements that build into an anthem for blue-collar woes. The prevalent vocal – "work, work" – is like the drum beat to a tireless task initiated by the hive mind. Harmonious Discord veteran Ill76 offers up a smooth dance floor techno rendition with tugboat atmospheres, cycled rotations of energy, and building pad progressions. The final interpretation comes from Canadian producer Brandon Sprouse. For this one, Brandon's Gaunt pseudonym borrows many dark and twisted sound design elements often present in his pieces under his Driip moniker, but delivers it with a pure techno punch.
Deepchild has yet again set the stage for dystopian artistry through his sonic mastery of haunted spaces. "Golden Moments in American Manufacturing" is a subversive reminder of the underlying beauty in the systems and constructs that we all experience daily.