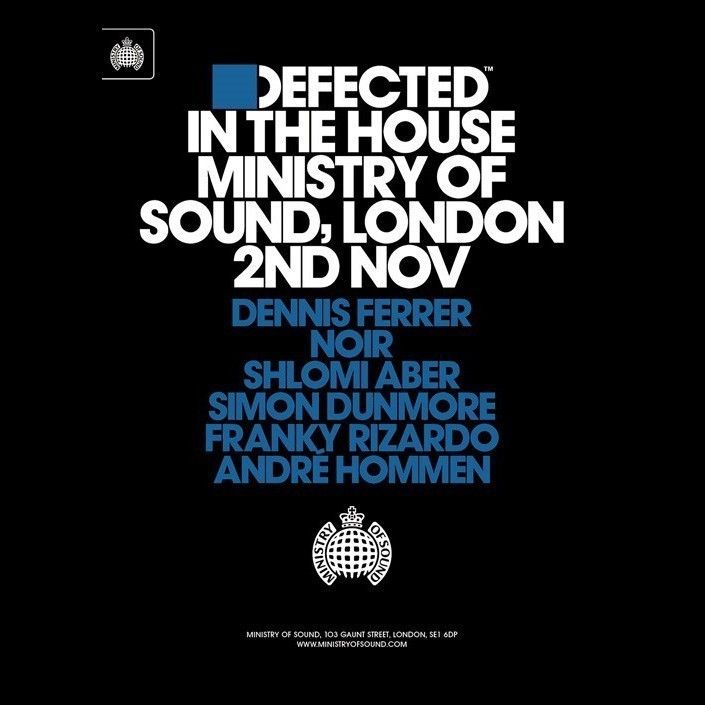 Defected at Ministry of Sound
Following a truly exceptional, sold-out summer party in August, Defected In The House returns to Ministry of Sound to continue its season of peerless parties at the London clubbing institution.

Defected Records has continued its inexorable rise throughout 2013, releasing some of the year's biggest underground anthems and boasting Defected In The House residencies at some of the world's most respected clubbing establishments. This next party at Ministry of Sound will be the fifth of the year, and – if previous instalments of this legendary residency are anything to go by – will prove to be yet another highlight in 2013's clubbing calendar, falling as it does on one of the biggest party weekends of the year.

On Saturday 2nd November, the combined musical might of Dennis Ferrer, Noir, Shlomi Aber, Simon Dunmore, Franky Rizardo and André Hommen head to South London to put the world's finest soundsystem through its paces.

Dennis Ferrer's last performance for Defected at Ministry of Sound back in April was truly exemplary. As ever, his set was unpredictable, charismatic and highly energetic, so you can expect another faultless performance from a DJ whose reputation as one of the world's finest further cements itself with every appearance. Ferrer recently delivered an incredibly well-received podcast for Resident Advisor; a masterclass in house both current and classic that included his recent underground smash 'Mind Ur Step' (listen here: http://www.residentadvisor.net/podcast-episode.aspx?id=377)

Noir's In The House mix collection was named Album of the Month and labelled "essential" by Mixmag, while his appearance for their The Lab live stream alongside FCL was one of the most spectacular sessions of the series. Recent high-profile sets at Booom!, Ibiza and We Are FTSVL, UK were enthusiastically received from all quarters, and with his label's Noir Music and NM2 regularly delivering the kind of emotive, dancefloor-ready house for which Noir is known, you can expect another scintillating performance from the Danish legend.

Recognized as a major house and techno pioneer and a highly influential artist of recent time, Shlomi Aber has created some of the most recognizable and unique underground anthems for the world's most prestigious labels, including Defected, Cocoon, Desolat, Cadenza, Ovum, and Objektivity, and will be dropping a further remix later this year on a soon to be re-launched, Defected-associated label DJ Mag have previously described Shlomi's sets as "full with warm and unique sounds that makes you feel like you are going back to the better days of music", so if you are yet to witness him in action this is the perfect opportunity.

Hosting the 103 for the entire night will be none other than Defected founder Simon Dunmore and Dutch hero Franky Rizardo. Rapidly approaching its 15 year anniversary, the foundations of Defected Records are built upon Dunmore's love for and deep understanding of house music, and there is no-one better at laying down classic and contemporary musical vibe than him. Rizardo meanwhile has become a star not only in his native Holland but across the world, with his rolling, rhythm-heavy sets and flawless track selection setting him apart from many of his peers. André Hommen, whose won remix of Ferrer's 'Mind Ur Step' has recently found a champion in Radio 1's Pete Tong – completes the line-up.

As the recent Defected In The House parties at Ministry of Sound have proved, this night is guaranteed to sell-out well in advance, so book your ticket early to avoid disappointment.