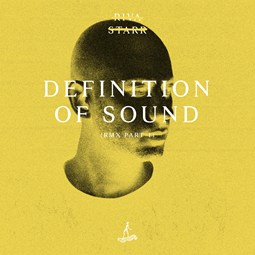 Riva Starr - Definition of Sound Remixed
House music's revered London-based Italian-born DJ/producer Riva Starr will be releasing a special remixed version of his acclaimed third album, 'Definition Of Sound', in the form of two EPs (out August 5th and September 2nd) via Green Velvet's Cajual Records imprint.
Released in March earlier this year, 'Definition Of Sound' was an album that further highlighted the talented Italian's musical prowess; seeing him fuse his unique production style with a scintillating roster of collaborators, including Acid House pioneer DJ Pierre, Green Velvet, US soul diva Dajae and Gene Farris.
The first instalment of this stellar remix package kicks off with German duo Mat.Joe's rework of 'In The Midnight Hour', retaining Dajae's rich vocals and combining them with deep, resonate drums that amplify the track's underlying groove. Next up, Greek DJ/producer Detlef turns 'After Dark (Is When We Move)' into a frenzied masterpiece packed with skew-whiff sound effect and a solid bassline. 'Without You' receives a pulsating Tech House make-over from rising UK star Will Clarke and Santos' remix of 'Can You Feel The Sunshine' ventures down darker avenues as the original's shimmering piano chords take a backseat to crisp drums and neat percussive undertones.
The following EP sees Germany's talented Emanuel Satie provide a tasty re-rub of 'The Loft' Feat. Dajaé by injecting his own pumping House vibe and manipulating the original's recurring piano riff and lyrics to great effect. Next up, Italy's much in demand duo Paul C & Paolo Martini step up to put their own slant on 'You're Beating' Feat. Green Velvet, delivering trippy groove-based Tech House roller with an amazing breakdown reminiscent of Moby's club classic 'Go'. Last but not least, Italy's rising star Paride Saraceni delivers a very powerful, uplifting and melodic Tech House interpretation of 'Count On Me'.
To conclude, 'Definition of Sound Remixed' sees some of House music's hottest talents put their own unique stamp on tracks from one of Riva Starr's most polished and invigorating studio releases to date.
'Definition of Sound Remixed' will be available via Cajual Records on August 5th and September 2nd 2016.
FIND RIVA STARR ONLINE:
www.facebook.com/rivastarr
https://soundcloud.com/rivastarr
https://twitter.com/rivastarr
FIND CAJUAL RECORDS ONLINE:
http://www.cajual.com
https://soundcloud.com/cajual
https://www.facebook.com/cajualrecords
https://twitter.com/cajualrecords
TRACKLIST
EP1
01. Riva Starr Feat. Dajae – 'In The Midnight Hour' (Mat.Joe Remix)
02. Riva Starr & Gene Farris – 'After Dark' (Is When We Move) (Detlef Remix)
03. Riva Starr – 'Can You Feel Sunshine' (Santos Remix)
04. Riva Starr – 'Without You' (Will Clarke's Cuddle Cut)
EP2
01. Riva Starr – 'The Loft' (Emanuel Satie Remix)
02. Riva Starr – 'You're Beating' (Paul C & Paolo Martini Remix)
03. Riva Starr – 'Count On Me' (Paride Saraceni Remix)