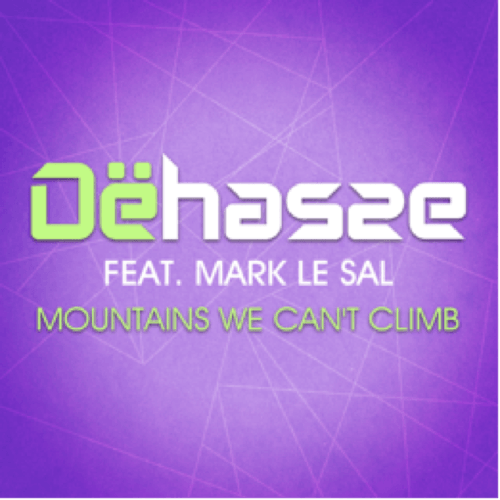 Dëhasse - Dëhasse – Mountains We Can't Climb
Electronic Dance Music has grown stale—that's no secret. Tracks are so formulaic you can spot the builds and drops just looking at a .wav file. But all hope is not lost. Prepare to have your senses reawakened. Your intrigue reinvigorated. The journey in music is back, thanks to Dëhasse.

The New York-based Dëhasse pack a punch of surprises that will keep your ears perked and you on your toes with "Mountains We Can't Climb (Epic Vocal 12")." Welcoming the listener with an embracing layer upon layer of sonic introductions, Dëhasse's Advanced Electronic Dance music finds the perfect balance between complexity and danceability, with surprises that can't help but make you smile. From glitch to wonky, deep to enlightening, anyone's interest will be piqued by "Mountains We Can't Climb (Epic Vocal 12")."
"The journey of the track both musically and lyrically is one of pure ethereal and musical enjoyment, with a set of lyrics which just about everyone in life can relate to," says Dëhasse. "The music itself has a taste of melodic Balearic techno—which provides a moment of exoteric escapist feeling."

For "Mountains We Can't Climb (Epic Vocal 12")," Dëhasse also penned the lyrics in addition to production to move the listener in a "very pure way," he says. Working with vocalist Mark Le Sal from Europe was a thoroughly positive experience. "Mark Le Sal is an incredible talent and musically intelligent vocalist," Dëhasse says. "The creative process on this song was simply awesome; it just came together in one of the special moments you get in recording and writing music."

"Mountains We Can't Climb" has already found fans thanks to Fox Head Clothing using the track in a fall TV and online campaign featuring wake board champion Reed Hanson on a project entitled "Battle Falls." Roxy Clothing and Etines AB+A also picked up "Mountains" for online sync campaigns as well. In addition to "Mountains We Can't Climb (Epic Vocal 12"),"the story continues with a "Dance Radio Edit," "Album Radio Edit" and an "Album Version."

Dëhasse fans can show their support by joining www.TeamDehasse.com for free access to shows, exclusive gear, prizes and more.

Dëhasse made his first big impact on the electronic music world with "In Da House" in 2011. His remix of Public Enemy's "Harder Than You Think" for the London 2012 Olympic Games earned a No. 4 spot on the UK national sales charts and "The Alchemist" rising to No. 12 on the Beatport sales chart. Since then, Dëhasse has racked up over 14 Beatport hits with support from Gareth Emery, Tiësto, Thomas Gold, Super8 & Tab and more.