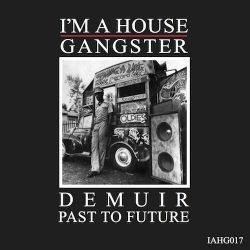 Demuir – Past To Future EP
I'm A House Gangster get set for a busy year ahead for their label, kicking off proceedings with the monstrous triple tracker 'Past To Future EP' from Toronto's Demuir. Opening up the party is the badass relentless jackin groove,'Whatchuwhoooooant?!', topped with a spoken word with lyrics inspired by people with insecurities who act irresponsibly. Subtle jazz fused licks bubble over a bouncing groove on 'Drama Untied' with a powerful vocal sample that call's upon all of us to recognise ourselves as one. 'The Cheerleader' comes armed with a serious dose of F.U.N.K. with a sublime popping bass hook and a profound vocal message. "This track is about my growth to blaze my own trail, the lyric, "No more shines." is a really a profound statement to either follow realness or get out of the way", says Demuir.
Demuir's eclectic house sound exudes funky, sexy, and soulful beats that is consistently recognized and sought by artists and house fans around the world. His DJ and production career has propelled him into a range of various house based genres (Jacking / Funky House, Techno, Tech-House), which has led to his music being featured on many respectable labels including: Great Lakes Audio (GLA), IAHG (I Am A House Gangster), DNH, Fogbank, Farris Wheel and Doin' Work, among many.