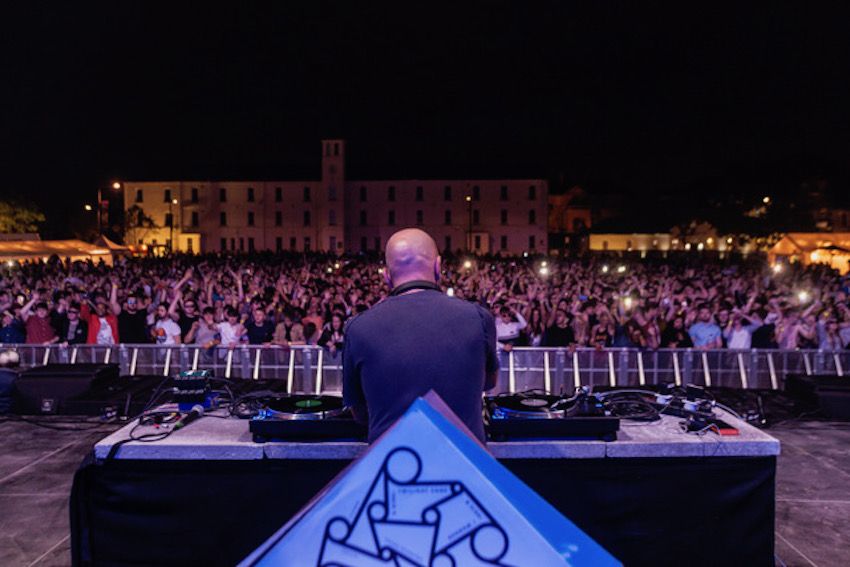 Denis Sulta & Green Velvet curate stages for Jika Jika!
Respected Irish promoters Jika Jika! promise to bring something new and exciting to Derry's unique former army barracks Ebrington Square on August Bank Holiday weekend 2018. Their first ever festival is set to feature stages curated by Denis Sulta and Green Velvet across August 25th and 26th, plus a cultured mix of talents including Octave One Live, Steffi, Willow, Patrick Topping, Charlotte De Witte and Louisahhh!!!
Jika Jika! have proven themselves over the last few years with trend setting parties in Derry, but this new event is sure to raise the bar once more and make Ebrington Square a must visit destination for those in Europe who are just a cheap flight away. The backdrop to the big open air space is stunning, with views of the River Foyle and Peace Bridge, as well as an art installation made up of 40 pairs of illuminated columns created by Turner Prize nominee Vong Phaophanit and Claire Oboussier.
Saturday August 25th sees Sulta Selects boss Denis Sulta curate a stage under that banner. The curveball and provocative selector will be joined by Detroit techno legends Octave One, who have the most impressive live show in the game and have been touring it for 20 plus years. Also lining up is Ostgut Ton associate and Klakson label boss Steffi, who brings a futuristic electro sound that also takes cues from the Motor City. She will be joined by Workshop's breakthrough star Willow, whose smoky, insular deep house casts a spell on all who hear it.
Sunday sees Chicago legend and Relief and Casual label boss Green Velvet bring his La La Land brand to Europe for the first ever time. Green Velvet is joined by hit making tech titan Patrick Topping from Hot Creations and Relief, plus Belgium's first lady of aggressive techno, recent DJ Mag cover star and Suara and Sleaze artist Charlotte De Witte. Last of all, fellow techno tastemaker and Dave Clarke collaborator, Louisahhh!!! has a fierce and unrelenting sound and rounds out a serious line-up.
Says James from JikaJika, "We are very excited to reveal our very first Jika Jika! festival this Summer. This is the third year that we have taken over Ebrington Square on the August bank holiday, and after the sell-out success of Sven Vath in 2016 and Drumcode with Adam Beyer last year, we knew we had the foundations to establish our very own Jika Jika festival in 2018.
We are delighted to have Denis Sulta & Green Velvet on board as stage hosts across the two days joined by a selection on hand picked global superstars from the house & techno world. We can't wait to embark on this new journey!"
This is set to be a historic festival for Derry, and one that brings world class talents to a unique location for two days of unrivalled house and techno action.
SATURDAY 25TH AUGUST
DENIS SULTA PRESENTS SULTA SELECTS
DENIS SULTA
OCTAVE ONE LIVE
STEFFI
WILLOW
SUNDAY 26TH AUGUST
GREEN VELVET PRESENTS – LA LA LAND
GREEN VELVET
PATRICK TOPPING
CHARLOTTE DE WITTE
LOUISAHHH!!!
http://www.jikajikafestival.com/
https://twitter.com/JikaJikaDerry
https://www.facebook.com/jikajikaevents/