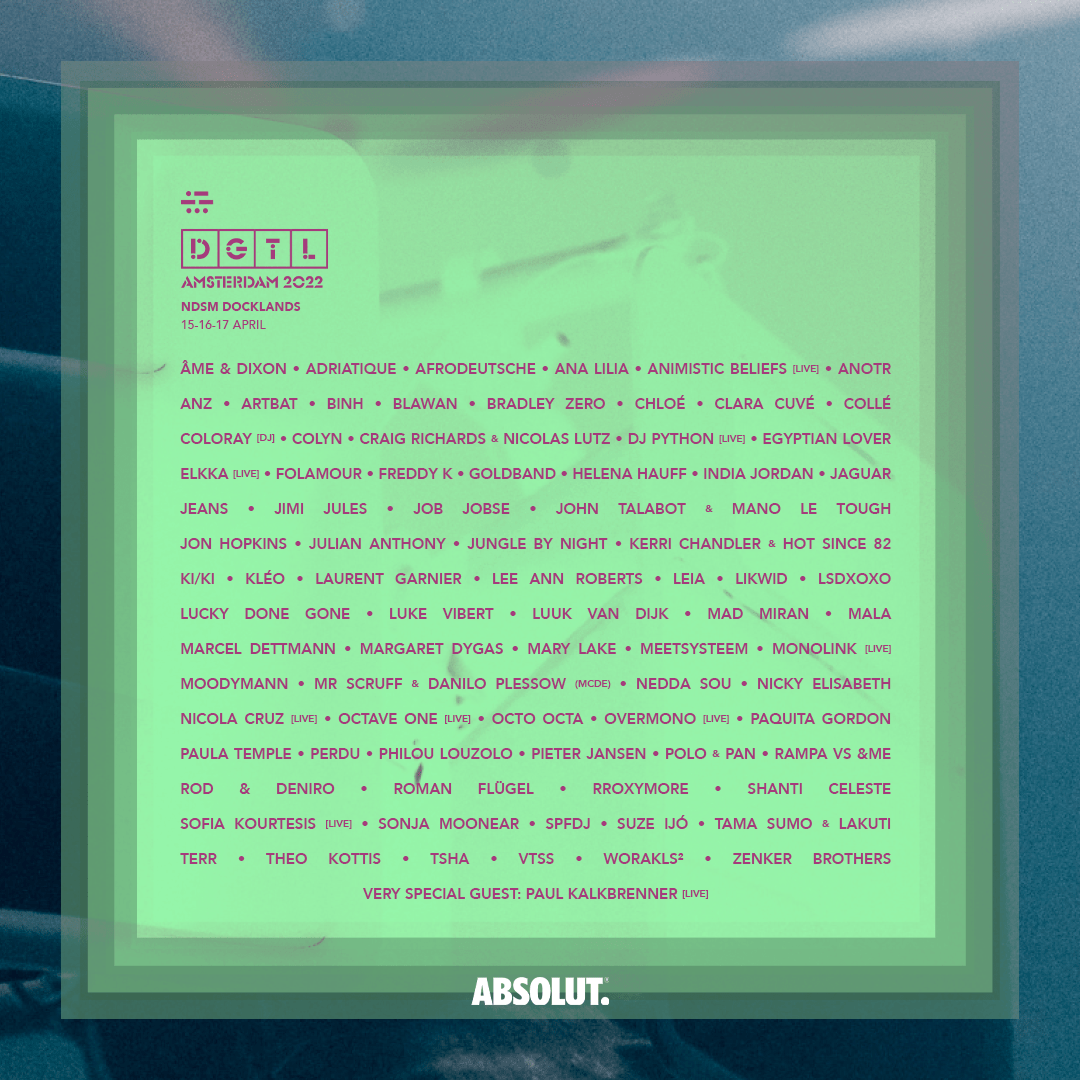 DGTL AMS 2022 comes in swinging with mammoth line-up and additional third day
As 2022 opens its doors to a world brimming with the basic human need to reconnect, Dutch event heavyweight DGTL duly obliges, dropping an immense, all-encompassing line-up that promises to launch the annual festival calendar in absolutely unmissable style. DGTL AMSTERDAM 2022 is an unapologetic clarion call to music lovers, an invitation to come together under the bass, to raise hands to the roof and to bear witness to the reunification of a global dance floor that welcomes, respects and celebrates all corners of club culture.
About DGTL:
With music, art and sustainability as the main pillars, the DGTL events have taken their own place in the festival landscape worldwide. DGTL is the first circular electronic music festival, with a strong focus on topics such as energy, sanitation, food, raw materials and mobility. DGTL has already reached far beyond its home base in Amsterdam with editions in São Paulo, Barcelona, Madrid, Santiago, Tel Aviv and Bangalore (India). For more information, visit www.dgtl.nl
Follow DGTL: Website – Facebook Event Page – Instagram
The flagship event in DGTL's expansive global festival series, DGTL AMSTERDAM 2022 will take place across three days, bringing back its illustrious DGTL Opening Night on Friday 15th April, before diving deep into its traditional weekender event on Saturday 16th and Sunday 17th of April. Spanning a whopping seven stages with over 80 acts performing across the three days, DGTL as always is on course to deliver a spectacular array of artists that stretches from global superstars and revered underground icons, to explosive newcomers and stars from Amsterdam's rich vein of electronic talent.
A concert-like event to kick-off the festival's return to its NDSM Docklands home base, Friday's DGTL Opening Night will see a very special live set from headliner Monolink, followed by an extended back-to-back session by Âme & Dixon. DGTL fans already familiar with event organisers' ever-growing focus on live acts will not be surprised by this newest addition to the AMS edition, which has grown organically from DGTL's existing and world-renowned LIVE Stage.
Saturday sees legendary DJ, producer and all-round pioneer Laurent Garnier headline the billing. Joining him on the top bill is fellow Frenchman and one of the most significant young artists to rise up within house and disco, Folamour. Supporting both is a raft of exciting newcomers to the DGTL line-up: high-energy dance disciple India Jordan; the UK's Jaguar, who not only slays in the DJ booth but is  renowned for unearthing fresh new talent across the spectrum of diversity and inclusivity; and TSHA, championed by Jaguar and one of the most exciting female electronic music talents to come out of the UK.
On Sunday, the line-up continues to push sheer quality. None other than Paul Kalkbrenner headlines with a very special live performance, John Talabot & Mano le Tough provide a much-anticipated back-2-back, and the universally-loved Dutch artist Job Jobse closes the Modular stage in his signature spectacular style for the very first time in his DGTL career. DGTL also proudly presents new live shows on Sunday by electronic duo Overmono and Berlin-based house DJ and producer Sofia Kourtesis. Fans of emerging superstars should also keep an eye out for Manchester-based DJ and producer Anz, renowned for her versatile take on contemporary UK club music.
Click to view the full line-up for DGTL AMS