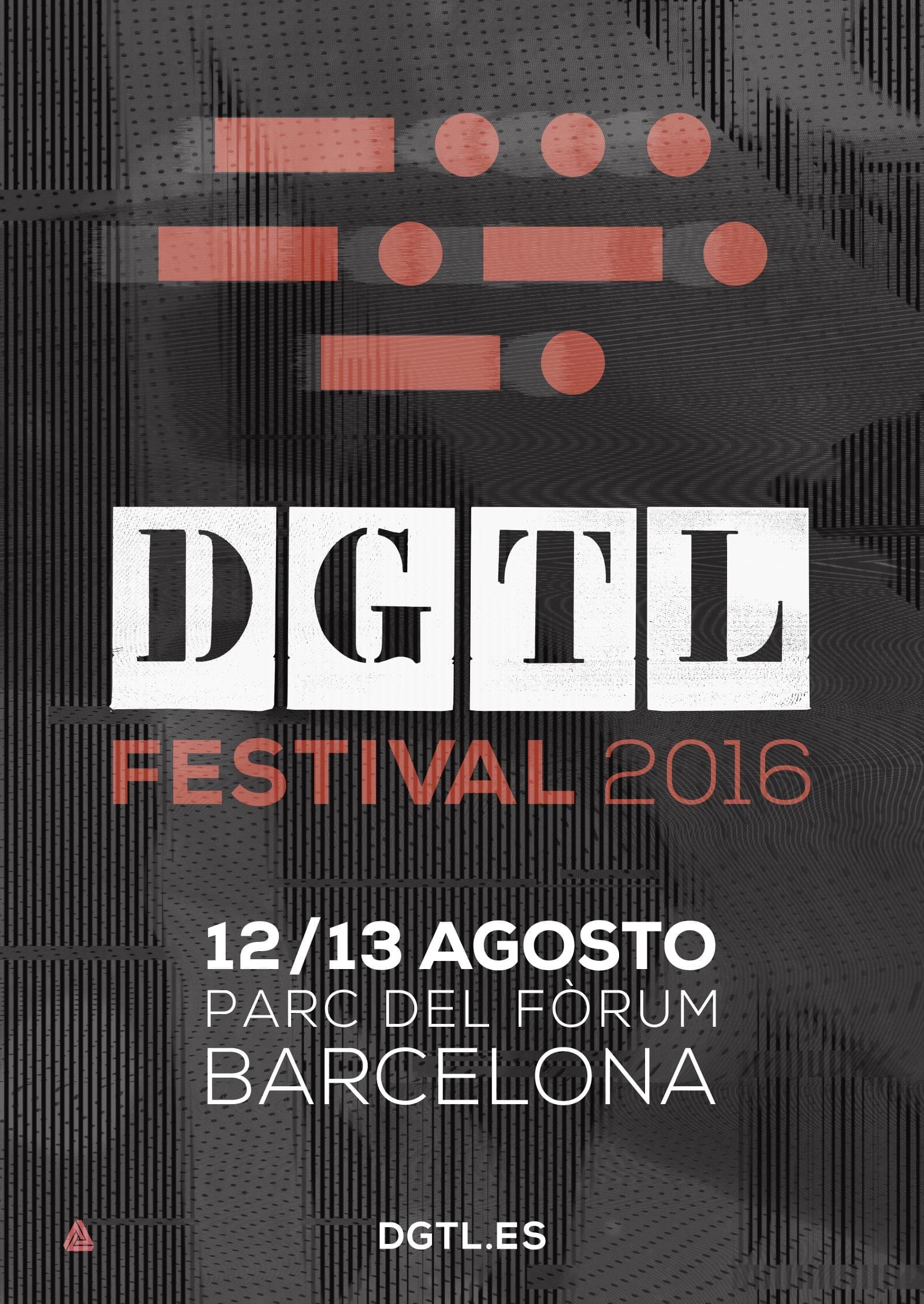 DGTL Barcelona reveals the first names of 2016 lineup
DGTL Barcelona has revealed almost the entire lineup for the festival that will take place on August 12-13. This first announcement includes a solid and varied selection of talented DJs and producers with established careers who have made a name for themselves among the best electronic music proposals. Top of the bill this year are Nina Kraviz, Maceo Plex, Âme dj, Jamie Jones b2b Joseph Capriati, Pan-Pot, Dixon, Robert Hood and Marcel Dettmann.
Following her performance at DGTL Amsterdam this spring, where she closed the festival with a memorable session, Nina Kraviz returns to Barcelona to take us on a trip through her vast music collection. A DGTL regular and Ellum's founder Maceo Plex will take advantage of his performing home to redefine his reputation as one of the pioneers of
underground house. In addition, an iconic and interesting back to back will confront Italian techno capo Joseph Capriati and Hot Creation's boss Jamie Jones.
Back in the line-up this year is Marcel Dettmann, internationally renowned as one of the most influential names in contemporary techno thanks to his residency at Berghain, along with the Pan-Pot duo, who will make their way to Barcelona after their amazing gig i
whose meteoric rise in the international scene hasn't gone unnoticed; Innervision's bosses Âme and Dixon, who for years have shown us the fresher side of today's house music; and also French producer Agoria, whose dark approach to dance music has become legendary after performing in several DGTL editions.
Other highlights in the lineup are Robert Hood, one of the greatest exponents of old-time techno; the also architect Gui Boratto, who will delight us with an electrifying performance; Fort Romeau's fresh, danceable electronic music; KiNK, one of the acts of the moment; Detroit's young house promise Kyle Hall; Fur Coat's dark deep beats and Edu Imbernon's combination of electronic music, house and indie or Oscar Mulero's techno. This year's
Amsterdam two years ago.
Other names that should be highlighted include Job Jobse,
edition in Barcelona will also feature lighter sounds such as those by the Bedouin duo, who fuse electronic with Middle Eastern sounds; Jeremy Underground's luminous disco- influenced house; or the expected b2b set between diggers Hunee and Antal. Other names include German dance electronic music duo Andhim; the deep sounds of Dutch Boris Werner; the dirty, melancholic house of Norwegian Finnebassen; Joachim Pastor's pop- tinged electronic music; N'to's abrasive live performance, Paul Temple's powerful techno, Gardens of God's merciless electronic music, Surgeon's and Vril's grinding techno and Truss's techno dj set.
The Spanish national scene will also be present at DGTL Barcelona. Legendary names such as Guim Lebowski, the boss of the Cercle label that is also the name of a series of parties, and Marc Piñol, one of Hivern Discs' most interesting proposals, will share stage with young promises Sau Poler, the more experienced Pional and the almost veteran Cora Novoa, responsible for one of the most personal sounds in the Spanish scene. Other smaller national acts so far are Beyond, Daniela Marques, Flug, Francesco Bergomi, Herr b2b Rick Maia, Rainer and Raxon.
DGTL Barcelona will have four stages, one more than last year, all of them with an innovative design, and almost 60 artists. The festival will also boast art installations within the DGTL Art section, as well as eco-sustainable proposals embodied by the DGTL Revolution project.
DGTL Barcelona was first organized in Barcelona in 2015 after years revolutionizing the Netherland's electronic scene. Over 20,000 people attended last year's edition, with a lineup composed by 40 artists that divided their gigs in three stages. DGTL Barcelona also left its fanciful, futuristic and industrial signature mark at Parc del Fòrum, which attendees enjoyed for two days.
Key Dates:
On June 22nd, DGTL Barcelona will reveal new headliners.
DGTL Barcelona 2016
August 12/13 – 2016
Parc del Fórum, Barcelona http://dgtl.es
Listen to the line-up with this playlist (get the embed code for the online articles)
https://playmoss.com/en/good2b/playlist/nuestros-favoritos-de-dgtl-barce…
Line up:
Âme dj
Agoria
Andhim Bedouin
Beyond
Boris Werner Cora Novoa Daniela Marques Dixon
Edu Imbernon Finnebassen
Flug
Fort Romeau Francesco Bergomi Fur Coat
Gardens of God
Guim Lebowski
Gui Boratto [live] Herr b2b Rick Maia
Hunee b2b Antal
Jamie Jones b2b Joseph Capriati
Jeremy Underground
Joachim Pastor [live] Job Jobse
KiNK [live] Kyle Hall
Maceo Plex
Marc Piñol Marcel Dettmann N'to [live] Nina Kraviz Oscar Mulero Pan-Pot Paula Temple Pional
Rainer
Raxon
Robert Hood Sau Poler Surgeon [live] Truss
Vril [live]
Tickets
Early Bird €55,-
Second release €62,50,-
Final price €69,50,-
On April 28th the daily lineup will be announced and daily tickets sale launched.