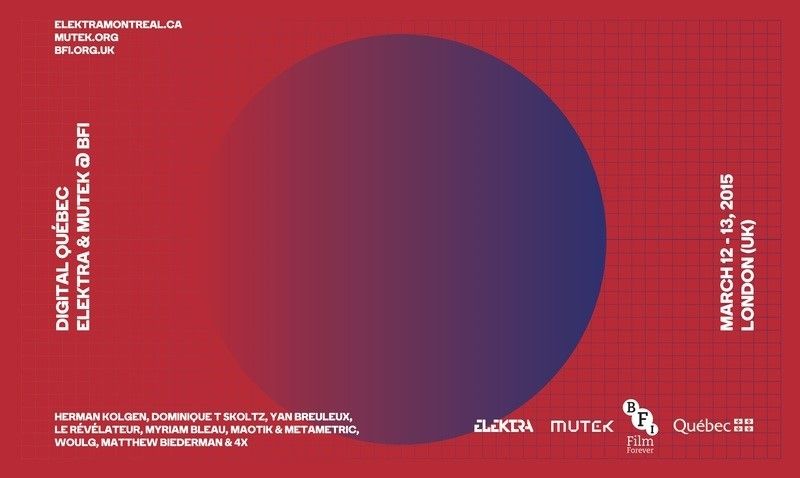 DIGITAL QUÉBEC
BFI Southbank's regular Sonic Cinema strand teams up with ELEKTRA and MUTEK, two vibrant organisations from Québec, to present a bold and ambitious series of live audiovisual performances, featuring 8 UK Premieres over two consecutive nights.

Dubbed Digital Québec, some of the province's most innovative and experimental A/V creators will be presenting their work for the very first time on British soil. Acting as a continuation of the combined ELEKTRA and MUTEK 15th anniversary event EM15 presented in Montréal in May 2014, the selection of works represents the interdisciplinary intersection of music, sound and digital art where both organisations meet.

Here is the confirmed lineup:

THURSDAY 12 MARCH

7pm
Dominique t Skoltz: y2o
Known for her filmic explorations into the contrasts between the intimate and clinical, Dominique t Skoltz presents her new work which studies the subject of troubled love with stunning results (29 min).
Yan Breuleux: Tempêtes
Yan Breuleux's work for this show is inspired by the late work of painter Joseph Mallord William Turner. Presented as a journey through a series of chaotic panoramas undergoing continuous transformations, Tempêtes is created in collaboration with cellist Soizic Lebrat (20 min).

9.15pm
Matthew Biederman & 4X: Physical
Matthew Biederman and sound artist 4X dive deep into the physicality of sound and image perception and ask the question of where perception actually occurs within the senses. The work blurs electronic music and synthetic voices with thrilling effect (35 min).
Herman Kolgen: Seismik + Aftershock
Herman Kolgen has been modelling sumptuous 'audiocinetic' sculptures for over twenty years. He presents Seismik, a dazzling, tension-charged performance that taps into seismic waves, frictional resistance and the Earth's tremor-related phenomena in real-time (40 min + 12 min).

FRIDAY 13 MARCH

7pm
Maotik & Metametric: Omnis
Omnis is a live A/V performance by Maotik & Metametric which takes its inspiration from the concept of ubiquity. Expect a sonic and visual assault that destabilises the senses as the piece explores the limits of space and technology (30 min).
Woulg: Ring Buffer
Montréal-based composer and new media artist Greg Debicki presents Ring Buffer, an A/V performance which explores data-bending by using visual sculpturing software and transforming generated 3D shapes into sound (40 min).

9.30pm
Myriam Bleau: Soft Revolvers
Soft Revolvers is an A/V performance utilising 4 spinning tops, all built by the artist. A hypnotic and original piece that challenges what we consider to be modern live A/V (25 min).
Roger Tellier-Craig & Sabrina Ratté: Le Révélateur
Le Révélateur is an interdisciplinary collaboration between Sabrina Ratté and Roger Tellier-Craig, exploring the creation of abstract architectural structures and electronic landscapes (30 min).

Bold installation and screen works mingle with spectacular, live audiovisual performances to showcase a range of practices that underline Québec's artistic and technological strengths in these areas.

Also integrated into the program will be the International Marketplace for Digital Arts (IMDA), which is open to the public and free to attend. Taking place on the afternoon of Friday March 13 from 12.30pm – 5.30pm, Québec artists and organizations will demonstrate their artistic practice and related activities to the public and to an audience of selected European professionals. The aim is to encourage the circulation of artworks and to stimulate collaborations and co-productions.