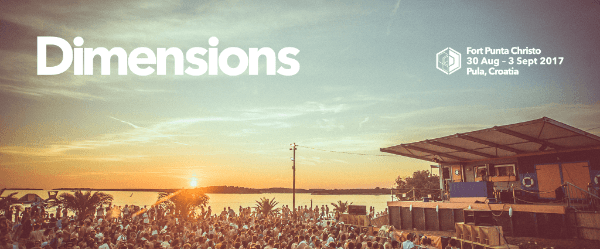 Dimensions announce radio programme with Worldwide FM and Balamii
Paying homage to radio, Dimensions Festival can announce a brand new radio programme in partnership with two of London's leading stations, 'Worldwide FM' and 'Balamii.' Part of this collaboration includes a takeover on each channel with a line-up of solid-gold Dimensions associates; think long-term family, new talent, label affiliates, Directory selectors, founders and more. Extending out to Croatia, Worldwide FM and Balamii will both be setting up shop on site, hosting six hours of radio each day live from a beach side home. For those joining the adventure, final release tickets are available from £151 – so grab one here. With Grace Jones, Jeff Mills, Theo Parrish, Helena Hauff, Danny Kravit, Marcel Dettmann, Andy Stott, Dam-Funk, Nina Kraviz, Mr Ties and more all on board for 2017, it's an essential date in the calendar.
TAKEOVERS
Thursday July 13th sees the first takeover, with Gilles Peterson' Worldwide FM team. Four packed hours between 2pm – 6pm with Dimensions favourites includes interviews, live sets, drop-ins and more from Larry Heard, Antal, Kerem Akdag, Cymande, Dimensions Soundsystem, Dimensions Directory artists and more. Plus there'll be a Dimensions Recordings label focus, looking at the newly launched imprint and their first compilation release 'Dimensions Recordings : An Introduction,' which you can check out here. South East London's finest 'Balamii' is the station championing some of the cities finest breakouts, with shows from Andrew Ashong, BBZ, Rhythm Sister, Riz La Teef, Andy Blake, comm-une and more. This special is later down the line, with info to follow.
ON-SITE COLLABORATION
Worldwide FM and Balamii will extend their input to Croatia, creating a unique festival x radio broadcast live from Dimensions seafront, beach side set up. Across four days, artists from the line-up will drop in for chats, mixes, jams and more, with Balamii taking control on the Thursday / Friday and Worldwide FM finishing on Saturday and Sunday. From London to Croatia and beyond, a touch of the Dimensions magic will be streamed across the globe. Full programmes for both to be announced nearer the time. With both Worldwide FM and Balamii being leaders in the game, this project is a nod to increasing importance of radio for the underground communities.
A combination of careful curation partnered with a stunning setting and a discerning crowd makes Dimensions Festival the go-to underground party for those in the know. Committed to quality in sound and production, each year the team programme a bill of the highest order, uniting nostalgic artists who've shaped our scenes with fresh breakout talent. This year find Grace Jones, Jeff Mills, Theo Parrish, Helena Hauff, Danny Krivit, Marcel Dettmann, Andy Stott, Dam-Funk, Nina Kraviz, Dam-Funk, Mr Ties and so set to play on the fort's custom sound systems. The site itself is accessible from Pula, which hosts plenty of accommodation, on top of the onsite campsite – more info here, Main flight destinations from the UK are Pula, Zagreb, Trieste, Ljubljana, Venice Treviso and Venice Marco-Polo airports, more info here.
DIMENSIONS FESTIVAL RADIO
Worldwide FM takeover : Thursday 13th July 2017 | 2pm – 6pm
Balamii takeover : Date TBC
ON-SITE COLLABORATION
Balamii : Thursday / Friday
Worldwide FM : Saturday / Sunday
www.worldwidefm.net || http://player.balamii.com || www.dimensionsfestival.com