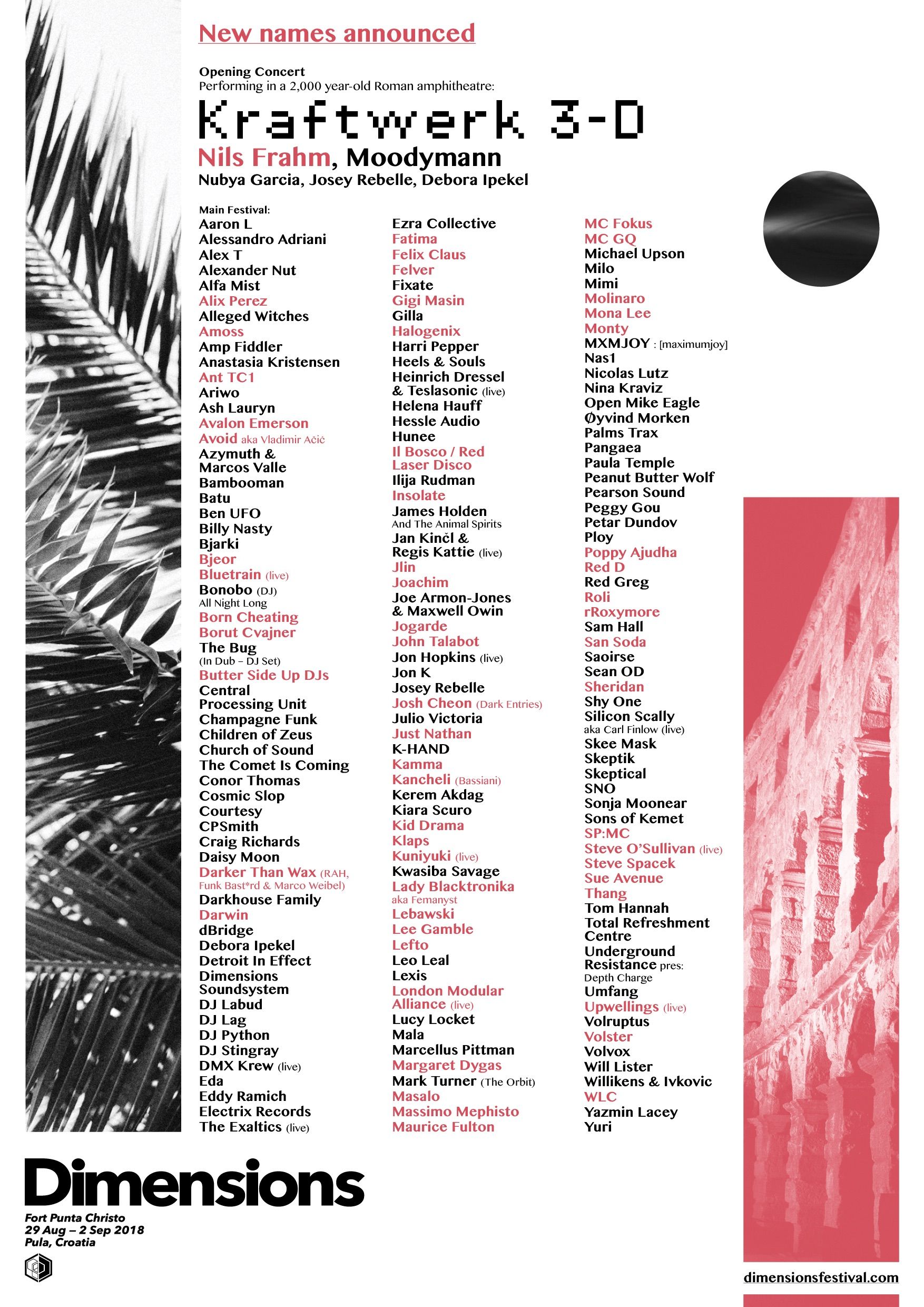 Dimensions Festival Drop New Names…
Consistently booking with a forward-thinking and innovative approach, Dimensions' 2018 brings together a collection of eclectic and diverse sounds – electro, house, techno, jazz, soul, leftfield, bass and DnB explorations can all be found on the bill. Along with game-changing electro act Kraftwerk, Nils Frahm also now plays at the Opening Concert – a composer whose avant-garde approach to combining classical and electronic has won him acclaim the world over. Mixing a grand piano, upright piano, Roland Juno-60 and Rhodes piano with drum machines, Nils' majestic creations will alleviate the Pula Amphitheatre. More info on the Opening Concert, head to http://bit.ly/2I9AqUG.
Looking to the main event, there's a tonne of new acts for the main Dimensions' days. Techno fans are in for a treat as a host of mainstays are added, find Margaret Dygas poised with techno grooves, along with genre vanguard rRoxymore and acclaimed artist Avalon Emerson, who'll fuse techno, breaks and electro in a mind-altering set. Dark oddball techno comes from UIQ boss Lee Gamble, and ready with electro jams are London Modular Alliance, who'll play live with a tech-heavy live set sure to impress. Steve O'Sullivan brings his live show as he ventures through all things minimal whilst he'll also perform a rare show under his dub influenced moniker, Bluetrain. Joachim ventures through all things minimal, whilst Upwellings focus on the dubbier end of the techno spectrum.
House heads have plenty in store too, with OG master Maurice Fulton announced to return, as well as We Play House boss Red G, plus label affiliate San Soda and Just Nathan. Uplifting disco tinged anthems come from the revered John Talabot. Also on board is Josh Cheon of Dark Entries, and a live set from one of Japan's best kept secrets – Kuniyuki. Hailing from Singapore, the Darker Than Wax label crew join with RAH, Funk Bast*rd & Marco Weibel, known for breaking all boundaries, progressing the music circuit regionally. Dimensions family member Lady Blacktronika, aka Femanyst is welcomed with open arms, expect a slice of deep house layered in tenderness and heartache.
Queen of Eglo Records, Fatima, returns to Dimensions for what promises to be a special live set ahead of her new album dropping this year. A testament to Fatima's abilities and versatilely, her previous output is expansive – joining the dots between electronic, jazz, soul and more. Another act not to miss is Steve Spacek, a certified legend whose futuristic soul has cemented his place as one of UK most influential soul figureheads. New school soul comes from Poppy Ajudha, a commendable young artist who twists soul and jazz into a fresh sound. More experimental ambience come from Gigi Masin, who'll bring an ethereal element to Dimensions. On a higher tempo tip, there's DnB from Dimensions regulars Alix Perez, Kid Drama, AC1 and Halogenix, plus MC talent Amoss, MC Focus, GQ and SP:MC on vocal duties. Another essential is Planet Mu's Jlin, whose take on footwork has seen her become an ambassador for the genre.
Find revered regional crews playing too, with Leeds' long-term legends Butter Side Up heading to Croatia with a DJ crew, plus Manchester's own Red Laser Disco and Il Bosco. They'll join the likes of Love Muscle, Cosmic Slop, Church Of Sound and Total Refreshment Centre. The Dimensions DJ Directory is a project established to develop some of the Dimensions' favourite breakthrough selectors, providing advice, support and show opportunities. Just announced are Dutch dream team Kamma and Masalo, who smashed the Rush Hour stage last year, plus Molinaro. Other Directory artists to check are Sean OD, Kiara Scuro, Debora Ipekel, Harri Pepper, Alex T, Sam Hall, Yuri, Kwasiba Savage, Shy One, SNO and Will Lister – a strong crew on board for 2018's outing. Plus, there's a heap of Croatian talent representing, with Felver b2b Jogarde, Insolate b2b Volster, Borut Cvajner, Avoid aka Vladimir Ačić and Roli. And there's plenty more to head to Croatia for; from Kraftwerk, Nils Frahm and Moodymann at the Opening Concert to Hunee, Hessle Audio, Umfang, MXMJOY: [maximumjoy], Amp Fiddler, Batu, Courtesy, Dbridge, Detroit In Effect, DJ Stingray, Ezra Collective, Helena Hauff, Jon Hopkins, Moodymann, Palms Trax and more across the main event, you're spoilt for choice.