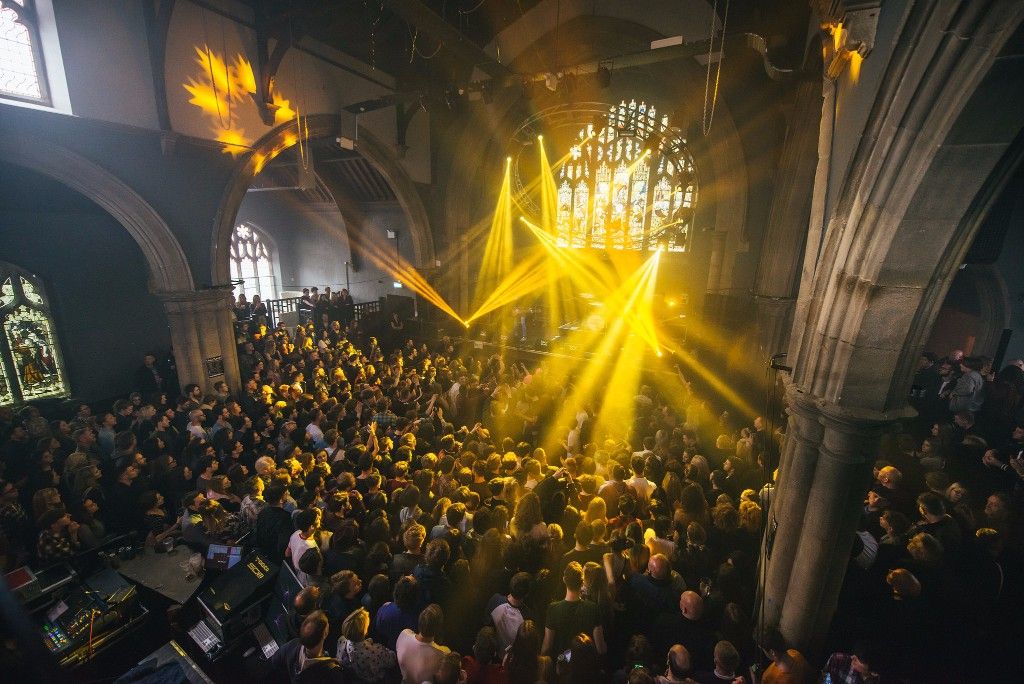 More Confirmed For Live At Leeds 2018
Full to the brim with the very best new music names, Live At Leeds is once again the definitive destination to find the essential sounds for the year ahead – cementing its position as the leading new music event of 2018 with even more incredible names confirmed for May 5th, and their biggest lineup to date.
Topping the bill with what's sure to be a must-see Live At Leeds moment on the brand new Leeds Festival Stage, guitar kingpins The Vaccines will roll into view with a set of explosive indie anthems that'll have thousands singing along in unison. One of the most exciting British guitar bands of recent years, their electric presence has seen them travel the globe, with cuts like 'If You Wanna', 'Teenage Icon', 'Handsome', 'Wreckin Bar (Ra Ra Ra)' and 'Norgaard' lighting up crowds with unparalleled ease. With new album 'Combat Sports' on the horizon and a new era for the band beckoning, The Vaccines next glorious step will be laid out in full as they return to top the bill at Live At Leeds.
Speaking about their headline slot at this year's Live At Leeds, The Vaccinessaid:
"Whether at our own shows or at the festivals, Leeds has proved itself time and time again to be one of the best audiences in the world. We really mean that. It was the first chants of 'YORKSHIRE' in 2011 that made us feel like we'd truly arrived. Having spent most of last year living in Yorkshire too ,and recording our new album there, this will also be somewhat of a homecoming – even if only in our heads. We can't wait."
After a staggering 2017, Bristol punk starters IDLES will head to Live At Leeds with one of the most formidable live shows going. Full of searing aggression and pulsating rock kicks, their debut album 'Brutalism' became one of the most celebrated of last year, prepare yourselves for a live performance bound to blow the roof off with unbridled energy.
Blending influences, jack-in-a-box surprises and sugar coated hooks – Superorganism are one of the most talked about bands of the year so far. Coming together from a variety of different backgrounds and homes around the globe, the result is a band flowing with creativity and unabashed fun – calling to mind the infectious beats of The Avalanches. With hits like 'Something For Your M.I.N.D' and 'Everybody Wants To Be Famous', Superorganism at Live At Leeds will be a colourful party not to miss.
Powerfully independent and a commanding modern voice of her own, Nadine Shah is one of the most critically adored artists of the past 12 months – spilling with a punk philosophy and an instantly recognisable sound. Pouring with tales of the here and now, her latest album 'Holiday Destination' has taken Nadine to a whole new league, and her set at Live At Leeds is sure to be a spectacle of a true artist in full flight. Equally as unmissable is returning pop groover Rae Morris, whose infectious next step has been met with vast acclaim since the release of second album 'Someone Out There'. Blistering garage-rock favourites YAK are set to return at Live At Leeds this year, bringing their unpredictable and riotous live show to the city for a glimpse at where they go next after the huge success of debut album 'Atlas Salvation' and recent YALA Records release 'All I Need Is Some Sunshine In My Life'. Also promising a stunning kaleidoscope of infectious pop moments are Bad Sounds, revered for their emphatic live shows and glorious hooks with a slew of big-time hits already. With uncontrollable energy flowing through anthems like 'Wages', 'Meat On My Bones' and 'Are You High?', they're set for huge things in 2018, and it starts at Live At Leeds.
Excited to be returning to Leeds, Rae Morris said:
"I first played Live at Leeds in 2012 so I'm super happy to be returning again with new music. So many of my first gigging experiences happened around Leeds with it being one of the closest cities to Blackpool where I grew up. It's a special place and audiences are always amazingly enthusiastic which I love."
Ensuring the very best in new music has a home across the city, Live At Leeds boasts the biggest lineup of established artists and future superstars all in one place. Building a loyal following through countless tours, the ramshackle sounds of Cabbage will head to Live At Leeds, promising an explosive show full of cuts from their upcoming debut album 'Nihilistic Glamour Shots'. Beloved alt-rock trio The XCERTS head to Live At Leeds this year, packed with anthems ready to be screamed along to from their latest storming album 'Hold On To Your Heart'. Lucid dreamer Cosmo Pyke will be serenading the city faithful with his gorgeous indie-soul, showing why he's set to be the next big creative force in British music, while the ripping riffs and crowd-moving kicks of King Nun will be lighting off with frenzied euphoria and proving why they're set for the big time in 2018. In what's sure to be one of the essential moments of the day, Liverpool phenomenon The Night Cafe will bring their immediate cocktail of soaring indie hooks and all-encompassing sounds to the festival, continuing their stunning rise as one of British guitar music's next big sensations. Expect them to be the talk of the town at Live At Leeds this year.
Leeds-fans Cabbage said:
"We 5 mustache-teers are more than excited to be playing Live at Leeds this year. Leeds is a city that is close to our hearts as it functions as an alternative base for 40% of Cabbage. Nonetheless we will bring that devoured swashbuckling Mossley charm that everyone loves to make a noise about and deliver a music show that is choreographed to have the same effect as the brown noise. Bring Bog roll. See you at Leeds."
The XCERTS said:
"We are very psyched to be playing Live at Leeds this year. This will be our first time at the festival and the lineup looks killer so we're delighted to be joining the party. We love playing in Leeds so we're going to have a hell of a time."
Joining an already stunning bill across the city, Live At Leeds is all about finding music fans' next favourite act – and this year is no different with a vast range of fresh names. Causing a stir with their anthemic indie pulls, Sea Girls are bound to go down a treat when they step out onto the Live At Leeds stage, promising surging choruses and more from a band on the rise. It's a story repeated across the city, whether it's the heavy tones of Brighton's Demob Happy, the rich standout vibes of Mullally, the raw story-telling of Adam French, the lush DIY explorations of Easy Life, the Scottish hits of The Van T's, the pedal to the floor intensity of Forever Cult, Leeds' own gender-morphing electro duoKruum, tropical riff-spinners Pom Poko, live heavyweights The Blinders,eclectic pop purveyor Love Ssega, the panoramic visions of Low Island, rollicking spinners Fizzy Blood, the tectonic sounds of Sheafs, the delicate emotional confessions of The Beach or indie upstarts Oddity Road – there's an incredible variety to ensure that Live At Leeds is once again nothing short of essential.
Live at Leeds 'Ones To Watch' alumni Sea Girls said:
"We loved playing Live At Leeds `Ones To Watch' last year and are really excited to be heading back for the real deal! Leeds crowds are always so good to us, we can't wait to get back up on stage and play for them"
Demob Happy said:
"Live at Leeds is one of the best City Fests about. The line-ups always represent the best of the UK rock scene, so we're happy to be back."
Mullally said:
"I played Live at Leeds a couple years ago it was wicked, made several friends that I still see all the time now. I can't wait to get back to Leeds and play again!"
Speaking about their hometown slot, Kruum said:
"We're giddy as ya get to be playing our first home show in a year and even giddier for it to be at Live At Leeds. We promise a big show, new songs and we'll scrub up nice for you."
Fizzy Blood said:
"We're buzzing to be back for Live at Leeds. It's a great festival showcasing lots of sick underground bands."
These names join an already stunning bill leading the way in new music plus already announced returning game-changers such as Circa Waves, Peace, The Horrors, Ash and Pulled Apart By Horses to trailblazing new favourites such as The Magic Gang, Pale Waves, Blaenavon, Spring King, Anteros, Tom Walker, Ten Tonnes, Sam Fender, Will Heard, Louis Berry, Sorry, Boy Azooga, Alaskalaska, whenyoung, Bloxx, Yungblud and many more – Live At Leeds is the celebration of new music that 2018 needs, and the first place to hear the essential sounds it has to offer.
Speaking about the new additions and looking ahead to Live At Leeds 2018, Festival Director Andy Smith said:
"This year is arguably looking like our strongest line up yet. We're really pleased to finally share with you that the Vaccines will return to head up the bill at Live at Leeds 2018, back after a triumphant sold out show at Millennium Square for the festival back in 2013. Their album Combat Sports is one of the most anticipated releases of the year and we can't wait to see them play their classic sing along anthems live at this year's event, they are one of the most revered guitar bands of the decade!
This year also has one of the most diverse collections of critically acclaimed emerging artists. From Pale Waves to Dermot Kennedy, Catherine McGrath to Cosmo Pyke and Bruno Major to Bad Sounds. We also add Idles, who will bring their ferocious punk sounds and 8 piece indie pop sensations Superorganism who will be bringing their impressive live show.
As you can see from the nearly final line up, we have the biggest array of new music to showcase over the bank holiday weekend, this is what Live at Leeds is all about for me. Expect early shows from big bands, secret sets still to be announced and you might just find the next big thing along the way."