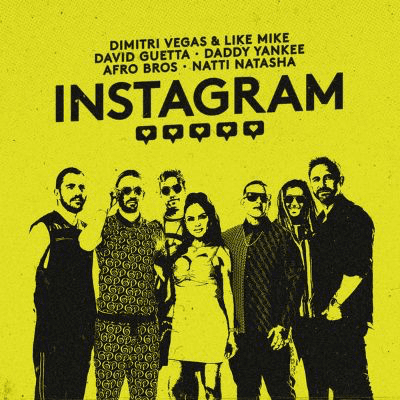 Dimitri Vegas & Like Mike, David Guetta, Afro Bros, Daddy Yankee, Natti Natasha team up for reggaeton summer slammer 'Instagram'
As summer time begins and the festival season gets into full swing, two of dance music's most revered acts, Dimitri Vegas & Like Mike and David Guetta, link up with Afro Brosand two of the biggest reggaeton names in the world stage, Daddy Yankee and Natti Natasha, to bring an All-Star lineup on one of the biggest songs of the summer: 'Instagram'
Chart-toppers Dimitri Vegas & Like Mike continue to demonstrate their ability and diversity to work with a variety of styles. The pedigree of their collaborations is a testament to their genre-crossing capabilities having worked with artists as diverse as Ne-Yo, Gucci Mane, Hans Zimmer, Paris Hilton, Diplo, Era Istrefi, Wiz Khalifa and Snoop Dogg, while dominating the festival scene worldwide as DJ Mag awarded 'World's #1 DJ Duo' and ambassadors for the mammoth global festival Tomorrowland. Which this year will celebrate 15 years across two weekends in July and will see over 360,000 people visit on what many refer to as the best festival on earth
David Guetta has established himself as arguably the world's biggest and most successful DJ of all time by fusing dance music with urban artists. By teaming up with some of the biggest names in hip hop, R&B and pop, and reinventing their sound for the electronic dancefloors, Guetta created pop alchemy. Black Eyed Peas, Kelly Rowland, Akon, Rihanna, Sia, Lady Gaga, Usher, Madonna, Justin Bieber, Nicky Minaj, Guetta's quality has a producer set a new template for the sound of commercial radio. This was instrumental in turning electronic music into the biggest youth movement since hip hop. Of course, his own ground-breaking accomplishments cannot be overlooked either. 50 million album and single sales; over 10 billion YouTube and Spotify plays; numerous #1 singles and Platinum and Gold certifications across the globe; two Grammys for Best Remixed Recording and four further nominations; one of the most successful club nights Ibiza has ever seen; one of the biggest social media followings of any DJ/producer; the first DJ to be on the cover of Billboard, the list goes on and on and on…
Afro Bro's, famed for playing various music genres like Latin house, afro house, moombahton, house and urban, round up the electronic fusion on the track with their tailored studio sound. Dabbling in tropical flavours with their most recent single 'How Many Times', a collaboration with Jamaican reggae/pop star Sean Kingston, the Afro Bro'scontribution on this latest release once again demonstrates their musical diversity.
Daddy Yankee remains one of the major influences in the music industry with more than 11 million albums and over 50 million followers through social media. Named as"One of the Most Influential Hispanics" globally by CNN and Time Magazine, Daddy Yankee made history in 2018 with 10 Guinness World Records with the title for his achievement as the First Latin artist to reach the number one on Spotify, as well as seven titles for the success of the hit song 'Despacito', performed alongside Luis Fonsi, and two additional titles for topping the Billboard Latin Rhythm Airplay lists. Currently the seventh most streamed artist on Spotify, he recently received the Icon Music Award by the Latin American Music Awards for his contribution to the music and the community.
Latin pop superstar Natti Natasha is an unstoppable force, with her music have grossed over one billion streams on Spotify. A multi-platinum and Billboard award winner, Natti was dubbed 'most watched female on YouTube' in late 2018 thanks to the music video ('Criminal') for her collaboration withOzuna, which has received a staggering 1.8 billion+ YouTube views. As well as an impressive fan base on YouTube and Spotify, Natti also boasts 14.8 million followers on Instagram…which, as this new track states, is perhaps why Natti doesn't"give a f**k about your Instagram".
For more information, check socials:
facebook.com/dimitrivegasandlikemike | twitter.com/dimitrivegas
twitter.com/likemike | soundcloud.com/smashthehouse
dimitrivegasandlikemike.com/
www.davidguetta.com
www.facebook.com/DavidGuetta
www.twitter.com/davidguetta
www.instagram.com/davidguetta
www.afro-bros.com
www.facebook.com/pg/afrobros.official
www.instagram.com/afrobros
www.daddyyankee.com
www.instagram.com/daddyyankee
www.facebook.com/daddyyankee
www.twitter.com/daddy_yankee
www.instagram.com/nattinatasha
www.twitter.com/NattiNatasha
www.facebook.com/NattiNatashaOfficial