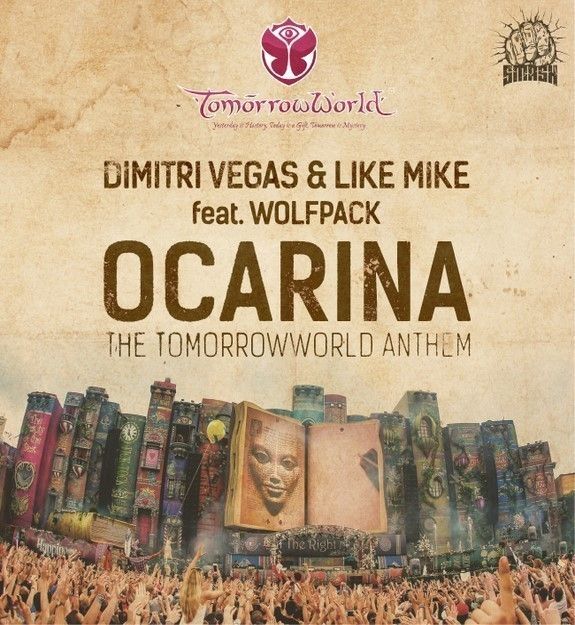 Dimitri Vegas & Like Mike – Ocarina
If there is one song that has become absolutely synonymous with Tomorrowland, it is unquestionably 'Ocarina'. The track was one of the musical highlights of the Tomorrowland 2012 aftermovie, and with just under three weeks to go until the enormous 'Book of Wisdom' stage opens for the very first time outside of Belgium, for promoters ID&T there was quite simply no other record suited to become the inaugural TomorrowWorld Anthem.


A collaboration between Dimitri Vegas & Like Mike and their protégés Wolfpack, 'Ocarina' has remained maddeningly out of download reach for almost two years. Speaking about the huge affection fans have had for the track, Dimitri Vegas said "It's just one of those records where the love and interest from everyone has been beyond enormous. Tens of thousands of people have been asking us to release Ocarina for well over a year now, and the time finally felt right. To have the track named as the official Anthem for TomorrowWorld as well, that's just a huge honour – awesome!"
Like Mike added "Seriously, this is one of the hottest records we drop in our shows that everybody around the world sings along to, so we can't wait to do something very special with it in Atlanta."
The track is accompanied by an incredible comic animated clip, the video sequel to the Tomorrowland anthem 'Chattahoochee' which was released in July 2013 and smashed its way through to top the Beatport Top 100 chart.
Dimitri Vegas & Like Mike, who last week announced their first ever stadium show in Belgium at the Sportspaleis in Antwerp, have rapidly risen to the upper echelons of electronic dance music, gaining all important critical acclaim as they crisscross the planet and show absolutely zero signs of slowing down.
'Ocarina' is released on Beatport on Monday 23th September, just days before TomorrowWorld opens its doors for the very first time. The brothers are expected to deliver a show-stopping performance in Atlanta, along with 300 other world class acts flying in to the hills of Chatthoochee across September 27th, 28th and 29th. The sister event of the now legendary Tomorrowland in Belgium, expectations for the US chapter are at fever pitch – with no doubt that such expectations will not just be met, but, be entirely superseded as with everything ID&T do.
For tickets and more information, visit
www.tomorrowworld.com