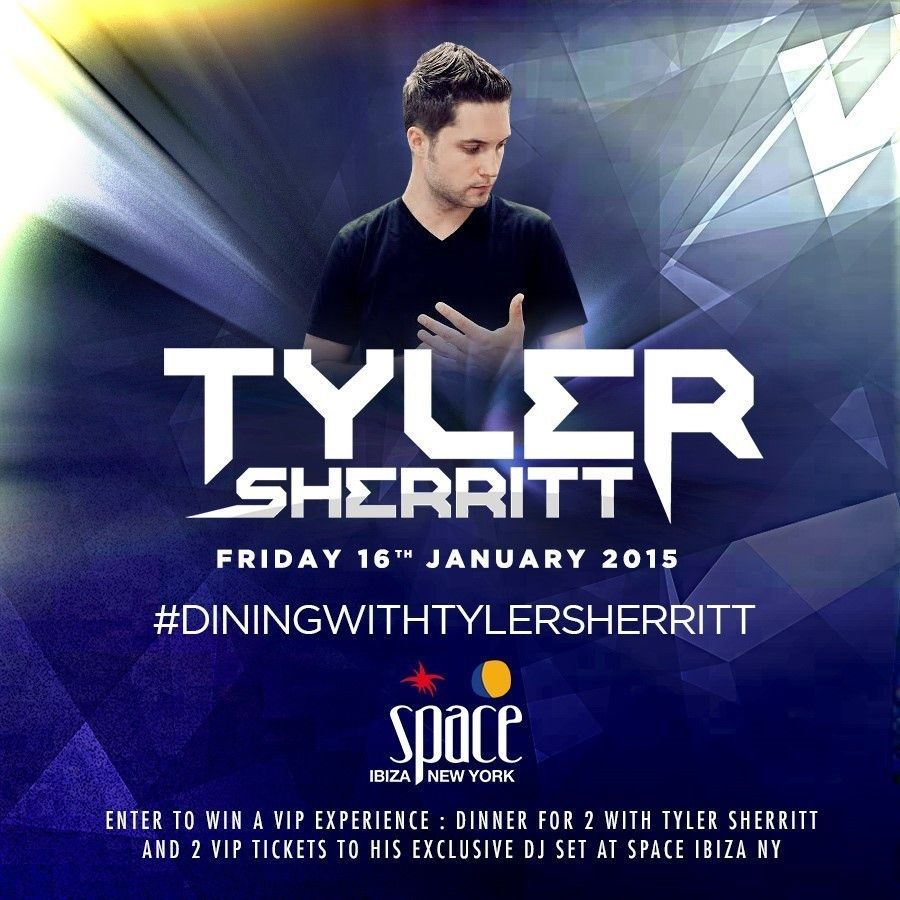 Dine with Tyler Sherritt before Space Ibiza NY Debut
This coming Friday, January 16th, Tyler Sherritt will be hosting the next installment of his continuously growing #DiningWithTylerSherritt, pre-show contest. Sherritt is inviting one winner and a guest (of the winner's choosing) to join him for the ultimate VIP experience; including a dinner date at NYC's Cipriani and VIP Admission to his debut at Space Ibiza NYC immediately following the meal.
We are urging all contest entrants to purchase tickets to Friday night's event debuting Tyler Sherritt, Roxy Cottontail, and Luciana (LIVE), as a way to ensure entry and help guests get the best possible ticket prices.
**If you happen to be the winner of the #DiningWithSherritt contest, Space Ibiza NY will give the 2 lucky winners free entry to a future show of their choosing WITH PROOF of ticket purchase to Tyler Sherritt's show.**
PURCHASE TICKETS HERE:
http://bit.ly/TS_SpaceIbizaNY
ENTER CONTEST HERE:
http://bit.ly/DiningWithTylerSherritt_OTB_SpaceIbizaNY
Multi-talented musician Tyler Sherritt will be making his debut at Space Ibiza NY on Friday January 16th. Sherritt a Singer/Songwriter/DJ/Producer is prepared to play a very special set for Ibiza's newest, and most legendary nightclub and staple venue SPACE Ibiza New York.
Joining Sheritt comes fellow vocal artist LUCIANA, who will be performing some of her hottest, current hits, including, 'No Heroes' & 'Arcadia'. Her chart topping vocals will blast through those sweet sounding Funktion One sound system during Tyler Sherritt's debut set!
Supporting Tyler Sherritt for the evening is the beautiful Roxy Cottontail, who will be providing groovy tunes to set up the night for Sherritt's performance.
This begins a brand new relationship with Tyler Sherritt and the Space Ibiza NY multi-continental entertainment brand.