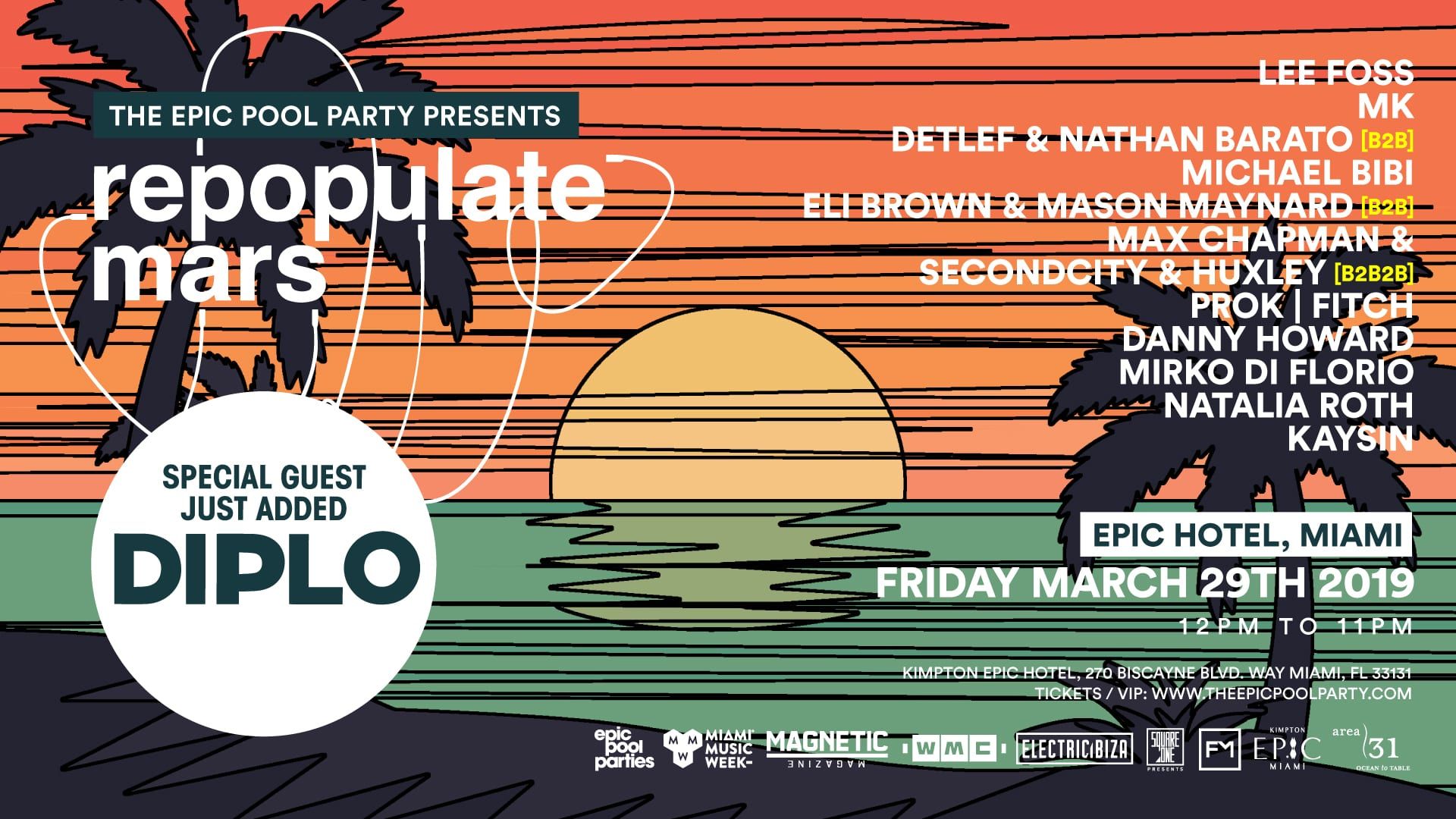 DIPLO ADDED TO THE REPOPULATE MARS EPIC POOL PARTY
Already off to a flying start following the official WMC Opening Party on Tuesday with Louie Vega B2B David Morales, and Do Not Sleep taking over on Wednesday, the EPIC Pool Party team has one more trick up their sleeve as they release a final limited batch of tickets alongside the big reveal that Diplo will be Friday's surprise special guest for the Repopulate Mars EPIC Pool Party.
A legendary DJ in his own right, the Grammy Award-winning producer is recognised globally as one half of Silk City and LSD and will be taking to the decks at the Kimpton EPIC Hotel on Friday March 29th as a special guest for Repopulate Mars. Diplo will be joining an already impressive who's-who list of the scene's biggest names, including Lee Foss, MK, Detlef, Nathan Barato, Max Chapman, Michael Bibi and many more.
The Repopulate Mars EPIC Pool Party is one of the week's biggest events at the Kimpton EPIC Hotel – no mean feat considering the competition includes Defected's 20th Anniversary party on Thursday March 28th, Claptone's 'The Masquerade' on Saturday March 30th, and the EPIC Closing Party on Sunday March 31st featuring Kerri Chandler, DJ Tennis and Victor Calderone.
If you've already got a ticket for Friday's Repopulate Mars event, then you're in luck – if not, an extremely limited batch of final release tickets is now on sale, and there are still tickets available via the EPIC Pool Party website for Saturday and Sunday's events which promise to be equally EPIC.
Tickets: https://theepicpoolparty.com/
Repopulate Mars – EPIC Pool Party
Lee Foss
Diplo
MK
Detlef B2B Nathan Barato
Michael Bbi
Eli Brown B2B Mason Maynard
Max Chapman B2B Secondcity B2B Huxley
Prok | Fitch
Danny Howard
Mirko Di Florio
Natalia Roth
Kaysin
Winter Music Conference 2019 – https://wintermusicconference.com/
Electric Ibiza – http://electricibiza.com/
Repopulate Mars – https://www.repopulatemars.com/
Kimpton EPIC Miami – https://www.epichotel.com/