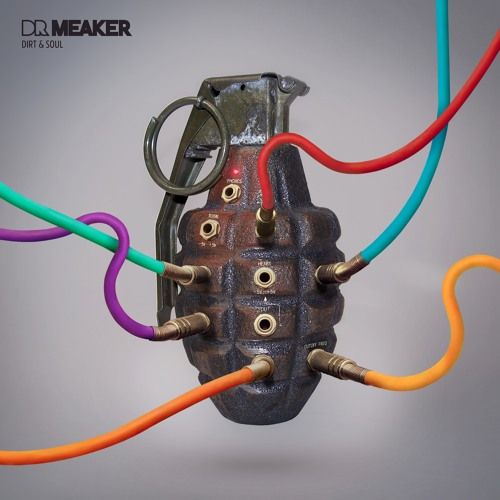 Dr Meaker - Dirt & Soul
One of the most exciting live dance music acts in the UK, Bristol dons Dr Meaker are set to drop their killer new album 'Dirt & Soul' through Circus Records on July 1st 2016. This effervescent 8 piece band combine live instruments with samples, studio electronics and big voices to create a seamless fusion of heavy underground D'n'B, hook laden-soul and a strong pop sensibility that's also dancefloor dynamite.
'Dirt & Soul' follows a string of four massively successful singles; 'Fighter', 'Right Back', 'Good Fight', and 'Freaks', the latter three of which are featured on the album. These bonafide radio, club and festival smashes are joined by other new anthems in waiting, like the epically-huge drama of 'Deep In My Heart' and the feelgood 70s soul vibes of 'Wanna Feel'.
But despite main man Clive Meaker's deft hand at delivering such crowd-pleasing bangers, a key component in 'Dirt & Soul' is a demonstration of a stylistic diversity and new, previously unexplored sounds.
'Remedy''s sub bass and neck snapping breaks propel a darker, more introspective style of breakbeat science, whilst 'Glastonbury' is a tribute to their favourite festival and captures perfectly its magic atmosphere of golden sunsets and stone circle sunrises.
'You & I' is rich, slow motion deep vocal house and the plaintive, smoky 2 step of 'Is It You' recalls classic Bristolia like Massive Attack. Album title track (and also its closer) 'Dirt & Soul' demonstrates yet more diversity in the form of a nasty b-line wobble underpinning a moving, gospel-style torch song.
Dr Meaker are Clive Meaker (producer, synths), Lorna King (vocals), Laurent John (vocals), Ben Wood (sax), Sam Brown (sax), Simon Alexander (trumpet), Tom Wheeler (Drums) and Mike Prince (Bass Guitar). The band are joined here by a bevy of awesome vocalists: Yolanda Brown (Route 94, DJ Fresh), Sian Evans (DJ Fresh, Kosheen), Sharlene Hector (Basement Jaxx), Mark Crown (Rudimental), Romaine Smith (Typesun) Lorna King, Celestine and Laurent John all feature.
Fans at radio are many, with the groups singles dominating playlists and gaining hundreds of plays across BBC Radio 1, 6Music and 1Xtra, with club DJs equally in thrall to their music, ranging from Andy C, Friction, Pendulum, Flux Pavilion, Simon Bassline Smith, Bailey, Grooverider, Doc Scott, Roni Size and most notably Brian Gee – who like the band so much he released two of their singles on his legendary label V recordings.
Dr Meaker have become firm live favourites, having rocked crowds at Glastonbury, Bestival, Boomtown Fair, Somwbombing, Isle Of Wight festival and Fabric. Catch their incendiary live show on the following dates:
April 30: Passing Clouds – London (Live)
May 20: Bristol album Lauch Party – Exchange – Bristol Album Launch Party (Live + Guests)
May 27: Wigfest – Crediton
June 2: Glastonbury Leisure Centre – Glastonbury
July 2: Colourfest – Dorset
July 9: Electric Beach Festival – Newquay
July 30: Kendall Calling Festival – Lake District
August 27: Field Trip Festival – Wiltshire
September 17: Bussey Building – London

www.facebook.com/circusrecords
www.facebook.com/drmeaker
www.drmeaker.co.uk
https://twitter.com/drmeaker