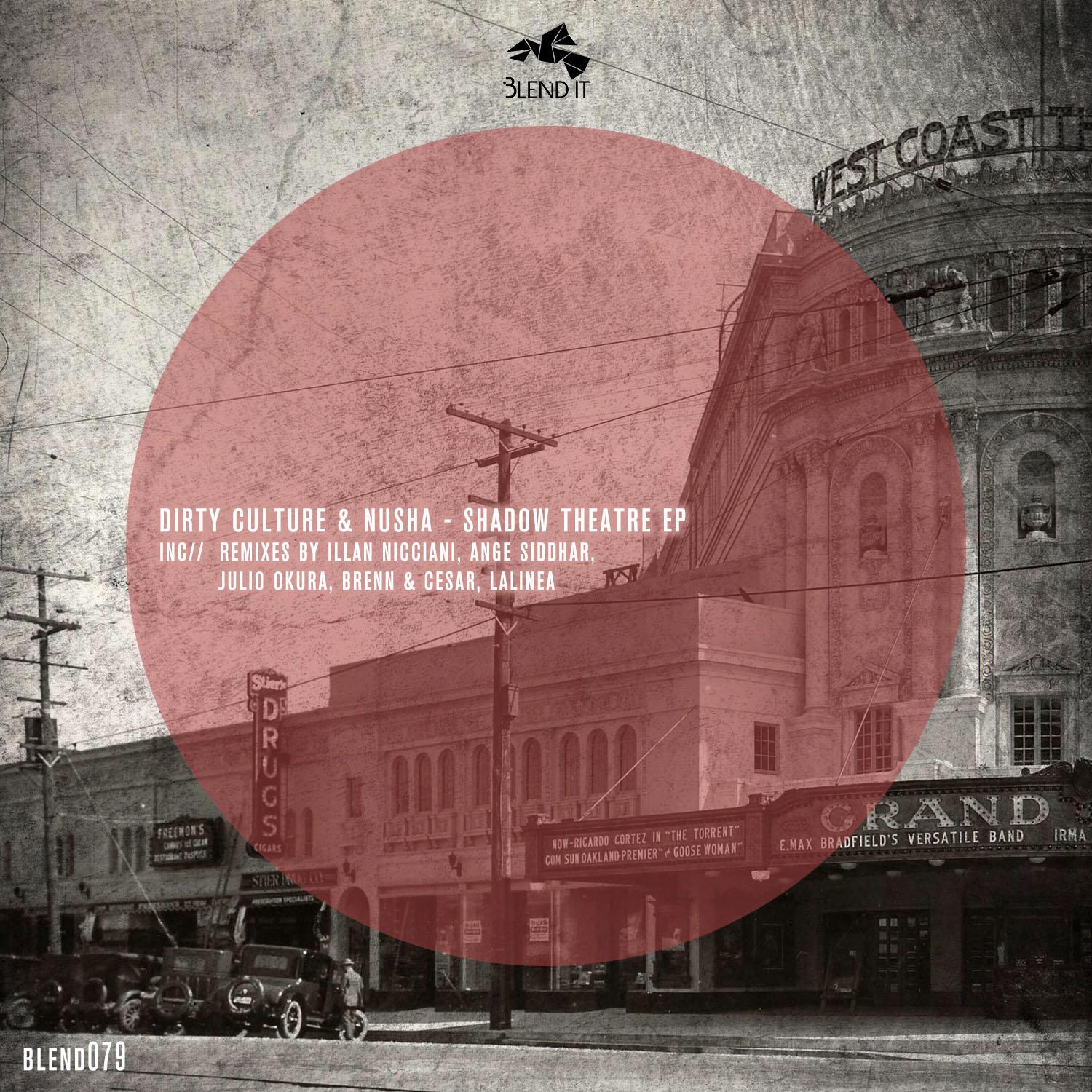 Dirty Culture & Nusha – Shadow Theatre
Romanian renowned Djs and producers Dirty Culture & Nusha make an impressive debut release on Blend It Records with their deep and groovy "Shadow Theatre EP"!
This is one international release like no other! A French deep and techno touch is added to "Shadow Theatre" thanks to the remixes of Blend It Records' amazing producers Ange Siddhar, Illan Nicciani and Julio Okura, as well as the Parisian duo Brenn & César. Our favorite Austrian vinyl addict Lalinea puts his sweet groove on the second track "All Those Voices In My Head".
5 Deep and Tech House Bombs in a single release… Hope you'll Blend it as much as we do!
Born in 1989, Tudor-Radu Barbu is known today as one of the biggest deep house producers in the Eastern Europe. Starting composing at the age of 14 in 2004, Tudor adopted his first aliases as DJ Pysu and White Noise while releasing on vinyl. In 2006 he gave birth to Dirty Culture a name that entered very quick in the digital house music scene. Working with big labels, he received lots of feedbacks & support from Loco Dice, Jimpster, Blacksoul, Brother's Vibe, Alex Celler, Tim Green, Gel Abril, Richie Hawtin, Shlomi Aber and many other big djs. Dirty Culture is recognized for the diversity that he combines in his music. Playing instruments like the sax or various flutes, he adds in big grooves & funky rhythms in deep music, from industrial & tribal percussion to the modern house style.
Dirty Cluture did this EP in collab with Nusha, one of the main protagonists behind the so-called romanian underground sound. Born in Medgidia(Constanta), she entered the Bucharest club circuit in 2007 and established her name on the strength of djing by proving that she is a great and versatile DJ, being equally comfortable playing deep morning sets as well as peak time slots. Another prominent addition to her success has been her weekly residency at the famous Staff Parties , Shade Afterhours and Kristal in Bucharest. Gaining support from international djs, she has shared the decks with Audiofly , Lee Burridge , Sis, Solomun, Shlomi Aber, Phil Weeks, Alex Niggemann, Uner,Nic Fanciulli, Anja Schneider, Marc Poppcke ,Karmon, Climbers ,Oliver Koletzki ,Den Ishu, Andrade, Leon, Federico Locchi,Polarize, Dirty Culture and many more.
Tracklisting:
1. Dirty Culture & Nusha – Shadow Theatre (Original Mix)
2. Dirty Culture & Nusha – Shadow Theatre (Illan Nicciani, Ange Siddhar & Julio Okura Remix)
3. Dirty Culture & Nusha – Shadow Theatre (Brenn & César Remix)
4. Dirty Culture & Nusha – All Those Voices In My Head (Original Mix)
5. Dirty Culture & Nusha – All Those Voices In My Head (Lalinea Remix)