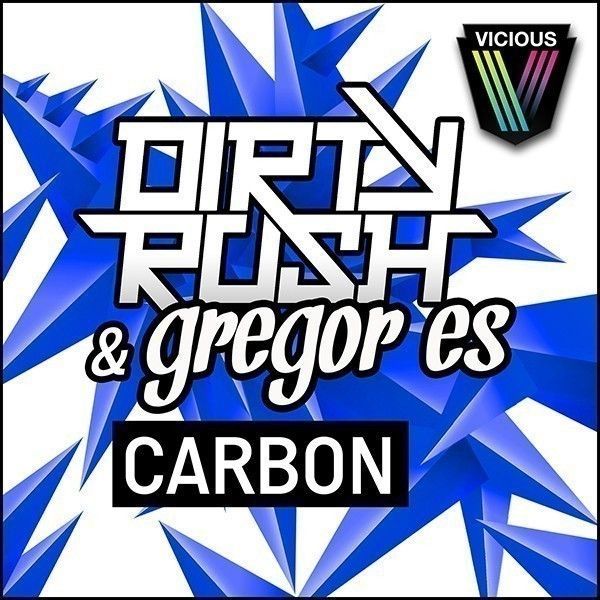 DIRTY RUSH & GREGOR ES – CARBON
The Vicious Recordings camp are already universally famed for picking out the best in new talent and their latest release from Dirty Rush and Gregor Es will do nothing to harm that reputation as it's a certified club banger. Having already scooped up pre-release a-list support from the likes of Fedde le Grand, Qulinez, Showtek, TJR, Jordy Dazz, D.O.D, Tom Swoon and many more, this gritty Electro House smash is well on its way to achieving the mega-success that we've all grown to expect from Vicious.
'Carbon' typifies the Dirty Rush and Gregor Es sound that's landed them success in the past. Outstanding lead melodies ring through the track's length gliding in and around the cumbersome kick drum line that blasts air through the sub frequency space with cataclysmic force. It's another hole in one for both Vicious Recordings and the partnership behind the production, who've once again proven that they're serious when it comes to big and dirty House cuts. Both artists are all about high quality production work and melodies that stick with you for days. Reinforce this with their love for all things that go bang through a sub woofer and you've got a remedy for a hit.
It's been a big year for both the artists and label and what a way to wrap it all up. With 2014 looming, you can expect to see things moving up a gear into the New Year.
http://www.beatport.com/release/carbon/1210193
Check out this clip of Fedde le Grand dropping 'Carbon'
https://soundcloud.com/thegregores/fedde-le-grand-dark-light072
DIRTY RUSH & GREGOR ES
www.facebook.com/dirtyrushandgregores
www.twitter.com/dirty__es
www.soundcloud.com/thegoregores
VICIOUS RECORDINGS
www.facebook.com/viciousrecordings
www.soundcloud.com/viciousrecordings