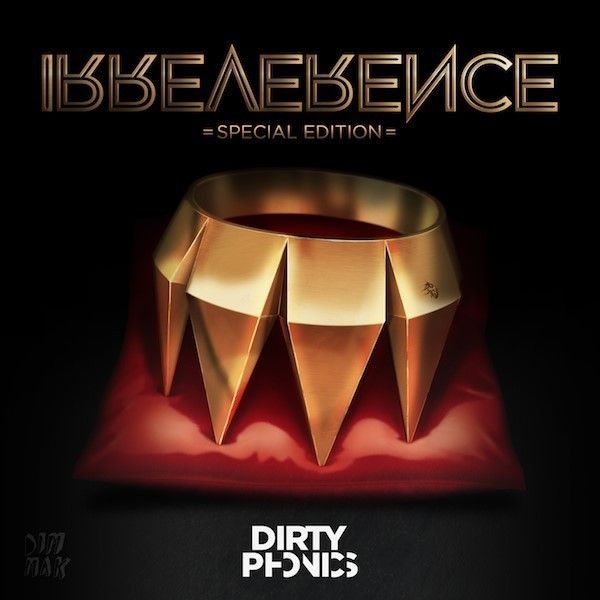 Dirtyphonics – Irreverence
Following the stand out success of their mammoth North American 'Irreverence Tour', Dirtyphonics return with a brand new, supped up package of their debut 'Irreverence' LP. Forthcoming on Steve Aoki's imprint Dim Mak Records, 'Irreverence' is the French electronic dance music quartet's statement of intent and they fully intend on leaving their mark. Merging heavy bass music, drum n' bass, dubstep and electro with grimy club energy, supported by collaborations from the likes of Steve Aoki, Modestep, Liela Moss (vocalist of The Duke Spirit) and Foreign Beggars, the group—Charly, Thomas, Pho and Pitchin – can't be pinned down.
Fans have already had a taste of what's to come on 'Irreverence'. "DIRTY," the first single from the album, dropped last October and is a slithering dance epic that's bound to get any crowd going. Dirtyphonics then unleashed their next single, the aggressive "Walk In The Fire" as part of a three-song EP package that included remixes by Schoolboy and Culprate.
The mischievous foursome have recently embarked on the second leg of their 'Irreverence' tour and will playing at festivals all over Europe including; Festival Le Rock Dan Tous Ses Etats (France), Urban Art Forms (Austria), Festival Astropolis (France), Peninsula Fest (Romania), Tomorrowland (Belgium), Audi River Festival (Poland). With a live show that will literally make your jaw drop, Dirtyphonics performances involve a full-on sensory experience. They bring a level of energy that's rare in modern electronic music.
Dirtyphonics are just as quick to name-check Metallica and Korn as influences as they are to mention Daft Punk and Pendulum, and their beginnings were undeniably rock 'n' roll with each member playing in hardcore metal bands before diving into electronic music. The Parisian collective fully formed in 2008 and unleashed their debut single "French Fuck" which topped the Beatport chart reaching #1, instantly infiltrating the scene. Follow-up tracks "Quarks" and "Vandals" solidified the provocative outfit as a consistent, game-changing entity with hyper-charged, unpredictable tempo shifts and the veritable genesis of "drumstep."
From day one, heads turned rapidly, and they were tapped for high-profile remixes such as "WARP" from The Bloody Beetroots and Skrillex's "Scary Monsters and Nice Sprites," as well as Marilyn Manson, Benny Benassi, Excision, Datsik, Does It Offend You, Yeah?, The Crystal Method and Nero. In 2009, they snagged the "Best Newcomer Producer" honor at the Drum & Bass Arena Awards and since then have become an international powerhouse playing the hottest festivals and clubs in every corner of the world, standing out at Coachella, Electric Daisy Carnival, Glastonbury, SXSW, Sziget and Pukkelpop, just to name a few. Keep your eyes and ears peeled because it won't be long until the French quartet are coming to a city near you.
Tour Dates:
05/07/13 – Urban Art Forms – Graz, Austria
06/07/13 – Festival Astropolis – Guilers, France
13/07/13 – Camp Bisco – Mariaville, NY
18/07/13 – The Observatory (DJ Set)– Santa Ana, CA
20/07/13 – Monegros Festival – Fraga, Spain
21/07/13 – Peninsula Fest – Targu Mures, Romania
26/07/13 – Tomorrowland (DJ Set)– Boom, Belgium
27/07/13 – Audio River Festival – Warsaw, Poland
02/08/13 – Arenal Sound Festival – Arenal Beach (Burriana), Spain
10/08/13 – Shambhala Festival (DJ Set) Salmo, BC Canada
17/08/13 – Biubstock Festival (DJ Set)– Geneva, Switzerland
01/09/13 – Electric Zoo – NY, NY
Track listing for DIRTYPHONICS' IRREVERENCE (SPECIAL EDITON) is:
1. Prelude (White)
2. Prelude (Black)
3. Stage Divers ft. Steve Aoki
4. DIRTY
5. Los Angeles ft. Modestep
6. No Stopping Us ft. Foreign Beggars
7. Chaos
8. Hanging On Me ft. Liela Moss
9. The Mechanism
10. Walk In The Fire
11. Dirty – 12th Planet Remix
12. Dirty – Metrix Remix
13. Walk in the Fire – Schoolboy Remix
14. Walk in the Fire – Culprate Remix