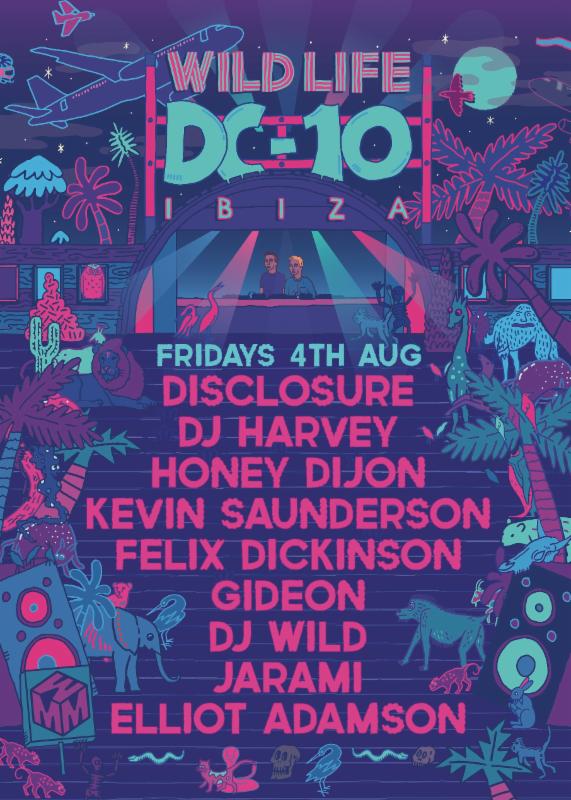 Disclosure Announce Room 2 Lineup for WILD LIFE Ibiza on August 4th
Following on from last Friday's hugely successful opening party for their four-week residency at Ibiza's DC-10, Disclosure unveil the lineup for Room 2 of WILD LIFE, already garnering strong praise, with Resident Advisor claiming "there's no doubt that Wild Life has the clout to compete with its esteemed fellow residents".
On Friday 4th August, Room 2 will be host to freshly announced acts like Felix Dickinson, Gideon, DJ Wild, Jarami and Elliot Adamson, in what is sure to be another unmissable night of all-hours music and dancefloor fun. As previously announced you'll see some of the best of the underground, with DJ Harvey, Honey Dijon, Kevin Saunderson, and, of course, Disclosure themselves, setting the tone for a marathon of gorgeous tunes and upbeat vibes.
Ahead of the announcement Disclosure said: "Our first night bringing WILD LIFE to DC-10 was unbelievable, thanks to everyone who came and made it so special, we can't wait to do it all again tomorrow night. We also have a surprise for August 4th where we'll be opening both the terrace AND main room with a boom line up to match… Jarami, Gideon, Felix Dickinson & DJ Wild."
Disclosure are proud to announce the lineup for their WILD LIFE Ibiza residency, bringing something truly special to Ibiza's party season with the likes of DJ Harvey, Bicep, Annie Mac, Groove Armada, Joris Voorn, Tiga & Audion, Denis Sulta, Hammer, Honey Dijon and Horse Meat Disco to take over Friday nights at DC-10 from July 21st – August 11th.
Setting out to bring something unique to the Island and to DC-10's party calendar, Disclosure's Guy and Howard have hand-picked each artist to join them at the iconic nightspot; Ibiza's mecca for underground party culture.
Nurturing an intimate atmosphere with just one room of music on DC-10's legendary terrace, each unmissable WILD LIFE party will be headlined by Disclosure, with some of the the industry's most sought-after and respected figures setting DC-10 abuzz with fun-fuelled energy as they bring a myriad of different sonic textures to a venue now synonymous with techno.
Joining Disclosure, Annie Mac will make one of only two appearances in Ibiza this season whilst DJ Harvey will bring his infectious charms and dexterous style to the party. Hot-off-the-heels of their new album, Bicep will come armed with impeccable dancefloor jams to drop on WILD LIFE's party faithful.
Having helped to shape the sounds of Ibiza for over two decades, Groove Armada will prove an unmissable addition to the residency, and Joris Voorn – another Island veteran – knows just how Ibiza likes to party.
Following the release of their third collaborative EP 'Nightclub' earlier this year, Tiga & Audion aka Matthew Dear will go head-to-head behind the decks in a rare b2b performance, having previously released dacefloor anthem 'Lets Go Dancing' in 2013.
Smashing through the ranks of house music producers, Denis Sulta will be a major feature in WILD LIFE'S Ibiza party series having just launched his own label, Sulta Selects, whilst the likes of Hammer, Honey Dijon and Horse Meat Disco will push the vibes through the roof as Ibiza's party season reaches is climax.
Earlier this year, Disclosure announced they are taking a well deserved break from touring throughout 2017, making WILD LIFE Ibiza one of the only opportunities to see the pair in action this year.
Speaking ahead of the residency announcement, Disclosure said: "We're so excited to be bringing WILD LIFE to DC-10 this summer, we're lucky enough to have played there in the past and can safely say it's one of the best clubs in the world. We can't wait for you to join us and the amazing lineup we've put together. It's going to be an unforgettable summer."
Lineups details for each WILD LIFE Ibiza date will be released soon. Tickets can be purchased from: www.wildlife-ibiza.com
Dates for WILD LIFE at DC-10, Ibiza:
FRIDAY 21st JULY 2017
FRIDAY 28th JULY 2017
FRIDAY 4th AUGUST 2017
FRIDAY 11th AUGUST 2017
www.disclosureofficial.com
www.wildlife-ibiza.com
http://dc10-ibiza.ibiza-clubs.net
http://facebook.com/disclosureuk
http://twitter.com/disclosure
http://instagram.com/disclosure
http://youtube.com/user/DisclosureVEVO
http://soundcloud.com/disclosuremusic