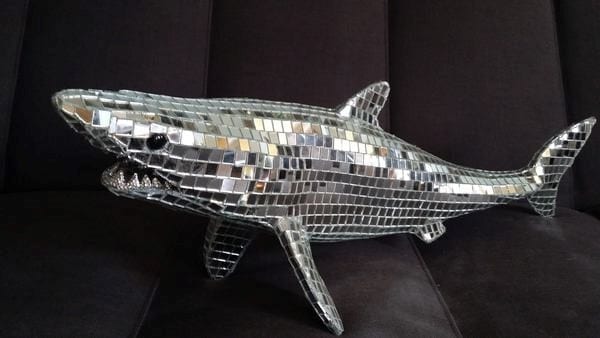 Disco Shark Summer Tour 2015
Like real sharks, Disco Shark is always in motion and will be making the rounds throughout summer 2015. After making its return to the Yuma Tent at the Coachella Valley Music and Arts Festival earlier this year it has returned to its permanent home in LA's SOUND Nightclub while another Disco Shark has been made a permanent installation at DJ Behrouz's boutique nightclub Do Not Sit On The Furniture in Miami. With a special guest appearance at iCRAVE's "Party Monsters presents PROM" party in NYC's Times Square last May to a summer residency at Philippe's new nightlife concept THE CLUB at Philippe in East Hampton, party goers are able to take in the spectacular sight and dance under its disco light.
Now halfway to its goal, Disco Shark creator, New York based artist and shark conservationist Kevin McHugh continues his GoFundMe fundraiser to raise $20,000 with a portion of proceeds benefiting shark conservation organizations Oceana and Shark Team One. With support from Shark Tank's Daymond John, this campaign aims to change the belief that sharks are vicious predators and raise awareness of human practices further threatening these endangered species. Learn more about the campaign here, where different donation tiers include an opportunity to own a mini keychain, 24 inch, or 8 foot Disco Shark replica while supporting these majestic creatures.
"Sharks have been around for 450 million years and to me sharks represent knowledge, power, leadership and like a shark, cause I'm a shark, we are always in motion. Now, I'm a huge fan of Kevin's work and I think this project is going to be an amazing campaign."
–Daymond John of ABC's Shark Tank
After decades of managing the careers of influential artists and DJs such as Nicole Moudaber and Danny Tenaglia, artist Kevin McHugh began a personal artistic exploration of his own along the way.
Inspired by his fishing trips with his father as a child, Kevin developed an interest in the beauty of sea life. He began creating fiberglass renditions of sailfish and sharks, adorned with different materials: everything from iridescent mother of pearl and brilliant Swarovski crystals to leather and lacquer. The pieces are meant to change the way people perceive the notion of trophy fish by transforming them into stunning works of art.
Learn more about sharks on the Discovery Channel's #Shweekend August 29 at 8pm EDT/ 7pm CDT.