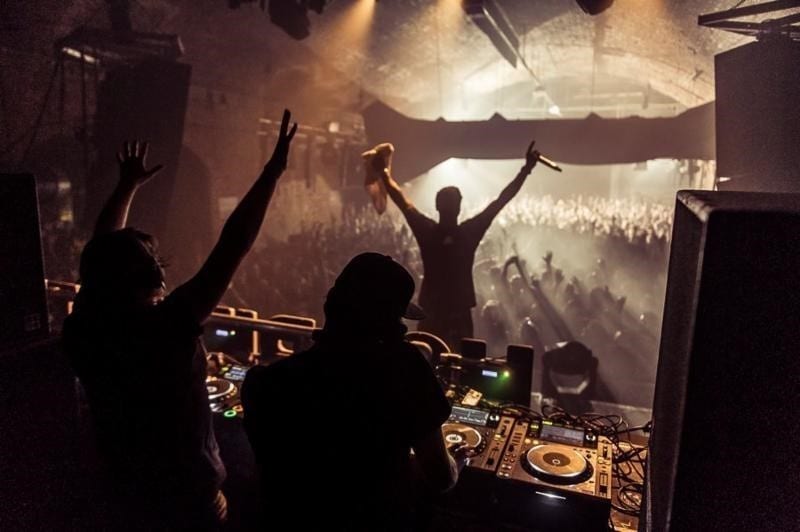 The Warehouse Project 2015 Line-Up Revealed
2015 marks 10 years of The Warehouse Project in Manchester.
As most people are probably aware by now, this year's season will take place deep in the solid confines of the legendary Store Street, set tucked away in the underbelly of Piccadilly Station. Store Street has played a fundamental part in The Warehouse Project's upbringing, consistently delivering outstanding nights, which have now become cemented in hearts and minds forever and set to do so for the year ahead.
The WHP15 line-up pushes further into more musical corners as it invites back WHP friends and family such as Seth Troxler, Jamie Jones, Daphni, Dixon, Carl Craig, Tale Of Us, Hudson Mohawke LIVE, David Rodigan and Skrillex, plus goes onto bring for the first time Manchester's own New Order for two consecutive nights, Jungle LIVE, Run The Jewels, Siriusmodeselktor – Live, The Black Madonna and Black Coffee.
FULL SEASON LINE-UP BELOW
For those who have registered for the pre-sale, tickets are available from 9am on Wednesday 22nd July. General Tickets will go on-sale this Thursday 23rd July at 9am, via The Warehouse Project website

thewarehouseproject.com
'For Twelve Weeks This City Is Ours'
+++
WHP 2015 SEASON SCHEDULE
Friday 25th September
OPENING WEEKEND: MK AREA 10
MK | GROOVE ARMADA (DJ SET) | HEIDI | OLIVER DOLLAR
SHIBA SAN | HUXLEY | T. WILLIAMS | BEN PEARCE | SIAN BENNETT | LAUREN LO SUNG
21:30 – 05:00 | 29.50 + BF
+++
Saturday 26th September
OPENING WEEKEND: WELCOME TO THE WAREHOUSE
SETH TROXLER & THE MARTINEZ BROTHERS (TUSKEGEE)
JACKMASTER | DAPHNI | JOY ORBISON | BENOIT & SERGIO
TOM TRAGO | UNDERGROUND PARIS | JOB JOBSE
WILLIAM KOUAM DJOKO | JASPER JAMES | KRYSKO
18:00 – 05:00 | 29.50 + BF
Opening Weekend (Extended Opening 17:00 – 05:00)
+++
Friday 2nd October
BLASÉ BOYS CLUB
DUKE DUMONT – LIVE | CAJMERE | SHADOW CHILD
TODD EDWARDS | WAZE & ODYSSEY | ROY DAVIS JR
FONO | KIWI | LXURY | KRY WOLF
21:00 – 05:00 | £25 / £28.50 + BF
+++
Saturday 3rd October
TROPICAL
SKEPTA & JME | DJ EZ
THE SQUARE:
ft Novelist, Elf Kid, Faust & Hiltz
PREDITAH | TODD EDWARDS | ZOMBY
MUMDANCE | PLASTICIAN | SLIMZEE | RUDEKID
MARCUS INTALEX | LOGAN SAMA | CHIMPO | RICH REASON
20:00 – 04:00 | £25 + BF
+++
Friday 9th October
WHAT HANNAH WANTS
HANNAH WANTS | TUBE & BERGER | MY NU LENG | ONEMAN
FRIEND WITHIN | GOTSOME | MAK & PASTEMAN
DJ BARELY LEGAL | TOM SHORTERZ | SIOBHAN BELL | AMY BECKER
21:30 – 05:00 | £25 / £28.50 + BF
+++
Saturday 10th October
RESIDENT ADVISOR X DEKMANTEL
DIXON | NINA KRAVIZ
FOUR TET
BEN UFO b2b JOY ORBISON b2b JACKMASTER
BODDIKA | PALMS TRAX | SAN PROPER | JUJU & JORDASH
YOUNG MARCO | DEKMANTEL SOUND SYSTEM | GREG LORD
20:00 – 05:00 | £29.50 + BF
+++
Friday 16th October
JAMIE XX – IN COLOUR TOUR – LIVE AT THE ALBERT HALL
JAMIE XX – LIVE
+ SPECIAL GUESTS
19:00 – 23:00 | £15 + BF
+++
Friday 16th October
MAJOR LAZER – LIVE AT MANCHESTER ACADEMY
MAJOR LAZER – LIVE
+ SPECIAL GUESTS
19:00 – 23:00 | £23 + BF
+++
Friday 16th October
In alphabetical order:
SOUNDS OF THE NEAR FUTURE
BONOBO (DJ SET) | GEORGE FITZGERALD | JAMIE XX (DJ SET)
NOCTURNAL SUNSHINE | SG LEWIS | SPECIAL REQUEST
XL RECORDINGS PRESENT CHAPTER XI:
HUGO MASSIEN | MUMDANCE | POWELL | TASKER
XL DJs | ZOMBY
21:00 – 05:00 £28.50 + BF
+++
Saturday 17th October
WHP PRESENTS
LOCO DICE | MAYA JANE COLES | BLACK COFFEE
KENNY GLASGOW | POINT G – LIVE | GUTI – LIVE
CALEB CALLOWAY | ADAM SHELTON | LEWIS BOARDMAN
ZUTEKH DJS
21:00 – 05:00 | £25 / £28.50 + BF
+++
Friday 23rd October
HELDEEP
OLIVER HELDENS | BLONDE – LIVE | ROBIN SCHULZ
THE MAGICIAN | PHILIP GEORGE | ALEX ADAIR | ZONDERLING
PLUS SPECIAL GUEST: ZEDS DEAD
21:00 – 04:00 | £25 / £28.50 + BF
+++
Saturday 24th October
PARADISE
JAMIE JONES | EATS EVERYTHING
APOLLONIA (DYEND SOUNDOROM, DAN GHENACIA & SHONKY)
CASSY | RICHY AHMED | PATRICK TOPPING
wAFF | DENNEY
21:30 – 05:30 | £29.50 + BF
+++
Friday 30th October
THE APE 10TH BIRTHDAY
RUN THE JEWELS | SKEPTA | SHY FX
TODDLA T | GOLDIE | ONEMAN | PREDITAH
GENERAL LEVY | LEVELZ | DUB PHIZIX & STRATEGY
BARELY LEGAL | WOOKIE | JD REID | RICH REASON
JUICY DJS | HOSTED BY CHUNKY & TONN PIPER
21:00 – 05:00 | £25 / £28.50 + BF
+++
Saturday 31st October
BUGGED OUT!
CARL CRAIG | TIGA – LIVE | SKREAM
DANIEL AVERY | PAUL WOOLFORD b2b GERD JANSON
LEON VYNEHALL | ARTWORK | FELIX DICKINSON
MOXIE | JAMES HOLROYD | LEMMY ASHTON
21:00 – 05:00 £25 / £28.50 + BF
+++
Friday 6th November
SKRILLEX
TCHAMI | WHAT SO NOT
SALVA | KARMA KID | OLDBOY
COMPA | JUICY DJs | RICH REASON
21:00 – 04:00 | £25 / £28.50 + BF
+++
Saturday 7th November
THRASHER
SBTRKT | EVIAN CHRIST – LIVE
SPECIAL REQUEST | KORELESS – LIVE | SEPALCURE (MACHINEDRUM & BRAILLE)
LEON VYNEHALL
SOULECTION PRESENTS: IAMNOBODI, HANNAH FAITH, PRYMDPLAZA & JAY PRINCE
MR MITCH | JON K | JONNY DUB | SWING TING
+ SPECIAL GUESTS TBA
EVIAN CHRIST & KORELESS SHOWS BY EMMANUEL BAIRD
21:00 – 05:00 | £25 + BF
+++
Friday 13th November
MODESELEKTION: 50 WEAPONS FINALE
SIRIUSMODESELKTOR – LIVE | MODESELEKTOR (DJ SET)
CLARK presents PHOSPHOR – LIVE
RODHAD | SHED / HEAD HIGH | DARK SKY | JAMES ZABIELA | COSMIN TRG
TRUNCATE | DOC DANEEKA | ADDISON GROOVE | BENJAMIN DAMAGE
ALEX BANKS
21:00 – 05:00 | £25 / £28.50 + BF
+++
Saturday 14th November
LIFE & DEATH
TALE OF US | RECONDITE | SCUBA
KIASMOS | JOY ORBISON | DJ TENNIS
JOB JOBSE | MIND AGAINST | SOMNE & VAAL
21:00 – 05:00 | £25 / £28.50 + BF
+++
Friday 20th November
RAM JAM
JOEY BADA$$ | DAVID RODIGAN | JME
SPECIAL REQUEST | A-TRAK | RANDALL | CONGO NATTY
ZINC (JUNGLE SET) | WOOKIE | VENUM SOUND | CHIMPO
plus very special guest..
BAUUER
20:30 – 05:00 | £25 / £28.50 + BF
+++
Saturday 21st November
Yousef presents CIRCUS
DUSKY | JORIS VOORN | STEVE LAWLER
YOUSEF | KÖLSCH (DJ) | SUBB-AN
NASTIA | KRANKBROTHER | LEWIS BOARDMAN
21:00 – 05:00 | £28.50 + BF
+++
Thursday 26th November
ANNIE MAC PRESENTS
ANNIE MAC | DJ EZ | JULIO BASHMORE
MELE & MONKI: NRG FLASH | JASPER JAMES
HARVARD BASS | DENNEY | APRES | MADAME X
21:00 – 05:00 | £25 / £28.50 + BF
Friday 27th November
ANNIE MAC PRESENTS
ANNIE MAC | DJ EZ | JULIO BASHMORE
MELE & MONKI: NRG FLASH | JASPER JAMES
HARVARD BASS | DENNEY | APRES | MADAME X
21:00 – 05:00 | £25 / £28.50 + BF
+++
Saturday 28th November
KALUKI
LUCIANO | EATS EVERYTHING b2b RICHY AHMED
HEIDI | NATHAN BORATTO | JEY KERMIS
TOM RIO & DAN WILD | PIRATE COPY | PETE ZORBA
21:00 – 05:00 | £29.50 + BF
+++
Friday 4th December
DREAM, DON'T SLEEP…
MACEO PLEX | ADAM BEYER | JOSEPH CAPRIATI
MANO LE TOUGH | AGORIA | DANNY DAZE
GARDENS OF GOD | TREVINO | ODD PARENTS | GREG LORD
21:00 – 05:00 | £29.50 + BF
+++
Saturday 5th December
NEW ORDER
NEW ORDER | EROL ALKAN | FACTORY FLOOR | HORSE MEAT DISCO
MIKE PICKERING | WILL TRAMP! | NOW WAVE DJS
20:00 – 03:00 | £35 + BF
+++
Sunday 6th December
NEW ORDER
NEW ORDER | A CERTAIN RATIO | FACTORY FLOOR | MIKE PICKERING
DJ TIN TIN | WILL TRAMP! | NOW WAVE DJS
19:00 – 0.00 | £35 + BF
+++
Friday 11th December
CURATED BY HUDSON MOHAWKE
HUDSON MOHAWKE – LIVE | MARK RONSON b2b HUDSON MOHAWKE
BENJI B | NOVELIST | AG COOK | LITTLEBABYANGEL | JAMES PANTS | SPENCER
ÉCLAIR FiFi PRESENTS:
RUSTIE | ÉCLAIR FIFI | KINDNESS (DJ SET) | BAMBOUNOU
JOSEPH MARINETTI | PIU PIU
21:00 – 05:00 | £25 + BF
+++
Saturday 12th December
ALTERNATIVE LIGHT SOURCE
LEFTFIELD – LIVE | GEORGE FITZGERALD
PARANOID LONDON – LIVE
MARTYN | ADRIAN SHERWOOD | JUSTIN ROBERTSON | HODGE
NOW WAVE DJS | EASTERN BLOC ALL STARS
20:00 – 04:00 | £28.50 + BF
+++
Friday 18th December
CURATED BY JUNGLE
JUNGLE – LIVE
JOHN TALABOT | LA PRIEST | NAO
LEON VYNEHALL | KORELESS | LONE
HAPPA | NOW WAVE DJS
20:00 – 04:00 | £32.50 + BF
+++
Saturday 19th December
FEEL MY BICEP
MARCEL DETTMANN | BICEP | HEIDI
JACKMASTER | DANIEL AVERY | BEN UFO
ANDREW WEATHERALL | GERD JANSON | THE BLACK MADONNA
HAMMER | KRYSKO
21:00 – 05:00 | £25 / £28.50 + BF
+++
Friday 26th December
EVENT TBA
+++
Thursday 31st December
EVENT TBA
+++
Friday 1st January
EVENT TBA
+++