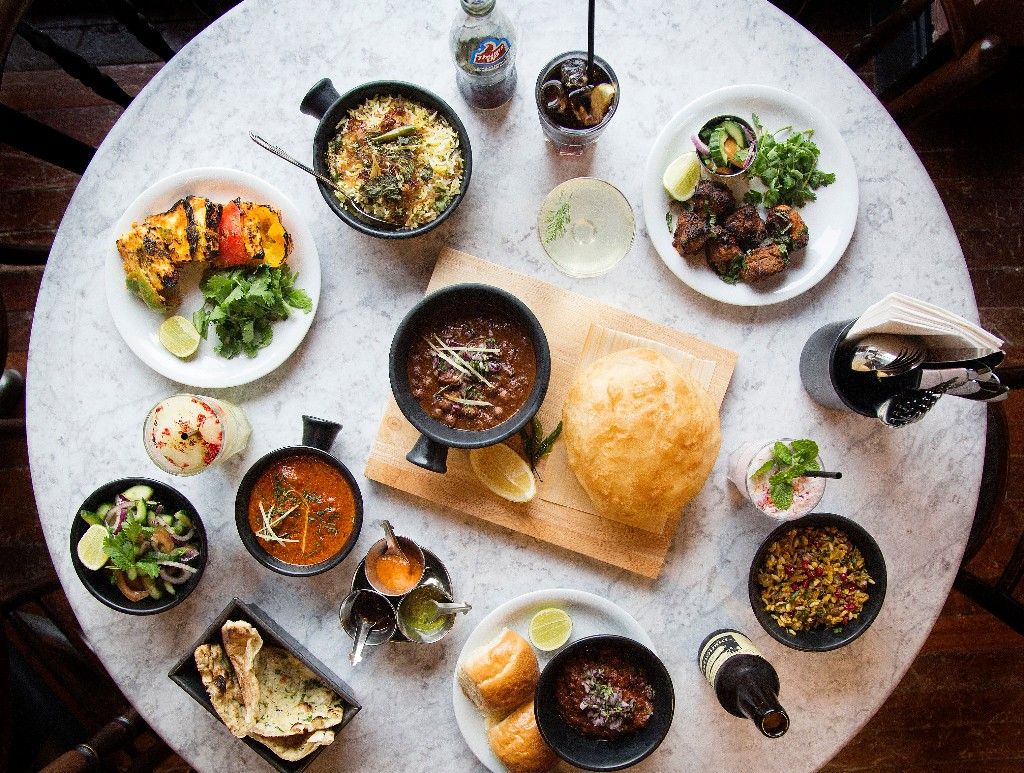 Dishoom to make their Festival Debut at Lost Village 2018
Taking place in the depths of the Lincolnshire countryside, participants navigate through the forest, uncovering hidden spaces, abandoned buildings, mind-bending immersive experiences and more. From comedy in the Lost Theatre to captivating talks in the Institute of Curious Minds, to lakeside relaxation in the Energy Garden – the Lost Village journey is unlike any other.
At the core of the experience is a mantra for incredible eating. Having previously welcomed the likes ofMichael O'Hare, James Lowe and Elizabeth Allen to their infamous Tribal Banquets, a legacy of forward-thinking gastronomy has already been set in stone, perfectly complimented by carefully selected restaurants such as Smokestak, The Breakfast Club and Honest Burgers.
"The chefs and restaurants we're passionate about have a lot in common with the musical artists we love. They want to push the boundaries in the same way – they want to be original and defy the mainstream. That's always going to be exciting!"
– Andy George, Co-Founder of Lost Village
Lost Village 2018 will encompass a broader palette than ever before, boasting a range of debuts, previously unseen in the festival landscape.
Dishoom will be joining forces with Lost Village to create their first-ever festival outpost. Dishoom is known for its beautifully designed cafés, warm service, first-class drinks and, of course, chef Naved Nasir's lovingly curated menu of Bombay comfort food – all of which will be available to hungry festival-goers for the very first time. Dishoom will be serving up some of their signature dishes – including the cult favouriteBacon Naan Roll at breakfast (is there a better start to the day?) – and other classics such as House Black Daal, Okra Fries, and Chicken Ruby. All accompanied by plenty of piping-hot masala chai and first-class tipples.
"We're seriously excited about our first festival, Lost Village! We'll be creating a little Dishoom world, where we can serve up some of our best-loved dishes and drinks, and where everyone will be welcomed with warmth."
– Naved Nasir, Executive Chef at Dishoom
A second UK festival exclusive comes in the form of the incredible Tommy Banks. In 2013 he becameBritain's youngest Michelin-starred chef, before going on to win Great British Menu in 2016 and 2017 respectively. Last year his restaurant, The Black Swan at Oldstead, was awarded the 'Travellers Choice Best Fine Dining Restaurant in the World'. He is an immensely creative chef who promises to deliver one of the most exciting Tribal Banquets to date.
The Saturday of Lost Village will see Lee Westcott, Head Chef at the phenomenal Typing Room, collaborate with Dan Cox, an exceptional talent who until recently worked alongside Simon Rogan at L'Enclume and London's Fera at Claridges. Lee and Dan will be joining forces to create a magnificent one-off menu for Clerkenwell Boy's Cook For Syria Tribal Banquet – a supper-club-come-best-selling-book project that raises money for Unicef.
"It's been incredible to see the support for #CookForSyria grow amongst top chefs and passionate foodies ~ which has altogether raised over £550,000 globally. I'm honoured to partner with our friends at Lost Village. Our village banquet will put a spotlight on Syrian cuisine, bring people together and help to raise even more money for children in need."
– Clerkenwell Boy (@clerkenwellboyec1), Co-Founder of Cook for Syria & award-winning blogger
Sunday will see the return of one of the headline successes of Lost Village 2017 – The Hawksmoor Sunday Feast, presented by executive chef Richard H Turner – a concept that needs very little explanation. Some would say it's the most perfect thing you could ever hope for on the last day of a festival. And they'd be right.
2018's Tribal Banquets will be delivered in partnership with Mamont Vodka. Hailing from one of Siberia's oldest distilleries, Mamont will be creating two incredible cocktails to bookmark the weekend's menus.
"The Tribal Banquets are somewhat Tardis-like. You step inside, the drinks start flowing, the feast unravels at a leisurely pace, interspersed with wine, cocktails and a peppering of surreal performances, then you pop out several hours later feeling like you're ready to conquer the world!"
– Jay Jameson, Co-Founder of Lost Village
2018 also marks the debut of The Eating House, a brand new concept showcasing some of the most exciting new restaurants. Breddos Tacos will sit alongside 26 Grains and the mighty Caravan andCaravan Coffee Roasters, collectively offering an irresistible array of food. From boundary-pushing Mexican dishes to grain-based wonderments to melt-in-your-seat coffee and Caravan's infamous Cornbread – The Eating House is yet another sensory treat for those heading into the forest.
A collection of meticulously curated taste-innovators complete the 2018 Lost Village food line-up, including the infamous Patty & Bun, Happy Endings, The Duck Truck, Le Bao and many more.
Lost Village's ever-dynamic musical line-up encompasses a worldwide palette of disco, indie, soul, hip hop and beyond, this year including the likes of Friendly Fires, Four Tet, DJ Harvey, Everything Everything, Mr Scruff and The Go! Team, as well as comedy from the likes of Russell Kane, Phil Wangand Joel Dommett and a rich programme of talks and live debates with Deborah Coughlin (BBC Radio 4) and Kate Hutchinson (The Guardian Guide/Observer).