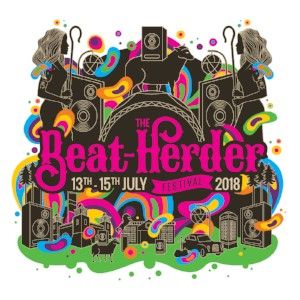 Beat-Herder Festival announce second wave of acts for 2018
Beat-Herder, the weirdest, wildest and most wonderful party in the UK festival calendar, announces more big names for 2018. Running from July 13th – 15th, Beat-Herder will once again transform Lancashire's Ribble Valley into a technicolour party and escapist's utopia, with an array of 20+ whimsical stages, world-class DJs and surprises aplenty.
Having recently announced a diverse mix of live acts and DJs such as Orbital, Soulwax,Django Django, David Rodigan (MBE), Congo Natty, Patrick Topping, Denis Sulta, Ben Sims, Artwork and Fisher for this year's event, Beat-Herder can now announce details of the second wave of artists to be added to the bill.
Leading the charge on the main stage are Morcheeba; the hypnotic 90s electronic outfit bring their blend of blissed out trip-hop to Beat-Herder for the first time. Joining them are celebrated Euro-Caribbean vocal group Boney M. The charismatic hit-makers will bring the psychedelic disco era to the main stage on Saturday.
Headlining the Toil Trees on Saturday night is one of the biggest tastemakers of the electronic music generation, BBC Radio 1's Pete Tong. Spanning a two decade long career, this icon of dance music will bring an experienced presence to the Toil Treesstage, the beating heart of the festival. He'll be performing alongside a host of up & coming talent, including previously announced OC & Verde, one of his 'New Names for 2018', illustrating the stage's celebration for both new talent and iconic stalwarts in equal measure.
Also confirmed is legendary house selector, producer, and Outcross Records label boss,Miguel Campbell, and closing Saturday night is Josh Butler, the Leeds DJ and producer who champions deep house, but whose influences mix a broad range of genres, from ambient to hard house.
Six time world snooker champion Steve Davis and multi-instrumentalist and composerKavus Torabi have been announced as the Trash Manor's Saturday night headline – Beat-Herder's courtyard of chaos, where punk and house converse amiably with reggae, hip-hop and techno. The duo will be spinning a b2b set comprising techno, psyche rock, and everything in between. Joining Greg Wilson at Trash Manor is 'Credit to the Edit' King, PEZA, who has had his 're-edits' supported by everyone from Andrew Weatherall to Horse Meat Disco.
Joining already announced names Utah Saints, Jamz Supanova and Redlight in Beat-Herder's sacred arena The Ring, is DJ Zinc. Known for his blistering drum & bass sets, DJ Zinc will headline Friday night, alongside party master A.Skillz, the Jam City boss will bring his dose of funk to proceedings. Whilst on Saturday night, the Derby-based trioDrumsound & Bassline Smith bring their self-professed 'body slamming' high energy to this spiritual stage where all genres converge.
All three headliners are now announced for The Perfumed Garden starting with the mythical, experimental band Gong who will take to the stage on Friday night. Following on Saturday night is MoodyManc, the DJ will dish out unearthly house music delights at this domed stage which brings music, food and drink under one roof from morning through night. DJ Hiphoppapotamus brings his celebrated sound-system to the Garden for Sunday night's headline slot, spinning a mix of afro and caribbean styles mixed with house, breaks and hip-hop.
Music is just part of the experience at Beat-Herder. Entirely handmade from scratch, the stages stand out as something truly different in the increasingly identikit festival landscape. That attention to detail creates an immersive world full of beguiling and intriguing creative concepts. Which other festivals give you the opportunity to explore underground tunnels, dance to drum and bass in a chapel or get inked in the functioning tattoo parlour? And if the hedonism gets a little too much, guests can slow the pace by lounging in the heated hidden swimming pool or enjoy some retro entertainment at the site's very own working men's club.
Beat-Herder continues to exist as it did back when it started as a free DIY party in 1998: uncompromising, unwavering and distinguished by an overwhelming sense of community. Its reputation as one of the friendliest festivals around can be attributed to its loyal followers – friends, couples and families who create new memories to cherish in a bold and barmy atmosphere each summer.
Tier 1 and 2 tickets have sold out. Tier 3 tickets are now available for £137.50 plus booking fee from https://tickets.beatherder.co.uk/. Glamping options are also available. The Beat-Herder Bombassador programme is also open, allowing loyal fans the chance to get free tickets and money-can't-buy experiences.