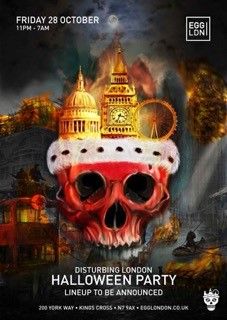 DISTURBING LONDON: HALLOWEEN PARTY TINIE TEMPAH, DJ CHARLESY, KATY B, SHIFT K3Y, DJ TARGET & MORE
Tinie Tempah's Disturbing London takeover Egg on Friday 28th October for their Official Halloween Party.
Tinie & Charlesy
Katy B B2B Emerald (DJ Set)
S
hift K3y
DJ Target
Masterstepz & MC KIE
Charlie Hedges
Sam Supplier
Sammy Porter
James Hype
All About She
DJ Crises
Michael Green & Bongo Ben (LoveJuice)
Brit, MOBO and Novello award-winning British artist HYPERLINK "http://www.gq-magazine.co.uk/article/six-reasons-tinie-tempah-number-one-not-letting-go"Tinie Tempah brings his Disturbing London party to Egg London on Friday October 28th for it's Official Halloween Party.
The South-Londoner has become a global star thanks to chart-topping hits including 'Pass Out', 'Written in the Stars' and 'Not Letting Go', as well as three hugely successful albums and numerous awards.
Launching his own Disturbing London label – covering both music and fashion – in 2007, this summer it took on a second six date 'Disturbing Ibiza' residency at Ushuaia, with Tinie joined by an entourage of like-minded performers and DJs. Taking over Egg London for the first time, and transforming the venue into a Halloween grotto where dressing up is highly encouraged, he brings a similarly high ranking list of friends.
Having shared vocal billing with Tinie on last year's No.1 hit 'Turn the Music Louder (Rumble)' by KDA, Rinse FM favourite Katy B is joined by DJ Emerald. Also familiar with Tinie Tempah fans is tour DJ DJ Charlesy, whose Capital Xtra show every Saturday evening takes in everything from hip-hop, R&B and bashment to Afrobeats, house and UK funky.
Having scored a top three hit with 2014's 'Touch', UK producer Shift K3Y continues to mix up sweet R&B vocals with modern electronic dance music. BBC 1xtra's DJ Target's credentials, meanwhile, includes being part of both garage pioneers Pay As You Go Cartel and grime crew Roll Deep, rubbing shoulders with Slimzee and Wiley. Also coming from the garage scene, Masterstepz continues to play everywhere from the US to Jamaica delivering a hard hitting Old Skool Garage set alongside MC KIE.
Following on from the success of debut Armada Deep single 'Kaleidoscope', Kiss FM's Charlie Hedges takes it off the air and into the clubs following her debut #CharlieSays UK tour. Sammy Porter's remix of Tinie Tempah's 'Not Letting Go' helped spread his bassline house sound and he's joined by ;Hot Line Bling' remixer James Hype and Rinse star Sam Supplier, who is also behind the hot new DVR label.
With Disturbing London's All About She channelling a modern garage sound, as heard on their debut 'Go Slow EP, plus MindStep boss Crises and LoveJuice's Michael Green & Bongo Ben completing the line-up, expect musical mayhem fitting to the Halloween theme.