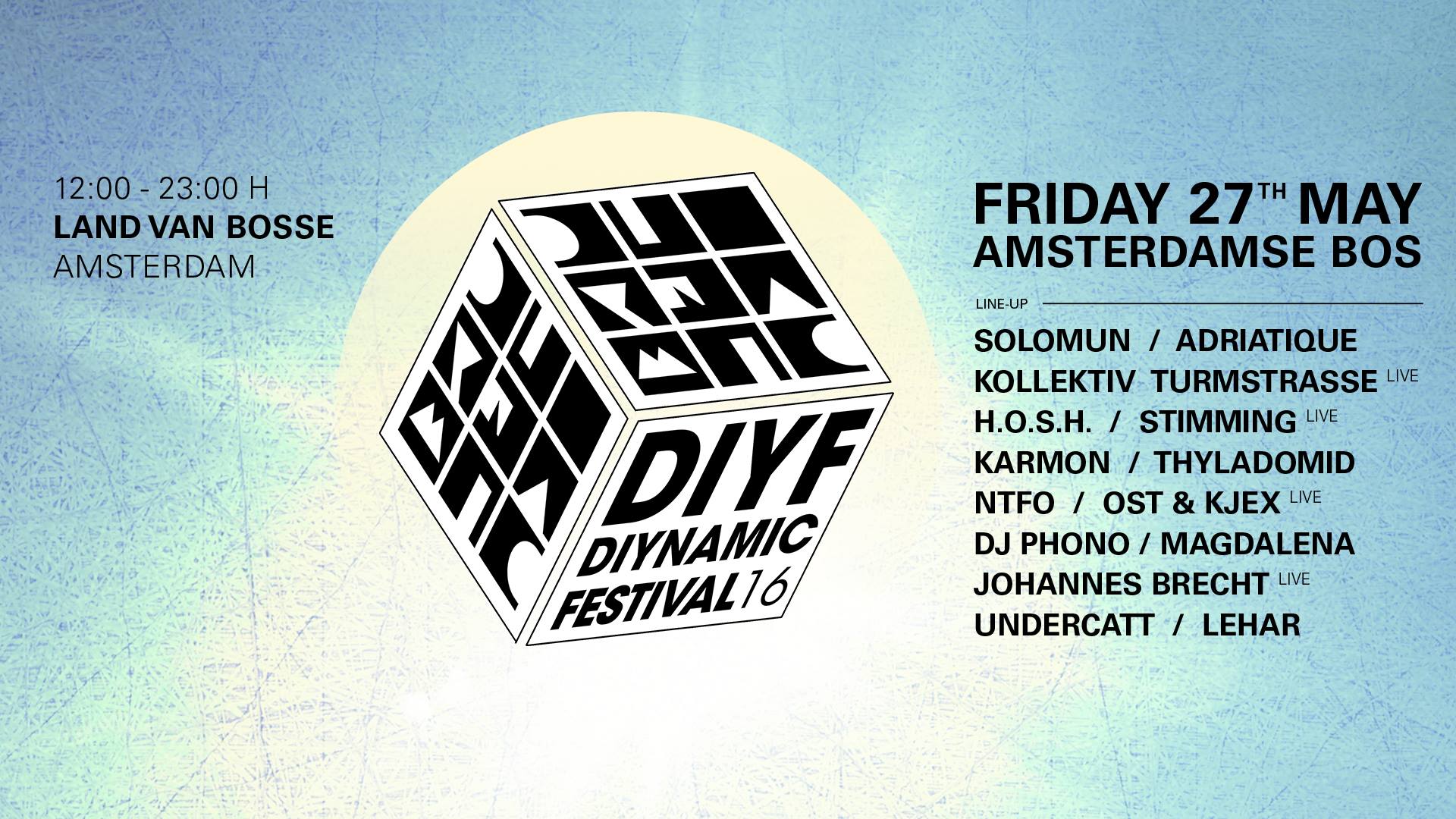 Diynamic Festival Amsterdam 2016
And the tradition continues: On Friday, May 27th 2016, now for the fourth year in a row, Diynamic Festival Amsterdam returns to Amsterdamse Bos for its annual label event. A close relationship ties the label to this city and its people, which is why this date is always a special for the whole Diynamic Family, which will attend in its entirety.
Last year has demonstrated why Diynamic keeps returning to the Dutch capitol: Even though Diynamic Festival Amsterdam 2015 has been bothered by some pretty serious rainfall, the people kept on dancing none the less and turned the event into an amazing party. This is what we call true commitment! While we can only hope for good weather, we can always count on the people of Amsterdam, which is why Friday, May 27th 2016 will see the fourth edition of the already traditional Diynamic Festival at Amsterdamse Bos, the city's nearby forest.
Amsterdamse Bos even holds a new venue in store: Deep within the forest lies the enchanted Land van Bosse, tucked into the Amsterdam forest, still easy to reach by bike or by bus from Amsterdam city centre. The venue will accommodate two stages that will hold performances by the whole Diynamic family including Solomun, Adriatique, Kollektiv Turmstrasse, H.O.S.H., Stimming, Karmon, NTFO, Thyladomid, Magdalena, Ost & Kjex, DJ Phono, Johannes Brecht, Undercatt and Lehar.
The event will start at 12:00h at noon and go on until 23:00h at night.
The finest of Diynamic Music will return to Amsterdam:
– Solomun, who is just taking a break from his 130 shows in the last 10 months
– Stimming, who's releasing his 4th album in April
– Adriatique, who are about to release an EP on Cityfox and a Diynamic collab-EP with Lehar
– H.O.S.H., who just released a massive remix for Australian band Rüfüs
– Kollektiv Turmstrasse, whose "Sorry I'm Late" was Beatport's most selling track 2015
– Karmon, who locked himself into his studio for the last weeks to work on some new material
– NTFO, who just released an EP on 20/20Vision's sublabel, 20/20Editions
– Thyladomid, who is looking ahead to a heavy touring schedule for 2016
– Magdalena, who officially joined the roster in 2014
– Ost & Kjex, who released their "Freedom Wig" album last year
– Dj Phono, who just produced the live show for German band Deichkind
– Johannes Brecht, who will drop his debut album in 2016
– Undercatt, who just released a single on Sasha's "Last Night On Earth" label
– Lehar recently joined Diynamic as an official family member
Aftermovie 2015: http://youtu.be/vreEUyWnqHk
Event on Facebook: http://www.facebook.com/events/1550065358644561/
Pre-Sale: http://bit.ly/DiynamicFestival2016
Diynamic Festival Amsterdam 2016
with Solomun, Adriatique, H.O.S.H., Kollektiv Turmstrasse, Stimming, Karmon, NTFO, Thyladomid, Magdalena, Ost & Kjex, DJ Phono, Johannes Brecht, Undercatt, Lehar
Friday, May 27th, 2015 / Land van Bosse, Amsterdamse Bos, Amsterdam (NL) / 12:00 – 23:00