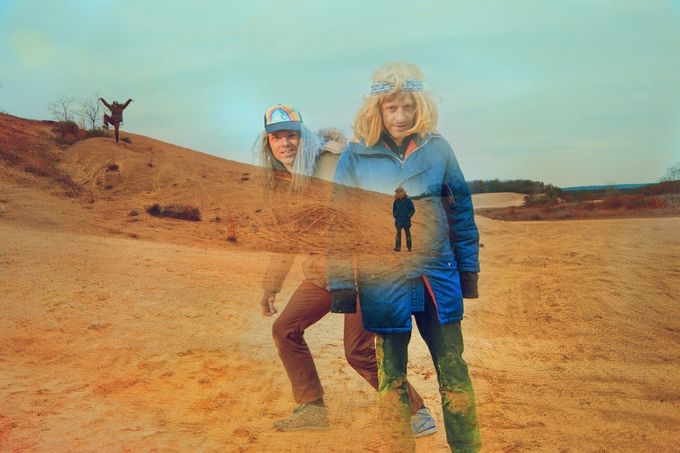 More Acts for OFF Festival 2016
This August weekend in Katowice is a celebration of alternative music in all its forms: where else but at the OFF Festival could you hear shoegaze, jazz, and grunge next to noise, techno, and rap?
Lush
You could try to define Lush using genre labels: fans of both shoegaze and Britpop eagerly admit to their fascination with this English band's music. You could also talk about them in terms of time and place: they were, after all, the jewel in 4AD's crown and a part of the alternative guitar revolution that took British music by storm in the late 80s and early 90s. Their ascent was cut short by the suicide of drummer Chris Acland, and it took a seventeen-year hiatus before the rest of the group could once again take the stage. Luckily Miki Berenyi, Emma Anderson, and Phil King have gotten back together (with Elastica's Justin Welch on percussion), and we can once again enjoy their music, regardless of whether you prefer the hazy, dreamy debut album Spooky, or the cheerful, dynamic tracks off of Lovelife.
GZA
We at the OFF Festival love to invite artists that expand and defy genre boundaries, but we're just as interested in the people who invented the genres themselves. The American rapper GZA, member of the legendary Wu-Tang Clan, actually fits into both categories. Now rightfully considered a classic, the Wu-Tang revolutionized the game back in the day, but GZA isn't cashing in on that status as a solo artist: he's constantly blazing new trails and seeking out new forms of expression. Which is why we impatiently await his appearance at the OFF Festival as well as his upcoming album Dark Matter, which features collaborations with such artists as… Vangelis.
Jaga Jazzist
The jazz renaissance that swept Europe at the turn of the century was largely the work of the Scandinavian scene, which made creative use of the classics in combination with fresher sounds. The Norwegian collective helmed by the Horntveth brothers is a prime example, with roots reaching back to John Coltrane and Aphex Twin alike. Jaga Jazzist works just as well in the context of modern electronic music as it does backed up by a chamber orchestra (as proved by their collaboration with the Britten Sinfonia), and the stage is their natural habitat: intense and exhilarating, their shows are known for breaking boundaries between genres and between the band and the audience.
Mudhoney
We admit that this band's absence from our festival has cast a shadow on the long-standing friendship between the OFF Festival and the cult US label Sub Pop, but this year we're catching up, and we're proud and happy to announce the addition of Mudhoney to the 2016 lineup. From the release of their legendary 1988 EP Superfuzz Bigmuff to their latest album, Vanishing Point (2013), everything about their music screams, vibrates, and dances. After all, we're dealing with the leading figures in the punk revolution from Seattle that fans and journalists call grunge. Join us in front of the stage if you're not afraid to get dirty…
Andrew Weatherall b2b Roman Flügel
Weatherall is a British DJ/producer who grew up on the post-punk scene (he started out remixing such bands as Happy Mondays, New Order, and Primal Scream), but he's equally comfortable in the realm of techno and house. Meanwhile, the equally versatile Roman Flügel is one of the top names in the world of German electronic music. This DJ, producer, and co-owner of the labels Ongaku, Klang, and Playhouse is just as familiar to regulars of Ibiza as he is at Berlin's Berghain. This joint set by Weatherall and Flügel needs no endorsement: you already know where you'll be spending part of one hot summer night at the OFF Festival.
Lightning Bolt
People often talk about which bands are and aren't a good fit for the OFF Festival — we even argue about it here at OFF headquarters. And then you have artists that are not only completely uncontroversial, but actually appear to be made for us — and we for them. So when Lightning Bolt struck, everything was suddenly clear! This American duo has spent fifteen years getting us comfortable with the fact that you should never get too comfortable with anything; that music is an adventure, a surprise, and a challenge. Lightning Bolt is all about noisy sounds that bend genres and break conventions, unpredictable concerts in unconventional places, and an abstract sense of humor. We've been waiting for you, guys.
Yung Lean
He's coming to Poland. In April. We know you know, but his show at 1500m² is already sold out. And no wonder: this Swedish rapper has been riding a swelling wave since the release of Unknown Death 2002 three years ago. To Americans, he's a funhouse mirror admired with fascination and disbelief. To Europeans, he's proof of that fact that you can record original and charismatic rap tracks with a global reach on this side of the pond. So Jonatan Leandoer Håstad is coming back in the summer, this time to Katowice. It's about time stepped out of the clubs and onto a bigger stage.
Tickets
3 Day festival Pass from £42 / 53 Euros + booking fee
Camping Pass from £12 / 15 Euros + booking fee
Buy tickets here: https://www.festicket.com/packages/off-festival-2016
About OFF
A truly unique boutique music festival, OFF Festival takes place in 'Three Lake Valley', Katowice – a beautiful green oasis in the heart of industrial Silesia. OFF Festival is a way of life, one that flies in the face of current trends and stays true to itself, and the ethos of organiser Artur Rojek is firmly aimed at supporting art and music with the festival bringing many acts to Poland for the first time. OFF Festival is growing in prominence year on year driven by the festivals forward–thinking, eclectic music policy. From the greatest alternative music stars from around the world to the increasingly strong Polish scene, OFF festival has inspiring music in abundance.
More info here: http://off-festival.pl/