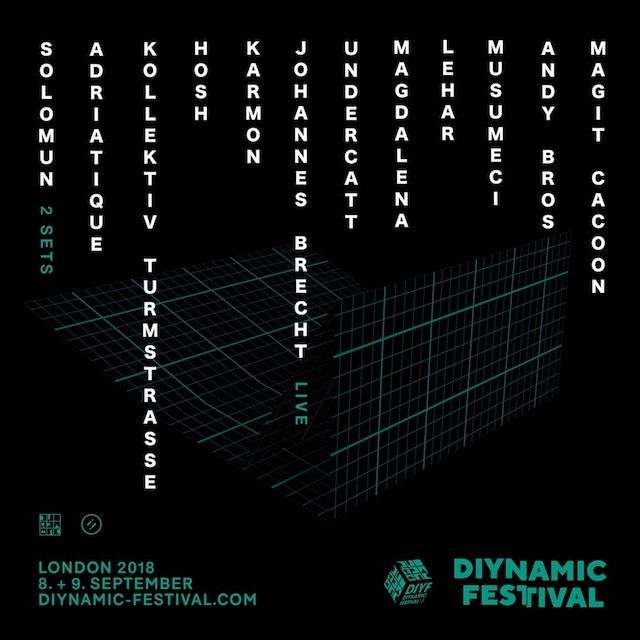 Diynamic Festival London Announces Line Up
Excitement is building towards the first ever Diynamic Festival in London as today the headliners for the much anticipated two day event are revealed. Label head Solomun will be joined by Adriatique, Kollektiv Turmstrasse, HOSH, Karmon, Johannes Brecht, Undercatt, Lehar, Magdalena, Musumeci, Andy Bros and Magit Cacoon for this sure to be spectacular event.
It all goes down at a unique place in central London that will be transformed with a very special main stage that is custom designed in Hamburg, as well as a state-of-the-art D&B sound system, huge variety of award winning street food and bars offering ice cold beer, Pimm's and delicious cocktails. The open air setting will host 5000 people in a friendly space and offer a truly immersive musical world.
The main man Solomun will play two special sets at the festival and is sure to bring plenty of the melodic house sounds he is so well known for. Key label acts like Adriatique, who have been a staple of Diynamic parties round the world for a while now, plus Kollektiv Turmstrasse, who have a cinematic take on 4/4 somewhere between house and techno, and long time stalwart and fryhide boss HOSH will also bring their own unique takes on tech house.
There will also be sets from newer associates like Karmon and Italian duo Undercatt, who have both served up brilliant EPs as part of the label's on-going Picture series and are sure bring their own distinctive flavours. Next up, studio star and acclaimed live musician Johannes Brecht is classically trained so always brings real class to his sets, while Lehar's emotional and spontaneous offerings are sure to really resonate with the crowd.
Not many people know, but next act Magdalena has been with the label since day one. Her first productions emerged in 2017 and she is now an established artist with her own distinctive sound. Add in Musumeci, Andy Bros and Magit Cacoo and you have a brilliant line-up that covers all parts of the underground musical spectrum.
This is a rare and unique way to get the full Diynamic experience right in the heart of London with next level production vales and a world class sound track.
Link to Dynamic Festival Teaser Video – https://www.youtube.com/watch?v=CLfsBr1xJjU&feature=youtu.be
Website – http://www.diynamicfestivallondon.com/sign-up
Facebook – https://www.facebook.com/diynamicfestival/
Instagram – https://www.instagram.com/diynamicfestivallondon/