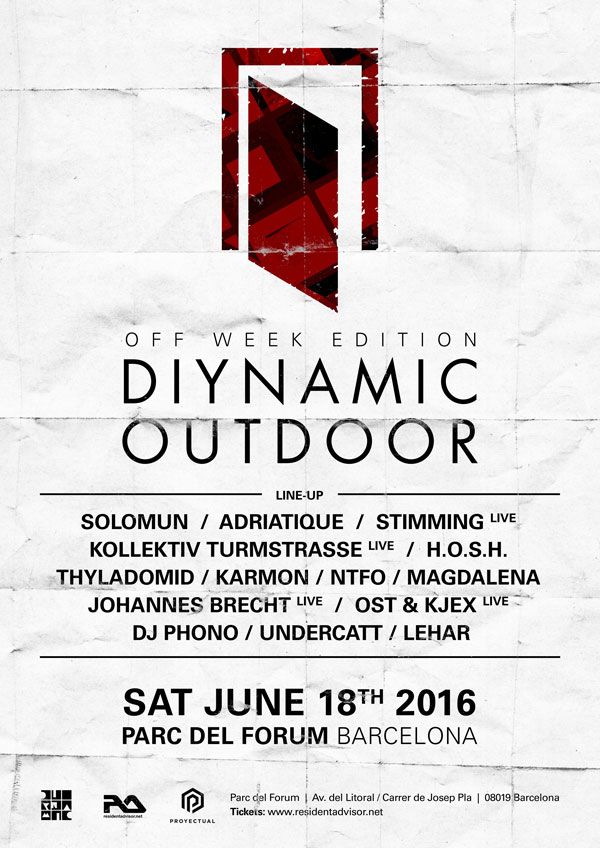 Diynamic Outdoor – Off Week Barcelona Edition
Saturday, June 18th, will see the return of Diynamic Outdoor to Barcelona's Off Week. This year's edition of Diynamic Music's open air event is showcasing performances by their complete artist roster, including Solomun, Adriatique, Stimming, Kollektiv Turmstrasse, H.O.S.H., Thyladomid, Karmon, NTFO, Magdalena, Johannes Brecht, Ost & Kjex, Dj Phono, Undercatt and Lehar.
Traditionally, the mid of June marks the pilgrimage of the entire electronic music scene to an especially sunny city on the coast of the Mediterranean Sea: That's Off Week in Barcelona! 2016 looks to be no different, so a full week of celebration and a toast to the music we all so much enjoy and cherish is in order.
On Saturday, June 18th the complete artist roster including a few fresh new talents will perform on two stages at "Parc del Forum" in Barcelona. The event starts at 12:00 noon and continues until 3:00 at night – 15 hours of Diynamic Music sound.
"Diynamic Outdoor" is the label's summer open air concept. After its start in Ibiza it is spreading to Barcelona, Munich, and more cities yet to come.
Parc del Forum is a green patch at the Barcelonan coastline, surrounded by the futuristic skyline of its own structures and the nearby congress centre of the city.
The finest of Diynamic Music will come to Barcelona:
– Solomun, who is just taking a break from touring to work on new music in the studio
– Adriatique, who are about to release an EP on Cityfox and a Diynamic collab-EP with Lehar
– Stimming, who's releasing his 4th album in April
– Kollektiv Turmstrasse, whose "Sorry I'm Late" was Beatport's most selling track 2015
– H.O.S.H., who just released a massive remix for Australian band Rüfüs
– Thyladomid, who is looking ahead to a heavy touring schedule for 2016
– Karmon, who locked himself into his studio for the last weeks to work on some new material
– NTFO, who just released an EP on 20/20Vision's sublabel, 20/20Editions
– Magdalena, who's getting ready for a new Ibiza season right now
– Johannes Brecht, who will drop his debut album in 2016
– Ost & Kjex, who released their "Freedom Wig" album last year
– Dj Phono, who promised to work on new productions soon
– Undercatt, who just released a single on Sasha's "Last Night On Earth" label
– Lehar recently joined Diynamic as an official family member
The Diynamic Outdoor – Off Week Edition Party is a cornerstone in the very exciting Diynamic summer: Exciting plans, which will soon see the light of day, Diynamic Festivals in Brazil, Buenos Aires, Amsterdam, Istanbul and Tel Aviv and countless Diynamic Showcases all around the globe. Summer may come. Hope to see you around!
Event on Facebook: http://www.facebook.com/events/1738512616377126/
Pre-sale / Event on Resident Advisor: http://www.residentadvisor.net/event.aspx?799878