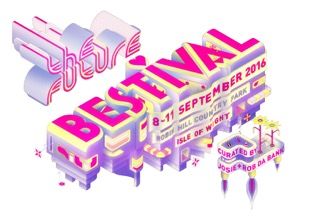 More Sounds Of The Future Bestival…
The good times keep rolling at Bestival HQ! Following the news of our first wave of mind-blowing acts who will join our glamourous machine age, we have a brace of distinct treats to announce that are sure to make you want The Future right now.
Rob da Bank says: "I've always had a sneaking suspicion that the future is gonna be a little bit unusual and, what do you know, I was right! Danny L Harle is one of the most out-there producers around, and, you know it could only happen at Bestival when I say, I'm teaming up with well-known drum n bass don, Aled Jones, for a jungle tear up. Standard".
Commenting on his Bestival appearance, Aled Jones said: "I'm not sure who's more excited about coming to Bestival – me or the family! What an honour to be on the same stage with Rob da Bank at his very own festival. Bring it on!"
Riding across the sonic spectrum with wild abandon, Danny L Harle's future-perfect salmagundi of pitched vocals, baroque melodies, bubble gum bass and euphoric stabs will be taking the crowd just that bit higher when he heads to Robin Hill this September. And as anyone who's up for a bit of Danny knows, this is new, this is summer. This. Is. PC MUSIC!
And definitely one for the 'it can only happen at Bestival files'; we will have TV & Radio presenter, and probably the UK's most famous former child, Aled Jones, dropping the knowledge on stage with our very own Rob da Bank. Renowned for his version of Walking in the Air, the astonishing quality of Aled's treble voice brought him worldwide acclaim before he moved into a successful full time presenting and singing career. Classic FM's Aled Jones' secret encyclopaedic knowledge of drum n bass, however, is what brings him to Bestival. So, expect an all-cannons firing History of Jungle & Drum n Bass MC set, with Aled blazing the mic as da Bank reloads the classic drum n bass big guns on the old ones and twos. Undoubtedly history in the making, you don't want to miss this one.
Big news soon come, till then… www.Bestival.net, Facebook , Twitter, Instagram, Tumblr
#Bestival16