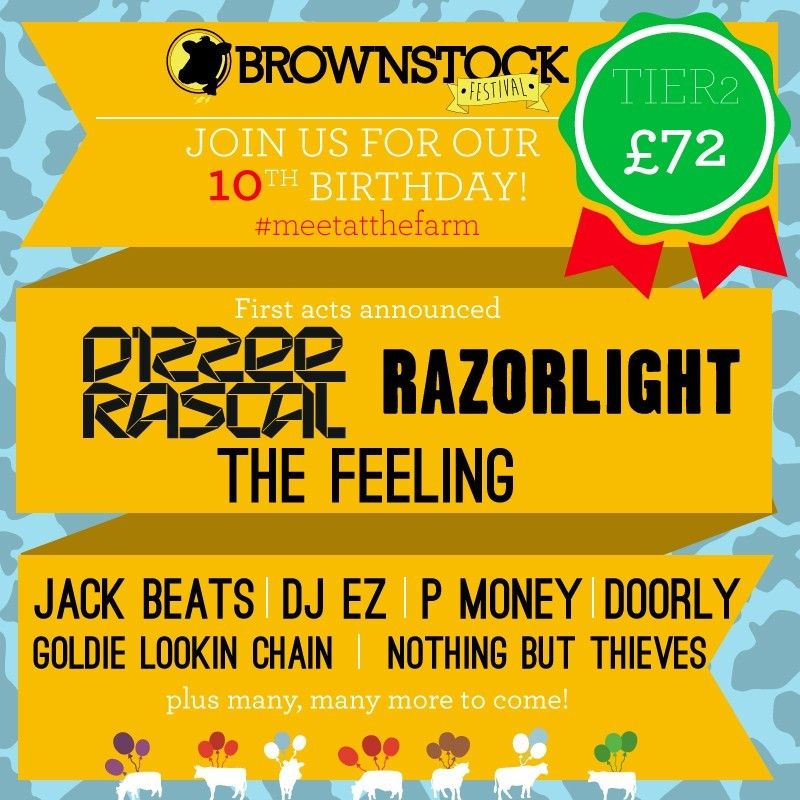 Dizzee Rascal and Razorlight to headline Brownstock Festival
Dizzee Rascal and Razorlight to headline Brownstock Festival's 10th anniversary year

Brownstock Festival has announced that Dizzee Rascal and Razorlight will headline the 2014 event, Goldie Lookin Chain, The Feeling, DJ EZ, Jack Beats, P Money and Doorly will make up the rest of their first wave line up announcement with more to come in the forthcoming weeks. Brownstock Music Festival is an independent boutique music festival run by the Brown family on their farm near Chelmsford, Essex. This year the festival will be held on the 29th August to the 31st August 2014 and is celebrating its 10th anniversary with a birthday party theme.

Latest line up Dizzee Rascal, Razorlight, Goldie Lookin Chain, The Feeling, DJ EZ, Jack Beats, P money and Doorly, Legendary British rapper Dizzee Rascal will headline Saturday night of the festival. Dizzee's debut Boy in da corner is over 10 years old now, winning him a Mercury Music Prize kickstarting an amazing career in music. Since then he has collected a host of other awards with both an NME and Brit award under his belt. He has also gone on to release four more albums, 3 of which went gold and the last of them "Tongue in cheek" went platinum. And of course Dizzee Rascall is one of the few artists with the claim to fame of playing at the 2012 Olympics' opening ceremony, singing Bonkers to an estimated audience of 900 million in a specially-made 'E3' baseball jacket. There is no mistaking the dirtee stank anthems, Bonkers and Fix Sharp Look Sharp amongst a whole host of collaborations with everyone from Chase & Status to Calvin Harris.

Indie rock royalty Razorlight will also be taking to the main stage to headline Brownstock 2014. With a huge back catalogue of classic anthems, this NME and Brit award nominated English indie rock band are World renown for their chart topping hits such as "America" "Golden Touch" and "Somewhere Else". Johnny Borrell is taking a break from his busy solo schedule to make an historic appearance at the birthday party.

Other main names released for the 3 day festival include:

The Feeling: Brit Awards nominated "pop rock" band The Feeling. With a number 1 selling album, a selection of top ten hits, as well as the claim to fame that they were at one point the most played band on UK radio. Their four singles received a total of 97,436 plays, which meant that, on average, a song by The Feeling was played 267 times every day, once every 5 minutes.
DJ EZ: Garage supremo and DJ extraordinaire DJ EZ will be one of the featured artists making an appearance in the Festivals Good Shed arena. The man literally needs no introduction having destroyed dance floors all over the world and a career spanning 3 decades. Even now with his Kiss FM radio show, he ignites parties with his infectious brand of mixing UK classics with the latest breakthrough artists. A firm favourite for 2014's line up.
Goldie Lookin Chain: Brownstock's 10th birthday party will not really start until Welsh comedy rap group Goldie Lookin Chain hit the main stage. Although sometimes controversial, group members Rhys, Eggsy and Adam certainly know how to entertain, and since they have recently announced it is 10 years since their first live gig they should certainly be ready for the celebrations.
Jack Beats: Niall Dailly and Ben Geffin make up this extremely successful electronic music duo. Dailly, also known as Plus One, is a former Scratch Pervert and is a winner of the coveted DMC DJ championship title, meanwhile Beni G was a member of fellow turntablists, the Mixologists. With a recent Fabric Live compilation under their belts, demand has never been higher to witness the turntable masters in action.
Doorly: As a Brownstock ambassador this will be Doorly's 4th appearance at the festival after hosting his own stage in 2012. More recently he's gone on to play some of the biggest shows the scene has to offer, including a Nokia launch in Times Square, New York, alongside Nicki Minaj in New York.

P money: Paris Moore-Williams, better known by his stage name P Money is an English Grime MC of the highest caliber. Being a New Zealander he made an impact down under being nominated for Best Urban/Hip Hop Album at the 2013 New Zealand Music Awards. However he is now firmly making waves in the UK and finished eighth in MTV's list of the best UK MCs.
With much more to announce in the coming weeks, this initial line up revelation is the first of many coming from the Brownstock camp.

Brownstock says:
Festival Director Adam Brown says: "It is just unbelievable to think that this is going to be our 10th Brownstock year, and who better to headline a party like that than a British music legend like Dizzee Rascal. We are also planning a host of secret birthday surprises to make sure Brownstock 2014 is one to remember."

About Brownstock Festival
Brownstock Festival is a Music Festival run by the Brown family on their farm in Essex. 2014 will see the festival's 10 anniversary year since it began as a small event for 150 people. The festival will have a Birthday Party theme to mark the occasion as it welcomes 6000 visitors through the gates in late August. The festival is still completely independent giving it a uniquely rustic and handmade feel.
Beyond the main stage and dance tent the Essex festival is also scattered with themed areas hand built or handpicked by the Brown family. There are a total of 7 music venues at the event and 20 festival areas. One of which is the Treehouse Stage, hand built by Farmer's Daughter Anna Brown, up in one of the old oak trees in the festival field.
Visitors can expect comedy shows and a Saloon Bar with country music and entertainments. One of the highlights of the weekend is the chance to try home raised Aberdeen Angus Beef from the farm in the festival's pop up restaurant which serves a "Brownstock Sunday Roast".
Dates: 29th August to Sun 1st September 2013
More information at www.brownstock.co.uk