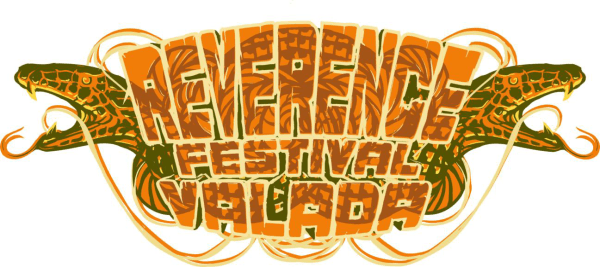 Reverence Festival
On the 12th and 13th September Reverence Festival celebrates the best in psych, stoner, shoegaze, doom, prog, garage and beyond, with some sixty bands playing over two days on four stages, including the hugely influential spacerock titans Hawkwind – performing in Portugal for the very first time.
The resurgence of far out, heavy rock-based music and a booming live music network across Europe has given rise to huge demand, with Reverence already causing a stir online amongst fans bustling with anticipation and excitement.
Reverence offers the chance for like-minded heads from across the world to congregate at one of the biggest and most ambitious events of its kind, one that features a unique line-up of revered titans and rising talent.
The heady, hazy and tripped-out sounds will make for the perfect outdoors summer soundtrack to the balmy and picturesque setting of Valada. When the sun sets, kaleidoscopic lights and psychedelic visuals will adorn the stages, adding an aesthetic accompaniment to the mind-expanding aural delights, which will run all night.
Blazing a trail from the 60s right through to today with unparalleled status, Hawkwind are spiritual and sonic godfathers, whose influence has permeated through hundreds of bands over five decades, not least many of those sharing the bill at Reverence. Formed in 1969, their trademark single 'Silver Machine' was a huge hit that brought the band to the attention of the wider public, with albums like 'Warrior On The Edge Of Time' and 'Masters Of The Universe' lauded as classics.
Joining them at the top of the bill and bringing their own brand of heavy cerebral stoner/doom to the stage are Electric Wizard – writers of some of the most important records of the genre like 'Come My Fanatics', 'Dopethrone' and 'Black Masses'.
The bone-crushingly heavy Red Fang fit perfectly with the reverence ethos, along with ambient doom collective Crippled Black Phoenix as bands that have gained cult following for refusing to compromise – an attitude also held by Reverence itself.
More talent comes from local heroes, Mao Morta, arguably one of the most important Portuguese alternative rock bands on the scene, with a career spanning back to the mid-eighties. If all that wasn't enticing enough, Psychic TV, the respected experimental art and music group fronted by pioneer and visionary Genesis Breyer P-Orridge, will be making an appearance. Not to mention Oxford shoegazers Swervedriver who split in the late 90s only to be met with huge success when they re-emerged in 2008.
Reverence's powerful line-up is strengthened by their choice to include some of the biggest names in the current shoegaze and garage revival such as dark garage rockers The Wytches, ambient kosmische drone combo Telescopes and motorik spacerockers White Hills.
Many bands that have secured positions on the prestigious line-up have highly respectable followings in their own right, in particular the MBV-style Ringo Deathstarr (who inadvertently got the festival kick-started by inspiring the partnership of Cartaxo Sessions and Club AC30), along with baggy space rockers Exit Calm, psychedelic maestros The Oscillation (featuring Fanfarlo's drummer) and sludgers Asimov.
Aiming to capture the spirit of early, pre-branded and pre-corporate events, Reverence harks back to the golden age of free spirited festivals, where the music comes first.
The choice of said music makes it abundantly clear that Reverence is a festival with integrity, that isn't a box-ticking exercise where bands from every genre are booked in a 'throw it all against the wall and see what sticks' approach, but a labour of love.
The festival features a variety of cult bands that have been bought together not purely for profit, but because a group of promoters wanted to bring something to Valada for the fans. They're pulling together what they see as the best bands from all over the world, because it's what the fans want to see and, being fans themselves, what they want to see too.
The event takes place in the relaxed surroundings of Parque de Merendas, which runs along the banks of the Tejo river and includes a fluvial beach, picnic areas and coffee shops. Traditional Portuguese food and drinks including vegan and vegetarian will be available, as well as camping facilities adjacent to the festival site with toilets and showers.
Valada is a small picturesque village, famous for agriculture and wine production. Located approximately 60kms inland from Lisbon and 550km from Madrid, easily accessible via train from Lisbon where shuttle buses will be running from nearest station Reguengo to the festival site.
Reverence is a collaboration between Cartaxo Sessions, Camara Municipal do Cartaxo, Lovers & Lollypops, Club AC30 and Lisbon Club Sabotage.
Early bird 2 day passes: €55.00 // after June 30th: €70.00 // Daily Ticket: €38.00
http://www.reverencefestival.com/