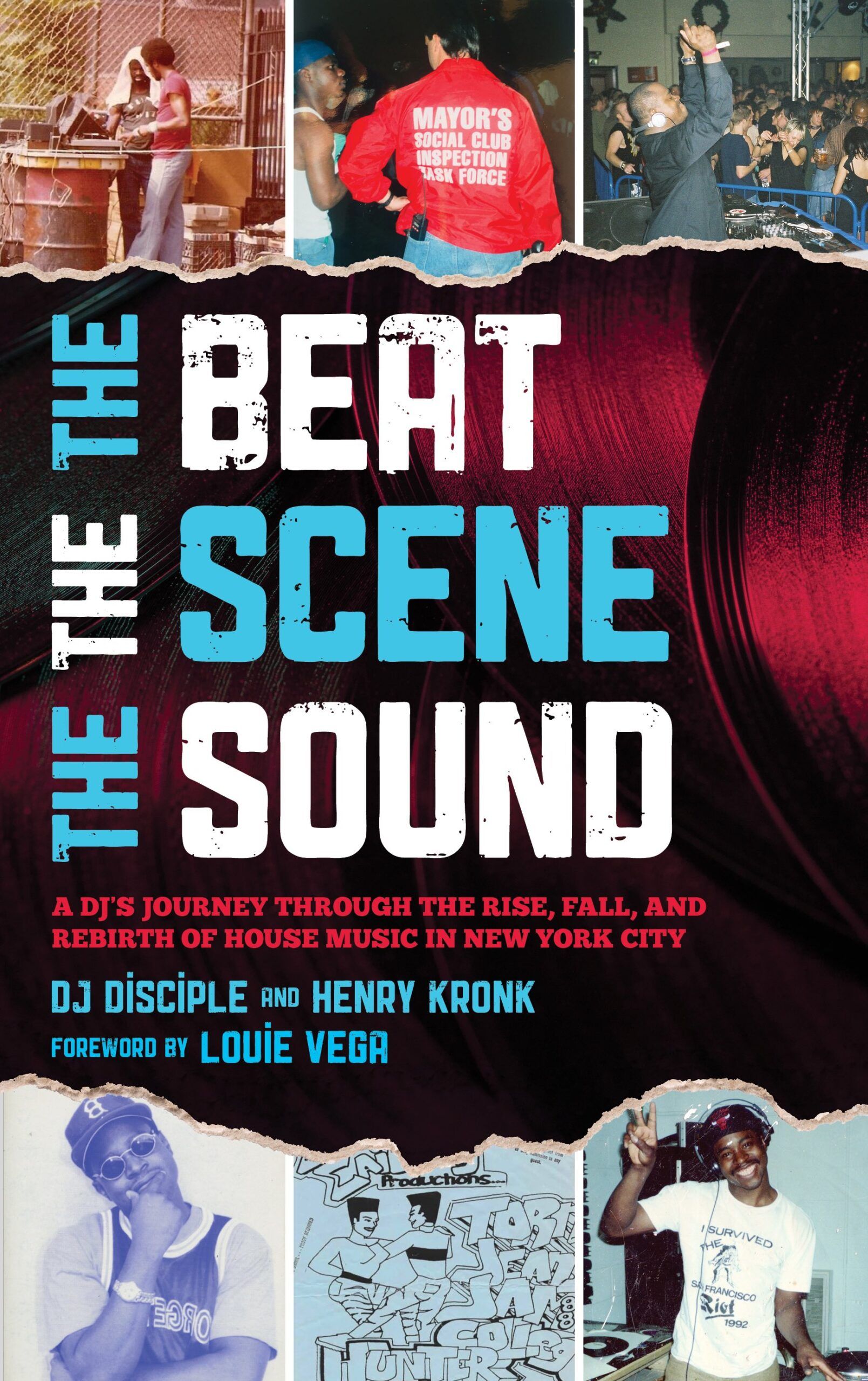 DJ Disciple announces the release of his book, "The Beat, the Scene, the Sound" – his journey through the Rise, Fall, and Rebirth of House Music in New York City
"The Beat, the Scene, the Sound" follows DJ Disciple and his behind-the-scenes account of how DJs, promoters, fans, and others from diverse communities transformed house music from a DIY project into an international sensation amidst the tumult of 1980s and 90s-era New York City.
The book unearths many untold stories of the era. When house music first rose to prominence in the 1980s, it brought people together—Palladium, Paradise Garage, Tunnel, Zanzibar, Studio 54, and other clubs were going strong. But as DJ Disciple established himself in the scene, he witnessed it shatter. During the crack-cocaine epidemic, he literally dodged bullets bringing his records to and from clubs at night. The HIV/AIDS epidemic and homophobia threw up fear-based partitions. Then, mayors worked to close the clubs. House music was pushed underground and then abroad to the UK and Europe. Disciple and many other DJs sought to regain a footing in the United States, but that only became possible with the rise of commercialised EDM. With dozens of interviews and historic photographs, "The Beat, the Scene, the Sound" shows what is possible when you bring people together and what can unravel when you split them apart.
DJ Disciple is a Black artist, DJ, radio host, producer, and community advocate based in Brooklyn, New York. He has toured the world over a forty-year career, playing venues such as Studio 54 in New York, Ministry of Sound, the Southport Weekender, Back To Basics, Ms Moneypenny's, Middlesborough's Empire club, Notting Hill Carnival, Luke Solomon & Kenny Hawkes' Space, Paul 'Trouble' Anderson's Loft club, Fabric and Cream in Ibiza. His Grammy-nominated track "Caught Up" reached Number 1 on the US Billboard Hot Dance Club Play chart and was later featured in the Showtime series "Queer As Folk". His music has landed on scores of top music charts around the world. He won an ARIA music award for his remix of Steven Allkins' "The Bass Has Got Me Movin."
Henry Kronk is a journalist who has covered a range of subjects over the course of his career. His reporting has appeared in OPIS, Exclaim!, the Burlington Free Press, International DJ, and more. He lives in Burlington, Vermont.
Publishing June 2023 • ISBN: 978-1-5381-7487-6 • $32.00, Hardback • 230 pages
Praise for The Beat, the Scene, the Sound:
"DJ Disciple has consistently championed our music, and I'm happy that he is sharing his story."
— Roger Sanchez, Grammy Award-winning DJ & Producer
"DJ Disciple and Henry Kronk perfectly capture the golden era of house music. DJ Disciple's story is a testament to hard work, dedication, and talent. He carved his way through the crazy music business and built a successful career. Enjoy the ride as I did—this is a must-have book."
— Nick Jones, (Wild Pitch Club Promoter/DJ & Producer
"The combination of Disciple's experience, meticulous research, and interviews makes this important book hard to put down." 
— Tamara Palmer, DJ & Author of Country Fried Soul: Adventures in Dirty South Hip-Hop